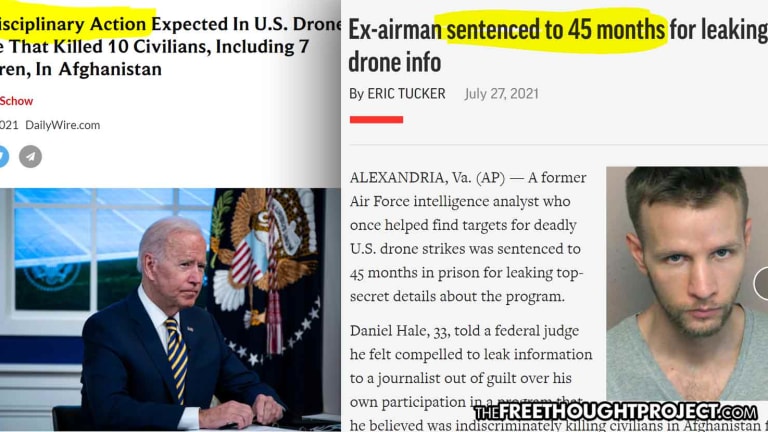 Biden Sets Precedent: Kill Children with a Drone, No Discipline. Tell People About it, Go to Prison
The Pentagon announced that those responsible for murdering 7 children and 3 adults will face no discipline as Airman who told us the truth about drones rots in a cage.
Last month in Afghanistan, the Ahmadi family was filled with hope of a new beginning as the U.S. finally pulled out of the country. They were planning a wedding in a few days and life was getting back to normal. But on August 29, a Sunday, all that would change thanks to the largely incompetent and extremely deadly U.S. drone program.
On that fateful day, Zemari Ahmadi, 38, pulled up to his home in a densely populated residential neighborhood as his 13-year-old son, Farzad, his youngest of three, came racing to greet him. Farzad was learning to drive and it had become a daily practice after Zemari came home from work for Farzad to get in the car and park it in the driveway.
Other family members came outside to greet Ahmadi and watch young Farzad pull the car into the driveway. But the car would never make it. As the car began moving forward, a massive explosion went off in the vehicle killing Zemari, Farzad and the eight other family members who had gathered to watch the 13-year-old practice driving.
Survivors, and those who were only slightly maimed by the explosion would soon learn that it wasn't the car that exploded. It was a U.S. taxpayer-funded missile fired from a reaper drone that had been following Zemari all day — wrongfully accusing him of being a member of ISIS-K.
The Ahmadi family would never make it to the wedding.
Two-year-old Malika Ahmadi, and two other toddlers were the youngest family members killed, along with Ahmadi's nephews Arwin, 7, and Benyamin, 6, and Zemari's two other sons, Zamir, 20, and Faisal, 16.
Zemari had absolutely nothing at all to do with ISIS-K and was actually a technical engineer for Nutrition and Education International, a nonprofit working to address malnutrition based in Pasadena, California.
Before a U.S. drone pilot turned he and his family into a fine red mist, Zemari had been helping to bring meals to women and children at refugee camps in Kabul. He was an ally, not an enemy of the United States — yet he and his entire family and many others were violently wiped off the face of the Earth.
Earlier this month, the U.S. government did something they rarely do — they acknowledged that Zemari and the nine others they killed, were in fact innocent but only after insisting for over a week that the Ahmadi family were dangerous terrorists.
"We now assess that it is unlikely that the vehicle and those who died were associated with ISIS-K or a direct threat to US forces," said Gen. Kenneth McKenzie, head of the United States Central Command. McKenzie added that the "investigation now concludes that our strike was a tragic mistake."
Mistake? You can murder 10 innocent people, go on television, admit to it, and then write it off as a "mistake"? Apparently so, which is why they are now claiming no one will face consequences for it.
On Friday, Pentagon officials told Fox News correspondent Lucas Tomlinson that no disciplinary action is expected for the drone bombing of an innocent family that murdered 7 children.
"BREAKING: Gen. McKenzie, head of U.S. Central Command, to announce no ISIS-K fighters killed in U.S. drone strike in Kabul Aug 29. 10 civilians killed, including 7 children in Toyota. No disciplinary action expected, officials say. US military stands by intel leading to strike," Tomlinson reported.
No disciplinary action is expected. Read that again.
Imagine murdering 10 innocent people, including small children and then just writing it off as a mistake — standing by the intel that led to the strike — punishing no one. It is our freedom they hate, right?
Exposing the sheer tyrannical lunacy behind this move to punish no one for the deaths of 10 innocent people is the case of Daniel Hale. In July, Hale was sentenced to rot in a cage for 45 months for his role in the U.S. drone bombing program. The only thing is, Hale didn't murder 10 innocent people. His crime? Telling us that the United States was doing exactly that, on a regular basis.
For telling Americans the truth, Hale has spent and will continue to spend the better part of his adult life in a cage as the people who murdered 7 children and 3 adults face no consequences whatsoever.
In what world is this considered just? In a country whose police force executes over 1,000 citizens every year, largely with zero accountability, should we really expect anything else?