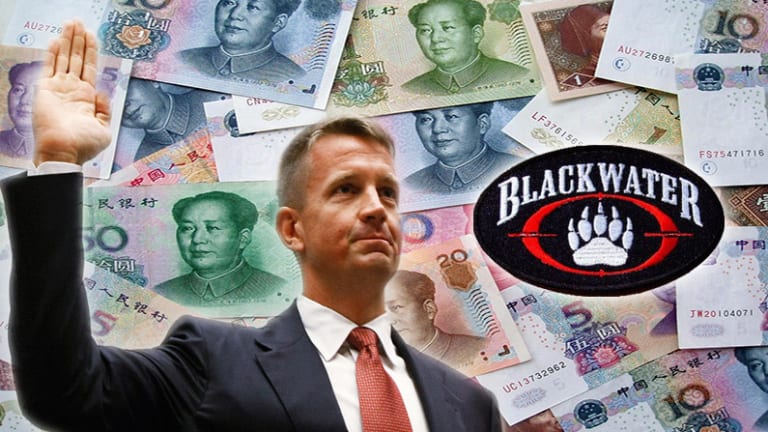 Blackwater Founder Investigated For Ties to Chinese Intelligence and Money Laundering
Accused of murder, money laundering, and sharing intel with the Chinese, Blackwater founder Erik Prince is under federal investigation.
Founder of the CIA-affiliated mercenary group Blackwater, Erik Prince, is under investigation by the U.S. Department of Justice for allegedly using his current Hong Kong-based corporation to illegally provide weapons and covert operators into conflict zones. Besides money laundering for Libyan officials using a Chinese bank, Prince has also been accused of murdering two federal informants working with the Justice Department while leading a reckless group of mercenaries responsible for butchering allies and innocent civilians.
According to a recent investigation by The Intercept, more than a half-dozen of Prince's associates, including current and former business partners; four former U.S. intelligence officers; and other sources familiar with the Justice Department investigation requested anonymity before discussing the ongoing federal investigation into Prince's "secret skunkworks program." Although Prince no longer leads the defunct Blackwater, evidence of his mercenary activities continues to surface even after the notorious massacre at Nisour Square.
Founded in 1997 by former CEO Erik Prince, Blackwater only brought in roughly $200,000 per year before the events of 9/11. Former President George W. Bush and former Vice President Dick Cheney opened the floodgates awarding private mercenary armies with inflated government contracts and allowing them to operate with impunity. Although Barack Obama vowed on the campaign trail to curb the utilization of private contractors, he broke his word by continuing to provide defense contracts to private mercenary armies.
On the evening of December 24, 2006, Blackwater operative Andrew Moonen murdered Raheem Khalif, a security guard to Iraqi Vice President Abil Abd-al-Mahdi. When confronted by the security guard, Moonen pulled out his Glock 9mm pistol and shot him to death. After fleeing the scene, Moonen was fired for possessing a firearm while drunk and secretly flown back to the U.S. before he could be charged with the murder.
At approximately noon on September 16, 2007, a Blackwater convoy codenamed Raven 23 disobeyed orders from U.S. Embassy officials to remain in the Green Zone and instead established a blockade at Nisour Square in Baghdad. While driving his mother to an appointment, Ahmed Haithem Ahmed Al Rubia'y stopped his white Kia sedan at the checkpoint and waited for the Blackwater mercenaries to let them pass. Hiding inside the convoy's command vehicle, Nicholas Slatten aimed his SR-25 sniper rifle through a gun portal and fired a round at Ahmed.
As Ahmed's head exploded, his car slipped into neutral and slowly began to approach the Blackwater convoy. While attempting to stop the car, Iraqi police officer Ali Khalaf Salman raised his left arm signaling the shooters to stop firing. Inside the sedan, Ahmed's mother, Mahassin Mohssen Kadhum Al-Khazali, clutched his bleeding head screaming, "My son! My son! Help me, help me!"
A turret gunner, Jeremy Ridgeway, opened fire killing Ahmed's mother. Another Blackwater shooter launched an M-203 grenade that caused the sedan to erupt into flames. Unleashing sniper fire, machine guns, and grenade launchers, the Blackwater convoy murdered over a dozen unarmed civilians, including two boys, ages 9 and 11. At least 18 victims were wounded. The only damage inflicted upon the convoy's command vehicle came from shrapnel by an American grenade fired at close range by a Blackwater operative.
According to witnesses, Nicholas Slatten, Paul Slough, Evan Liberty, Dustin Heard, and Jeremy Ridgeway attempted to kill everyone in Nisour Square. Another turret gunner, Matthew Murphy, waved his arms warning nearby Iraqis to get down. After ignoring repeated orders to cease firing, the massacre finally ended when Blackwater operatives turned their guns on each other. Instead of killing their own teammates, the shooters eventually decided to stop firing. As the convoy exited the square, some of the shooters continued indiscriminately firing their machine guns at civilian vehicles.
Two weeks after the Nisour Square massacre, Prince testified before the House Oversight Committee. Under oath, Prince lied to U.S. Representatives when asserting that Blackwater never kills innocent civilians. ">Video leaked by Blackwater operatives reveals convoys running over pedestrians, shooting civilians, and aggressively sideswiping cars off the road. Prince went on to accuse the U.S. Army of killing the unarmed Iraqi civilians in Nisour Square.
">
One month before the Nisour Square massacre, State Department investigators discovered Blackwater manipulated its personnel records in order to overbill the State Department and falsified data on the government contract. On August 21, 2007, investigators Jean Richter and Donald Thomas met with Blackwater's project manager in Iraq, Daniel Carroll, to discuss the investigation. Carroll told Richter "that he could kill me at that very moment and no one could or would do anything about it as we were in Iraq," Mr. Richter wrote in a memo to senior State Department officials in Washington.
Although Thomas witnessed the Blackwater manager threatening Richter and corroborated his version of events, embassy officials ordered Richter and Thomas to leave Iraq immediately.
In an attempt to rebrand his image, Erik Prince renamed his company Xe Services in February 2009. Six months later, two former employees submitted sworn statements to the federal court in Virginia implicating Prince in the murders of individuals who were cooperating with federal authorities investigating the company. They also accused him of smuggling unlawful weapons, using illegal ammunition designed to explode after penetrating within the human body, committing fraud, money laundering, tax evasion, terminating mental health professionals who were not willing to endorse deployments of unfit men, and destroying incriminating evidence to intentionally deceive the State Department and other federal agencies.
With five former top Blackwater executives indicted on federal weapons, conspiracy, and obstruction charges, Erik Prince fled to Abu Dhabi in 2010. Although he had won multiple contracts with the Defense Department, the CIA, and the State Department, Prince abandoned the U.S. when confronted with a series of civil lawsuits, potential criminal charges, and Congressional investigations. After selling his company, Prince became executive director and chairman of Frontier Services Group (FSG), a self-proclaimed private equity firm that focuses on African mining and energy development.
Based in Hong Kong and funded by the Chinese government, Prince's FSG has been accused of sharing defense intel with the Chinese while attempting to launder money for the Libyan government. Working with a former South African commando, a former Australian air force pilot, and a lawyer with dual citizenship in the U.S. and Israel, Prince reportedly used FSG "to secretly rebuild his private CIA and special operations enterprise by setting up foreign shell companies and offering paramilitary services."
Documents acquired by The Intercept appear to show Prince's mercenary operations illegally planned in at least a half-dozen countries without the knowledge of FSG's board of directors. While exploiting the refugee crisis last year, Prince contacted Libyan and European officials in an attempt to secure a contract to defend Libya's borders against refugees and other kinetic threats. According to a former intelligence official, the Justice Department reopened its investigation into Prince after he allegedly laundered money for Libyan officials using a Chinese bank in order to fund his mercenary operations.
"It was not a personal account," the former U.S. intelligence official briefed on the investigation told The Intercept. "He was doing it for the purpose of what is considered now — in the investigation — money laundering on behalf of the Libyans."
In October 2015, FSG's corporate leadership stripped Prince of most of his responsibilities as chairman due to their concerns over his clandestine activities. FSG also terminated contracts belonging to two of Prince's closest associates suspected of participating in illegal activities with their "rogue chairman."
Unable to answer allegations that Chinese intelligence assisted Prince in setting up a bank account, his lawyer, Victoria Toensing, referred to the money laundering allegations as "total bullshit." Toensing also claimed, "When he has legitimate business, he does legitimate business."
Accused of money laundering, providing defense advice to Chinese intelligence, murder, and leading a psychotic gang of mercenaries, Erik Prince has eluded prosecution due to his work with the CIA and the State Department. Although Prince is under federal investigation, he has repeatedly eluded prosecution despite blatantly providing false testimony before the House Oversight Committee.
[author title="" image="https://"]Andrew Emett is a Los Angeles-based reporter exposing political and corporate corruption. His interests include national security, corporate abuse, and holding government officials accountable. Andrew's work has appeared on Raw Story, Alternet, Activist Post, and many other sites. You can follow him on Twitter @AndrewEmett and on Facebook at Andrew Emett.[/author]