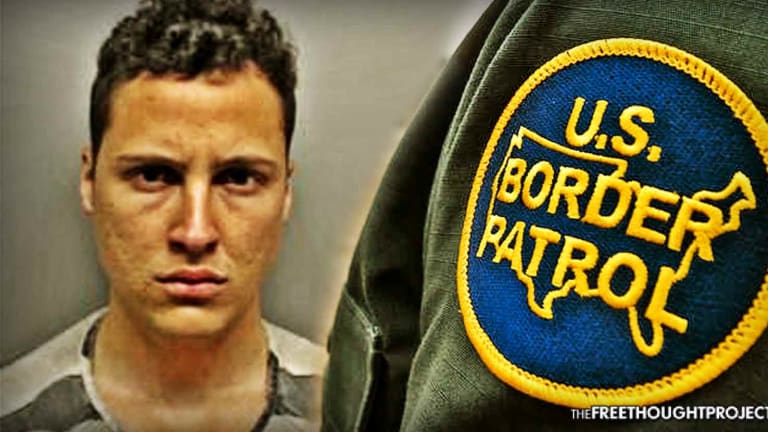 Border Patrol Supervisor Arrested for Allegedly Beating a Mom and Her Infant Son to Death
A decorated Border Patrol supervisor was arrested this week on two counts of capital murder after a woman and her one-year-old son were found dead in a park.
Laredo, TX — A decorated 9-year veteran of the US border Patrol—who'd recently been promoted—was arrested on two counts of capital murder this week after a woman and her one-year-old son were found dead.
On Monday, Officer Ronald Anthony Burgos Aviles, who is now in custody, called 911 claiming to have found the bodies of 27-year-old Grizelda Hernandez and Dominick Alexander Hernandez near a park along the border with Mexico.
According to Express News, Aviles called 911 around 11:30 a.m. Monday to report he had found a woman's body near the riverbanks in northwest Laredo. Officers who responded to the scene near Father Charles McNaboe Park said they found the body of a child in addition to the woman's body. The bodies had not been there long, police said.
However, when police began investigating the scene, they quickly identified Aviles as a person of interest in the case, according to Laredo police spokesman Joe Baeza.
According to authorities, they believe that Hernandez and her young son were killed near the park which is situated by the Rio Grande.
During the investigation, police learned that Aviles was romantically involved with the woman. While they have yet to release an official cause of death, police noted that the victims showed signs of a violent interaction.
"The victims had visible signs of violence, which is now part of the official investigation," Laredo Police Department Chief Claudio Treviño Jr. said Tuesday, according to the Express-News. "Due to the sensitivity of the case and the magnitude of the ongoing investigation, we're not going to state the exact nature of the matter of death at this time."
The officer's alleged actions have shocked the community and law enforcement who are doing their best to distance themselves from Aviles.
"It's very important that the public knows that this represents an anomaly," said Jason D. Owens, acting chief patrol agent for Laredo Sector Border Patrol. "If true, this is not indicative of the men and women that go out and do this job day in and day out.
"The actions of this individual, if true, are both inexcusable and reprehensible. No one is more sickened than we are at the thought of someone wearing this uniform committing such a heinous act," he added.
On Monday, the Border Patrol also issued an apology to the family and those affected by this horrifying incident.
"On behalf of the men and women of U.S. Customs and Border Protection, the U.S. Border Patrol and Laredo Sector, we're truly saddened by this tragedy," Owens said. "Our heartfelt condolences go out to the victims' family and friends.
"Criminal action by our employees is something that simply will not be tolerated."
Webb County District Attorney Isidro Alaniz has yet to reveal that prosecutors will be seeking the death penalty, however, he said the case "is being given extreme priority."
"We will be waiting to collect all the evidence and make the decisions as to what the direction the case is going to go," Alaniz said. "At this time, I'm not going to say we're seeking the death penalty."
If prosecutors do not seek the death penalty, Aviles faces life in prison without the possibility of parole if convicted of capital murder in the state of Texas.
"It's a very sad case for law enforcement today," Alaniz added. "We keep in mind that we're celebrating National Crime Victims' Rights Week ... It's ironic that this happens during this week."