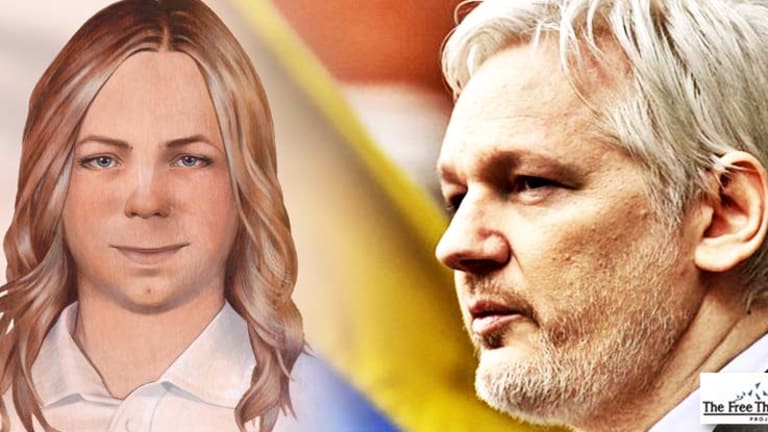 BREAKING: Assange Will Not Turn Himself Over to US for Manning -- Claims Conditions Not Met
After 24-hours of rampant speculation, Julian Assange's attorney has come forward to clear the air on the extradition promise of Assange.
*Update- Contrary to a statement to The Hill by Assange's U.S.-based attorney, Barry Pollack, in a press conference broadcast on Periscope on Thursday, Assange said he "stands by everything I said including the offer to go to the United States if Chelsea Manning's sentence was commuted."
"We look forward to having a conversation with the DoJ [Department of Justice] about what the correct way forward is," Assange said.
"I've always been willing to go to the United States provided my rights are respected because this is a case that should never have occurred," he added.
Washington, D.C. - After 24 hours of rampant speculation, Julian Assange's attorney has come forward to announce that President Obama's commutation of Chelsea Manning's sentence did not meet the criteria set forth by the WikiLeaks head to proceed with extradition to the United States as he had offered.
While Assange has not been publicly charged with a crime in the United States, his legal team is virtually certain that he is to be charged "under seal." This entails charges being kept secret as a means of preventing a suspect from attempting to escape.
Assange first offered to trade extradition to the U.S. for a pardon of Manning in September, and was followed up with this tweet last week on Twitter.
The announcement by Assange's attorney notes that the commutation received by Manning, while welcome news, was not the pardon that was sought by Assange. "Mr. Assange welcomes the announcement that Ms. Manning's sentence will be reduced and she will be released in May, but this is well short of what he sought," said Barry Pollack, Assange's U.S.-based attorney, via email reported the Hill. "Mr. Assange had called for Chelsea Manning to receive clemency and be released immediately." Sentenced under U.S. Army Court Martial to 35 years' imprisonment in August 2013, Manning was tried in military court for leaking thousands of documents that came to be known as the Iraq War Logs and the Afghan War Diary to the transparency organization WikiLeaks. "Chelsea Manning exposed serious abuses, and as a result her own human rights have been violated by the U.S. government for years," said Margaret Huang, executive director of Amnesty International USA. "President Obama was right to commute her sentence, but it is long overdue. It is unconscionable that she languished in prison for years while those allegedly implicated by the information she revealed still haven't been brought to justice." In many ways, Manning's 35-year sentence was due to the fact that they couldn't get Edward Snowden, thus were attempting to make an example out of Manning. The White House announced Tuesday that Manning was one of 273 people "given a second chance," by President Obama. While Obama has pardoned 212 individuals and granted 1,385 commutations, Amnesty International Americas Director Erika Guevara-Rosas ironically pointed out that none of the people exposed violating the human rights of others in the videos leaked by Manning have ever faced justice. "Instead of punishing the messenger, the U.S. government can send a strong signal to the world that it is serious about investigating the human rights violations exposed by the leaks and bringing all those suspected of criminal responsible to justice in fair trials," said Erika Guevara-Rosas, Americas Director at Amnesty International. While this is clearly a step in the right direction, the fact that truth tellers and whistleblowers are routinely treated as criminals speaks to the immorality of our current systemic paradigm. After Obama, on Tuesday, commuted Manning's sentence for leaking classified information to WikiLeaks, many wondered whether that meant Assange was ready to surrender to the Department of Justice – thankfully that question has been largely answered. Although, a recent tweet from WikiLeaks still leaves room for speculation as to Assange's eventual intent to come to the U.S. to fight the secret indictment against him.

Additionally, the transparency site has also been raising funds for a Julian Assange defense fund.
While the White House denied that Assange's tweet had anything to do with the decision to commute Manning's sentence, the fact that Assange remains free is welcome news to all those that support transparency in government. It seems that although Assange may not turn himself over to the U.S., due to Manning's commutation, he may still be intent on fighting the secret indictment in U.S. court.
Please donate to the defense fund if able, and share with friends to help raise awareness.