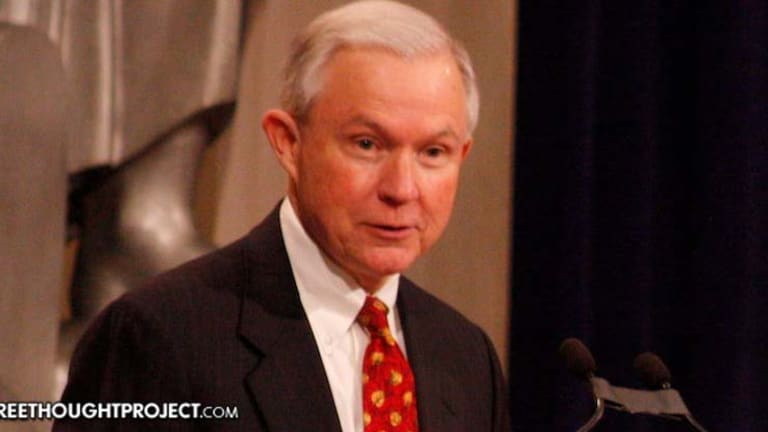 BREAKING: Jeff Sessions Holds Impromptu Press Conference — Recuses Himself from Russia Probe
With less than an hour lead time, moments ago Jeff Sessions announced he would hold an impromptu press conference at 4pm. Watch it live.
(ZH) Attorney General Jeff Sessions announced he is recusing himself from investigations into Russian interference in American politics and contacts with associates of President Donald Trump, after the DOJ acknowledged he had contacts with the Russian ambassador during the 2016 campaign.
"I have recused myself in the matters that deal with the Trump campaign," he said at a press conference. Sessions had come under mounting bipartisan pressure to recuse himself after it was revealed late Wednesday that he spoke twice with the Russian envoy last year and failed to tell senators during his confirmation hearing.
In the conference, Sessions said that he was already considering recusal and had an initial meeting with staff on Monday and a follow-up planned for today before the reports hit last night.
On the question of what was discussed in his September 8 meeting with the Russian ambassador, Sessions responded that "I don't remember a lot of it. We talked a little bit about terrorism, as I recall, and the subject of the Ukraine came up." He said the conversation got "testy."
He added that "most of these ambassadors are gossipy...but I don't recall any type of political campaign discussions."
Sessions' decision comes after key Republicans, including House Oversight Committee Chairman Jason Chaffetz (R-Utah) and former Oversight Chairman Darrell Issa (R-Calif.) as well as three GOP senators, called on Sessions to step aside.
Trump earlier Thursday expressed "total" confidence in Sessions, dismissing calls for him to recuse himself.
The move comes after the Justice Department confirmed Wednesday that Sessions spoke twice last year with Ambassador Sergey Kislyak while serving as a prominent supporter and adviser to Trump's presidential campaign. Sessions testified during his Senate confirmation hearing Jan. 10 that "I did not have communications with the Russians."
* * *
With less than an hour lead time, moments ago Attorney General Jeff Sessions announced he would hold an impromptu press conference at 4pm, his first as the nation's top law enforcement official, although it may also be his last: some have already speculated there is an outside chance Sessions may announce his resignation, which would be second prominent departure in the Trump administration. Alternatively, Sessions may simply declare that the media scandal has been largely overblown, as he did first thing this morning, and move on.
It is unclear if news of the Sessions presser is what unleashed a late day selling program in the S&P which has taken the market to its intraday lows.