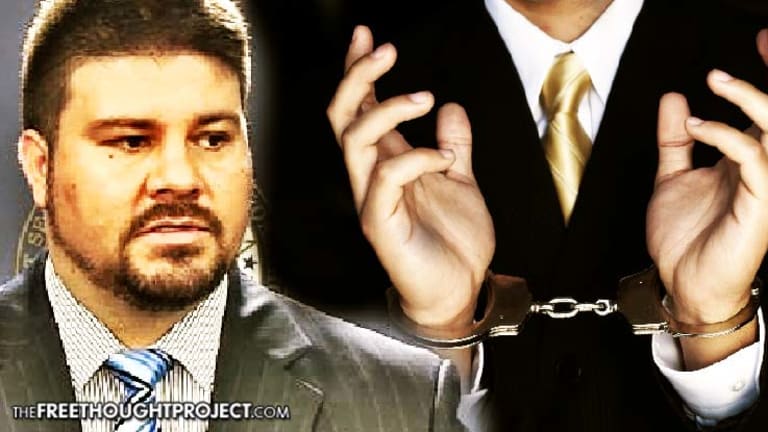 BREAKING: OK Senator Arrested for Child Prostitution After Being Caught with Teen Boy
Moments ago, police announced three felony charges against Sen. Ralph Shortey, including engaging in child prostitution.
Moore, OK — Moments ago, the Cleveland County District Attorney's Office announced three felony charges against State Sen. Ralph Shortey, including engaging in child prostitution. The charges come after Shortey was caught in a motel room last week with an underage boy.
According to the DA's office, Shortey has been charged with three felony counts, including:
Engaging in child prostitution
Engaging in prostitution within 1,000 feet of a church.
Transporting minor for prostitution/lewdness.
The investigation was launched when the teen boy's parents called police after finding disturbing text messages between him and their son. When police began their investigation into the texts, they found Senator Ralph Shortey in a motel room with the boy.
According to KOCO 5, on Thursday they obtained a search warrant that was served during the investigation. In the search warrant, police said they found the juvenile's Kindle Fire tablet that contained conversation between him and Shortey pertaining to sexual activities in exchange for money. The tablet was seized as evidence.
Police officials released the following statement on the department's Facebook page:
"There has been a great deal of interest in an incident that occurred in Moore on March 9th, 2017 at a local hotel. At this time, an investigation is still ongoing. The Moore Police Department is committed to responding to and fulfilling requirements of the Oklahoma Open Records act. The Moore Police Department will be providing prompt and reasonable access to records for public inspection once the release of those records will no longer hinder any ongoing investigation and when the records have been compiled.
According to the redacted police report, the boy was uncertain as to why he was in the hotel room -- not knowing if it was for "illegal narcotics or for sexual activity."
During the raid on the hotel room, the boy admitted to selling weed to Shortey in the past and said he had known him for about a year. When police searched the Kindle found in the room, they found evidence of Shortey attempting to solicit "sexual" stuff from the underage teen.
Police also noted that they smelled marijuana and found a backpack with a bottle of lotion and condoms, according to the report.
Shortey, who has been a senator since 2010, is no stranger to media coverage, as his controversial bills have garnered him quite a bit of attention over the years. Shortey was also the state chair of President Donald Trump's campaign during the primary elections.
"I am proud and honored to have been tapped as Chairman of the campaign for Oklahoma," Shortey wrote on his Facebook Sept. 2015, according to The Lost Ogle. "We are very excited for the opportunity to have Mr. Trump here," he said, announcing a rally for Trump at the Oklahoma State Fair.
Upon news of the allegations, on Wednesday, the Senate moved to punish Shortey by revoking his privileges.
• The measure suspended his positions as vice chairman of the Committee on Energy and the Subcommittee on Select Agencies of the Appropriations Committee.
• It suspended his memberships in the Committee on Retirement and Insurance, the Committee on the Judiciary and the Committee on Appropriations.

• His executive assistant was reassigned.

• Shortey was directed to return his state-owned laptop and any other state-owned property in his possession, and he is no longer authorized to occupy his Capitol office or his assigned parking spot.
• His name was removed as author or co-author of legislation under the Senate's control.
Although Shortey has yet to be found guilty, the evidence, in this case, is overwhelmingly convincing. As the Free Thought Project has repeatedly pointed out, all too often those in positions of power are caught engaging in lewd acts with minors.
Just this week, the Free Thought Project has reported on two high-level child trafficking rings that were busted. Not surprisingly, they received no media attention in the United States.