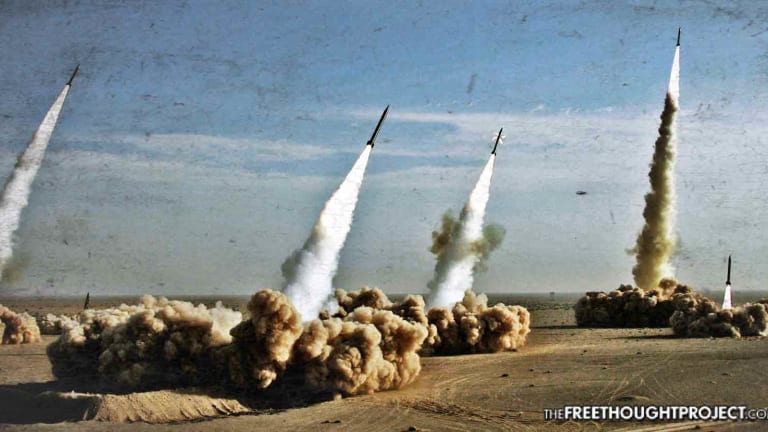 BREAKING: Trump Orders Military Strike on Syria—US, UK, France Provoke World War III
The first videos and photos have emerged on social media showing what appear to be the strikes by the US, the UK and French militaries in the Syrian capital.
Update 2: Witnesses are reporting explosions heard in Damscus...
Pentagon: There will be a press briefing at 10 p.m. EDT, tonight, April 13, in the Pentagon Briefing Room on operations in Syria.
* * *
Update 1: President Trump has now confirmed that in a combined operation with France and UK, a military strike is now under way against Syria...
"A short time ago, I ordered the United States Armed Forces to launch precision strikes on targets associated with the chemical weapons capabilities of Syrian dictator, Bashar al-Assad."

"This massacre was a significant escalation in a pattern of chemical weapons use by that very terrible regime."

"These are not the actions of a man; they are crimes of a monster instead."

"The combined American, British, and French response to these atrocities will integrate all instruments of our national power, military, economic, and diplomatic."

"We are prepared to sustain this response until the Syrian regime stops its use of prohibited chemical agents."

"In 2013, President Putin and his government promised the world that they would guarantee the elimination of Syria's chemical weapons."

"Assad's recent attack and today's response are the direct result of Russia's failure to keep that promise. Russia must decide if it will continue down this dark path or if it will join with civilized nations as a force for stability and peace."

"The United States will be a partner and a friend, but the fate of the region lies in the hands of its own people."

"Tonight, I ask all Americans to say a prayer for our noble warriors and our allies as they carry out their missions. We pray that God will bring comfort to those suffering in Syria."
Theresa May has commented:
*MAY: AUTHORISED FORCES TO CONDUCT TARGETED STRIKES IN SYRIA
*MAY: WE ARE ACTING TOGETHER WITH OUR AMERICAN & FRENCH ALLIES
*U.K.'S MAY SAYS STRIKE IS LIMITED, TARGETED
*MAY: SYRIA'S PERSISTENT PATTERN OF BEHAVIOUR MUST BE STOPPED
*MAY: ATTACKS `NOT ABOUT REGIME CHANGE' IN SYRIA
*MAY: CAN'T ALLOW CHEMICAL WEAPONS TO BECOME NORMALISED
Mr. Trump has threatened military action against Syria for days as retaliation for a suspected chemical weapons attack by the forces of President Bashar al-Assad on a Damascus suburb last week.
* * *
With two Tomahawk-capable destroyers in The Mediterranean Sea, and following "highly confident" intel that Syria launched the chemical attack, NYTimes reports that President Trump is expected to make a statement about Syria on Friday evening at the White House, an administration official said.
Additionally, Gateway Pundit's Josh Caplan reports that Vice President Mike Pence was seen "'rushing back" to his hotel in Peru amid speculation about possible U.S. military action in Syria.
FOX News reports that President Trump has approved military strikes on Syria and is set to announce them within 30 minutes.
Watch Live:
The Donald Cook and The Winston Churchill are capable of carrying up to 150 Tomahawk missiles between them (last April Trump fired 59 Tomahawks into Syria).
As a reminder, here is the largest missile diplomacy strikes from Washington...