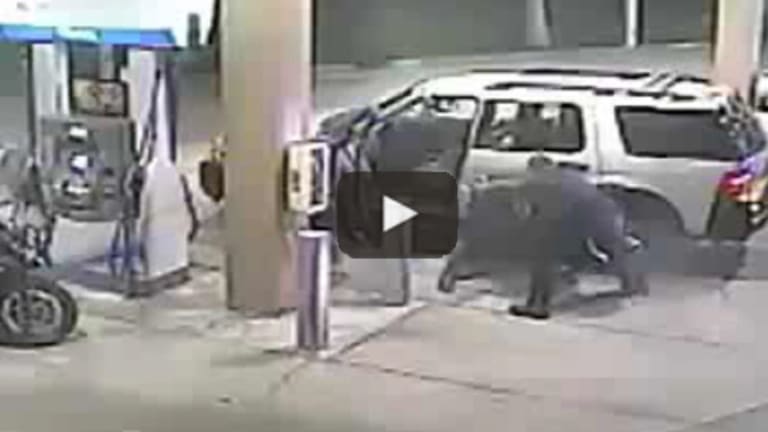 CAUGHT ON CAM: Man Allegedly Chokes a Hollywood Cop Unconscious
July 1, 2014
Hollywood police on Friday, released surveillance camera footage from a gas station of an officer involved scuffle.
Livingston Delton Manners has been arrested and charged with attempted murder for a nine-minute fight that broke at 3 a.m. between him and Detective Ronald J. Cannella.
Cannella's complaint affidavit said that Manners grabbed his throat until the officer "momentarily lost consciousness as a result of strangulation," however it is unclear whether or not this was on the video.
According to CBS 12 News, Hollywood Police Lt. Derik Alexander said the agency will wait to get Cannella's victim statement before trying to reconcile what the affidavit describes versus what the video may or may not show.
"We don't know at what point the described strangulation occurred, whether it occurred in the vehicle or on the ground, during the struggle," Alexander said Friday. "When you're in a struggle, alone with a very large suspect, there were a lot of things the officer had to deal with, [including] stress."
The lead up to this scuffle happened as Cannella was attempting to pull Manners over for running a stop sign. The report alleges that Manners did not immediately stop.
However, we can clearly see that Manners eventually stopped and was non-violent in the beginning of the video.
Not until Cannella initiated force by pushing Manners did the altercation begin inside the truck. The two men then fell to the pavement.
Cannella proceeded to get on top of Manners and throw what appeared to be six punches.
Two and a half minutes into the fight, a backup officer arrived. The second officer used her Taser on Manners, who was passive at times and resisted being handcuffed at other moments.
Patrol cars from other agencies pulled up and least a half-dozen officers surrounded Manners as a leashed K-9 lunged nearby.
It is unclear what happened to Manners while he was on the ground surrounded by officers, according to CBS 12 News.
Cannella survived the encounter and was able to go home that night. Manners survived as well and was processed into the city jail after being treated at a nearby hospital to remove the taser prongs.
Manners was also charged with resisting an officer with violence, resisting an officer/obstructing without violence and was cited for disobeying a stop sign.

What do you think? Was this self-defense or attempted murder? Let us know in the comments below.