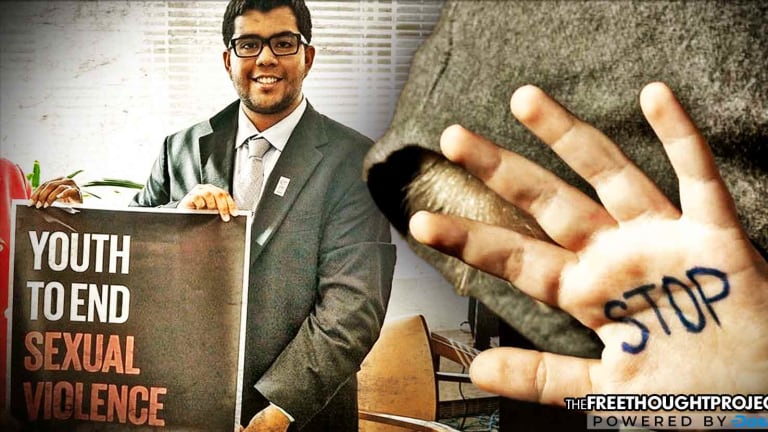 Chairman of Campaign Against Child Sex Abuse Charged with Attempted Rape of Multiple Children
The chairman of a charitable organization whose mission is to prevent sexual abuse of children has been arrested for heinous criminal acts and sexual abuse of children.
New York – A sickening case out of New York reveals the alleged sexual exploitation of vulnerable children by Joel Davis, 22 -- who is the chairman of the International Campaign to Stop Rape and Gender Violence in Conflict.
The website for the International Campaign to Stop Rape and Gender Violence in Conflict, describes their work:
With over 5,000 members, we are the first ever global collaboration between Nobel Peace Laureates, international advocacy organizations, and groups working at the regional and community levels in conflict.

The Democratic Republic of the Congo, Haiti, and Colombia, built an extensive network of Survivors United for Action, and demanded fearless political leadership on behalf of victims everywhere.
Although Davis started an organization devoted to stopping sexual violence, he now faces charges that include enticement of a minor to engage in sexual activity, attempted sexual exploitation of a minor, possession of child pornography and receipt and distribution of child pornography. Davis faces decades behind bars if convicted.
In a press release by the US Attorney's Office for the Southern District of New York, U.S. Attorney Geoffrey S. Berman said:
Joel Davis started an organization devoted to stopping sexual violence, while allegedly engaged in the duplicitous behavior of sharing explicit images of infants engaged in sexual activity. Davis also allegedly solicited an undercover officer – whom he thought to be a willing participant – to send sexually explicit videos of his nine-year-old daughter, and even to set up a sexual encounter between himself and a two-year-old. The conduct alleged against Joel Davis is as unfathomable as it is sickening, and as this case demonstrates, law enforcement will keep its watchful eye on the darkest corners of the internet to bring predators to justice.
FBI Assistant Director-in-Charge William F. Sweeney Jr. added:
Having started an organization that pushed for the end of sexual violence, Davis displayed the highest degree of hypocrisy by his alleged attempts to sexually exploit multiple minors. As if this wasn't repulsive enough, Davis allegedly possessed and distributed utterly explicit images of innocent infants and toddlers being sexually abused by adults. Crimes against children such as those alleged are taken very seriously by the FBI, and we continue to work tirelessly to investigate those who place the most helpless members of the American public at risk.
Segments of the full complaint against Davis, obtained by Disobedient Media, depict the truly heinous nature of his conversations with federal agents who he believed to be fellow pedophiles.
(Warning, the nature of the comments are grotesque and a potential trigger for sexual abuse victims)
Lori Handrahan, a renowned expert on the child sex trade in conflict zones, demanded via Twitter the Steering Committee for Davis' organization, which includes Human Rights Watch, Physicians for Human Rights, the Dr. Denis Mukwege Foundation, Nobel Women's Initiative, the Global Fund for Women, Youth to End Sexual Violence, The Italian Mine Campaign, Promundo, Every Woman Everywhere, Sofepadi, and Change Center for Health and Gender Equity, issued a public statement.
Davis' arrest represents just the latest exposure of a phenomena whereby the societal power-elite use their humanitarian charitable endeavors as cover to prey on innocent and vulnerable children they purport to protect.
Ominously, the mainstream mass media seem less than eager to report on these horrific stories of children being exploited by non-governmental organizations that are intimately connected to the establishment power structure.
Whether in regard to the UK child sex inquiry, the UNICEF child sex trafficking ring, or the Franklin pedophile ring/Boystown scandal -- which extended all the way to the George H.W. Bush White House -- as explained in the suppressed documentary Conspiracy of Silence and the supporting investigations and testimony which revealed an entrenched, nationwide, highly-placed, and extensive network of child rapists and pedophiles in the highest reaches of business and government, who were able to suppress, manipulate, intimidate, and corrupt the justice system.
The arrest of Joel Davis is representative of an all-too-horrifying norm in international aid that allows for the continued exploitation and abuse of these extremely vulnerable children.
When those in power use that clout to obstruct justice, the citizenry must remain ever vigilant in an effort to purge this sickness from the system. Without these types networks being exposed, there is little hope of saving the millions of children being sexually exploited around the world.