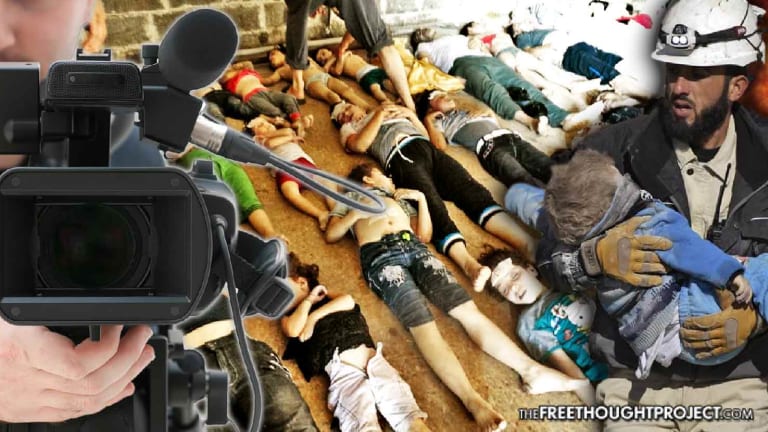 Bodies of 23 Dead Kids Allegedly Stolen for Use in Film of False Flag Chemical Attack in Syria
A new report says a chemical weapons attack false flag in Syria is coming soon — as Al Jazeera allegedly filmed the White Helmets in a staged event.
Just days after news emerged President Trump's Mar-a-Lago guests witnessed "after dinner entertainment" in his rash decision to launch missiles into Syria in response to an alleged, but as yet unproven, chemical attack on Syrian civilians by President Bashar al-Assad, reports are emerging another a false flag chemical attack has been staged and filmed in Syria — for a possible second time.
An unnamed and unverified "military and diplomatic source" told State-run Sputnik a fabricated chemical weapons attack has been filmed by State-run Al Jazeera News — with dozens of civilian and emergency personnel participating in the staged-for-video event.
"The 'effectiveness' of the White Helmets' TV-spectacle of accusing Syrian authorities of attacking civilians in Khan Shaykhun with sarin inspired terrorists to continue filming the fake 'series'. According to info confirmed via several channels, al-Jazeera television channel stringers have recently filmed a staged, fake scene of an alleged chemical attack against civilians by the Syrian Army," the unnamed source toldSputnik.
"A multiple simultaneous uploading of filmed fake footage with 'screaming' social media comments was due to take place in the next few days (by Sunday) at the separate command of a mastermind and sponsor of the film in one of the European countries."
And, according to the anonymous official, the phony attack had been "ordered from a European country."
Sputnikreports its source estimated around 30 fire engines and ambulances, as well as some 70 local residents — with children in tow — had been transported from a refugee camp to participate in the fabrication in three, separate locations throughout Idlib Province, including Jisr Shughur.
For months, the hotbed of conflict that is Syria has seen a number of failed or thwarted attempts by Western and allied media to report falsified or fictitious injuries and attacks as the brainchild of Assad — though none of the outlets and not one U.S. official has proffered unassailable, credible proof those accusations had teeth.
In fact, the National Coalition for Syrian Revolutionary and Opposition Forces claimed 80 people had been killed and at least 200 injured in the alleged April 4 chemical attack in Khan Sheikhoun, Idlib — which the Syrian government carried out.
Damascus and its allies vociferously denied the allegation, stating militants and their allies were responsible, and have announced various offers and calls for the West to send independent investigators to determine the responsible entity — which have been suspiciously and flatly turned down.
Video after the supposed attack showed members of the factious, Western-backed White Helmets ostensively attending to the victims — whom the U.S. say perished after contact with highly toxic sarin gas — without so much as medical gloves for protection.
Critics, including former Department of Defense scientist and professor emeritus at the Massachusetts Institute of Technology, Theodore Postol, lambasted the official narrative, asserting what happened in Khan Sheikhoun was "staged."
With the West hell bent on military involvement in the Syrian conflict, local reports and rumors after the deadly incident in Khan Sheikhoun almost immediately began telling of a second staged attack planned for the near future — some even stated bodies had gone missing from local morgues.
As Iranian quasi-State news agency, FARS, reported on April 30,
"The White Helmets Organization is getting ready to write another fake scenario similar to the one they practiced in the town of Kahn Sheikhoun [sic] earlier this month, local sources said Sunday."
FARS said the source mentioned the White Helmets and a contingency of civilians arrived in Ariha, in Idlib Province, and were present "to possibly conduct another false-flag operation similar to Khan Sheikhoun chemical incident to create a fresh wave of accusations against the Syrian government's involvement in a chemical attack on civilians."
While it would be impossible to verify such claims without being present in the area, the report from Sputnik would seem, at least superficially, to back up the claim the contentious, Oscar award-winning organization is indeed once again present for a questionable event.
Swedish Doctors for Human Rights (SWEDHR) viewed video of the aftermath of the April 4 incident in Khan Sheikhoun, and vehemently criticized many of the ostensive life-saving practices used by the White Helmets — and accused the White Helmets, also known as Syria Civil Defense, of falsifying information and records on the extent of its assistance with Syrian civilians.
Dr. Lena Oske of SWEDHR addressed what was said to be an injection of adrenaline, intended to save a chemical attack child victim, as performed by one White Helmet member in Syria, stating,
"If not already dead, this injection would have killed the child! Intracutaneous injection with adrenaline may be used if any other resuscitation measure does not succeed. Especially under precarious circumstances – such as in field emergency settings – where safer ways for the administration of medication might be difficult or unavailable. But not in the way shown in the video."
If Sputnik's source is indeed proven correct, and the White Helmets and civilian pawns have undertaken to effect another fake attack for the benefit of the U.S. and its Western allies, any further military response by the Trump administration would again rightly be assessed as direct aggression against a sovereign nation — and could entail scrutiny as a war crime.
As of press time, Al Jazeera had not made apparent any refutation of the Sputnik article, nor had it, nor any other outlet, reported a chemical attack in Syria — staged, fabricated, legitimate, or otherwise.