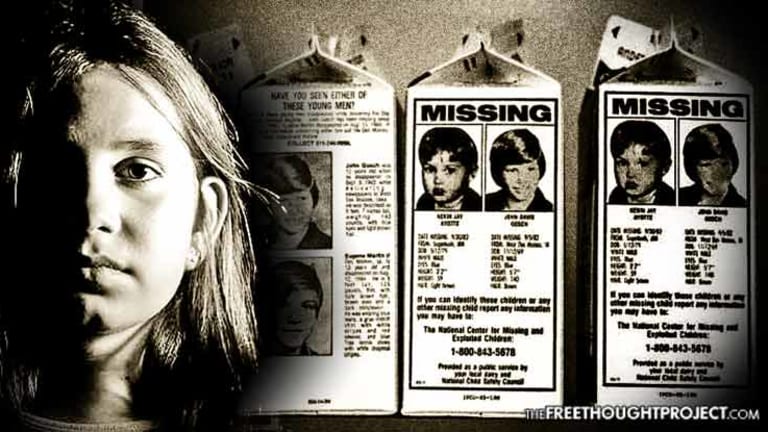 Over 100 Children Just Disappeared in UK - Sex Trafficking Fears Have Govt Scrambling
A child trafficking crisis in unfolding in the UK with over 100 children recently gone missing and experts warning that number is likely far greater.
A child trafficking crisis in unfolding in the UK with over 100 children recently gone missing and experts warning that number is likely far greater. Charity and government officials are now frantically working to put the brakes on the problem as children are being bought and sold into slavery and sexual exploitation.
As the refugee crisis began to spike, as a direct result of Western foreign policy in the Middle East, the UK came up with the Dubs Amendment to allow children whose parents had been killed, a fast track route into the country to ensure their safety. However, the government grossly underestimated the difficult nature of placing so many children and the Dubs scheme was halted.
This inadequate planning led to hundreds of children being routed all over with government losing track and many of them falling into the hands of child traffickers.
"Now that the Dubs scheme has closed down and family reunification referrals are extremely delayed, these kids' only real option is to jump on lorries," Michael McHugh, the RYS coordination and child protection officer said to the Independent. "There are people here now who are doing business facilitating this, and they speak the children's language.
"Young people are becoming more and more emboldened in their pursuit to cross, with many considering 'work' as a way to do it. One child here recently told me he was told by an adult male that if he could do some work he would be taken to the UK."
This 'work', however, is little more than sex abuse and slavery. Authorities have found children working as slaves and some as young as 11-years-old, addicted to heroin.
"This is the tip of the iceberg," said McHugh, who says the number of trafficked children is likely far higher.
Christine Beddoe, an adviser on tackling child trafficking who co-authored a report by the All-Party Parliamentary Group on Trafficking and Modern Slavery, said children and young people in Calais are turning to smugglers "in desperation" to help them get out of their current situation, which she said "can very quickly turn into a trafficking situation," reports the Independent.
"Both in Calais and once they reach the UK, children and young people are falling victim to sexual exploitation, labor exploitation, criminal exploitation– it can be all three," she said.
"Very high prices are demanded and if they don't have families who can pay, then those young people are expected to do something to pay back that money, and then that turns into an exploitation situation.
"You can either pay your way if you've got money, or if you haven't got money, the very same opportunistic criminals will still try to get you there. But then these children are locked into having to repay that debt."
"One of the biggest problems that is hidden in the UK with victims of trafficking is the sexual exploitation of young boys," she said. "Because in a lot of the countries they come from there is so much stigma about sexual abuse of males, victims are very reluctant to talk.
"But rampant sexual abuse that goes on, not only on the journey, but also here in the UK. This level of abuse is so hidden here that when the British Government under the Dubs scheme talked about the vulnerability criteria, they didn't even mention about sexual abuse of male children," Beddoe explained of the government's lack of effectiveness.
"It's hidden on a policy level. The whole political framework overlooks the vulnerability of boys from all sorts of different backgrounds being sexually abused, and that is one of the crises in this situation."
Kevin Hyland, the UK's Anti-Slavery Commissioner admits that the government is not doing enough to stop the rampant exploitation of children in the UK, according to the Independent. "We need to stop playing the blame game. It's time to move from a culture of condemnation to one of responsibility. We have UN global goals – now is the time to put them into action," he said.
The time for action is certainly now. As the Free Thought Project reported, according to a London top cop, Britain's capital has become a hotspot for forced labor and sex slavery.
There are an estimated 13,000 victims of forced labor, sexual exploitation and domestic servitude in Britain, according to Government data and the police have no idea how to handle it.
The number of child trafficking victims has risen to a record high, according to data obtained by the UK's National Referral Mechanism.
Sadly, the government has admitted it has no way of stopping it.
As the state scrambles to deal with the mass influx of refugees, they are missing the point entirely. Their foreign policy in Afghanistan, Iraq, Libya, and Syria has created this flow of people who had their homes destroyed, parents killed, and towns taken over by terrorists.
These innocent people are forced from their countries and into European nations where cultural conflicts and trafficking situations arise and war is the underlying cause. No one mentions it either, leading many to believe it is by design.
Until these murderous and senseless wars and occupations are brought to a halt, the West's refugee crisis will continue to worsen, as will the child trafficking, xenophobia, hatred, and violence.