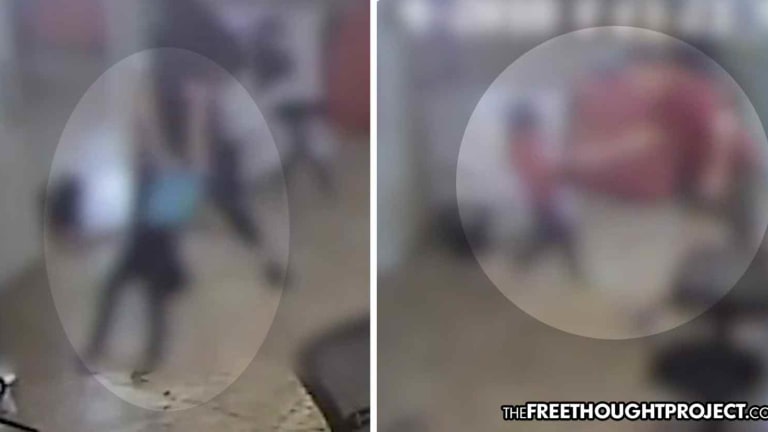 Horrifying Videos Show US Officials Dragging, Beating, Throwing Tiny Migrant Children Like Animals
Children that appear to be no bigger than toddlers are dragged, beaten, and thrown around like animals in an Arizona migrant facility.
Youngstown, AZ — Terrifying videos have been released this month showing the level of abuse endured by migrant children at the hands of government contractors. Children that appear to be no bigger than toddlers are dragged, beaten, and thrown around like animals.
Although the videos were recorded in September, they have just been publicly released as part of a Freedom of Information Act request. The Arizona Republic obtained the videos from the Arizona Department of Health Services under state public-records law.
The videos were taken at the Southwest Key facility in Youngstown, Arizona and involved multiple staffers and children at the facility. Shortly after the videos were recorded, Southwest Key shut down the facility in October, although it is not clear if the abuse prompted the facility's closing.
As The Free Thought Project has reported, Southwest Key is a non-profit organization with a federal contract to run the detention facilities to house immigrant children who have been separated from their parents or arrived in the U.S. as unaccompanied minors.
In June, we reported Southwest Key's detention facility in Brownsville, TX had denied entry to U.S. Senator Jeff Merkley (D-OR). Then, in August, Southwest Key showed up on our radar again for hiring numerous individuals who have already been convicted of molesting kids, or who now stand accused of sexually abusing the teens and children they were supposed to be protecting.
The video below shows, at least in part, how much abuse these children endured due to these irresponsible hiring practices.
As AZ Central reports:
One surveillance video shows a male staffer dragging and pulling a boy into a room, then slapping him and pushing him against a wall. The staffer then recoils when it appears the child strikes him. The staffer then leaves the room, and the boy is seen retreating to a corner, then pounding on the window in a door to an adjacent room.

A second video shows a female staffer hustling a child through a conference room, then dragging the child into an adjoining room because the child had lain down and tried to block the doorway with their legs. It is unclear from the edited video if the child is a boy or girl.

As that is happening, another staffer pulls a child with extended arms into the same room. All the while, workers doing other tasks in the conference room go about their business, with one seen adjusting her ponytail.

A third video shows a disrupted classroom setting, but the exact actions areunclear from the blurry image.

The state agency blurred the videos to protect the privacy of the children depicted.
Despite the horrific abuse seen in the video below, none of the staff faced any criminal charges.
"(T)he investigation determined that while physical force and restraint techniques were used against these minor children, these actions did not rise to the level of criminal charges," Sgt. Joaquin Enriquez, with the Maricopa County Sheriff's Office said in a statement on Friday.
According to the sheriff's office, the level of "restraint techniques" shown in the video is permitted by state law.
While the abuse in the video above is certainly despicable, many of the children under the care of Southwest Key faced far worse treatment.
As TFTP reported in August, an HIV-positive man, who was a youth worker responsible for caring for immigrant children in Phoenix, was charged with sexually abusing at least eight teenage boys detained over a one-year period between 2016 and 2017.
Levian Pacheco was accused of performing sex acts on two boys who were 15 to 17 years of age at the time they were assaulted. According to Time, several of the boys have elected to be tested for the virus as a result.
Unfortunately, Pacheco is not the only Southwest Key employee arrested for taking advantage of the most vulnerable members of our society. Fernando Magaz Negrete was arrested in August, also in Maricopa County, and charged with abusing a 14-year-old immigrant girl.
The girl's 16-year-old roommate told authorities she witnessed an encounter whereby Negrete is accused of kissing and fondling the girl. Video surveillance reportedly shows Negrete approaching the room several times throughout the night, although the entrance to the room was outside of the camera's view.
Another Southwest Key employee who has a disturbing record is Ernesto Padron. He worked as a U.S. Border Patrol agent for 13 years, up until he was arrested on second-degree felony charges for possession and promotion of child pornography. Yet he was given direct access to children when he was hired by an immigration shelter, according to reports.
Anyone tempted to believe these cases of abuse are isolated should read ProPublica's investigative report, which found that there have been at least 125 calls to report sexual abuse taking place in the shelters since 2014. ProPublica writes:
At other Southwest Key facilities, police reports and call logs from the last five years detail inappropriate relationships with staff, dozens of runaways, sexual contact among kids at the shelters and other allegations of molestation by employees. In one case, ProPublica found, a 46-year-old youth care worker in Tucson was convicted of groping a 15-year-old boy who had just arrived in the United States five days earlier.
While pundits on the left may want to paint the sexual abuse in a political light to implicate the Trump Administration, it is important to note the practice of housing children and teens began long before Trump ever took office. However, the Trump Administration has done nothing to curb the abuse and although it is out of the spotlight now, it is likely still a reality for hundreds of children.