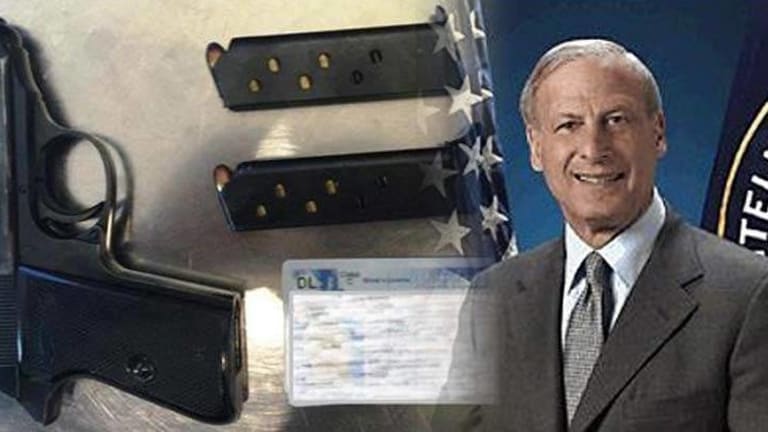 Former Executive Director of CIA Arrested Attempting To Bring Loaded Gun On Airplane
Former top dog in the CIA was caught sneaking a loaded 9mm on board a flight. Just down the road, another man was caught sneaking a gun on a plane that same day.

Linthicum, MD — Last Thursday at BWI airport in Maryland, former CIA agent A.B. "Buzzy" Krongard was arrested for trying to carry a gun onto an airplane. According to CBS Baltimore, Krongard had a 9mm handgun loaded with five rounds in his carry-on bag when he was stopped by TSA agents because they saw the gun as his bags passed through the x-ray scanner.
Krongard was immediately arrested on weapons charges, despite his involvement with the government and his notoriety as a well known local businessperson. During his time in the CIA, Krongard was a high-ranking official and was named the executive director of the CIA under President George W. Bush from 2001 to 2004. He held the third-highest ranking position in the CIA during that time period.
Oddly, on that same day another man was arrested for attempting to bring a loaded gun on an airplane, this time at Hagerstown Regional (HGR) airport, not far from BWI. So far there has been no indication that these cases are connected.
According to the official TSA policy "Firearms, firearm parts and ammunition—are not permitted in carry-on bags, but can be transported in checked bags if they are unloaded, properly packed and declared to the airline. Firearms must be unloaded, packed in a hard-side case, locked, and packed separately from ammunition. Travelers who bring firearms to the checkpoint are subject to possible criminal charges from law enforcement and civil penalties from TSA of up to $11,000."
Did Mr. Krongard think that he was above the law after a life in the upper echelons of government? Or was he involved in a deeper plot to justify overreaching TSA searches and overblown budgets?
John Vibes is an author, researcher and investigative journalist who takes a special interest in the counter-culture and the drug war. In addition to his writing and activist work, he organizes a number of large events including the Free Your Mind Conference, which features top caliber speakers and whistle-blowers from all over the world. You can contact him and stay connected to his work at his Facebook page. You can find his 65 chapter Book entitled "Alchemy of the Timeless Renaissance" at bookpatch.com.