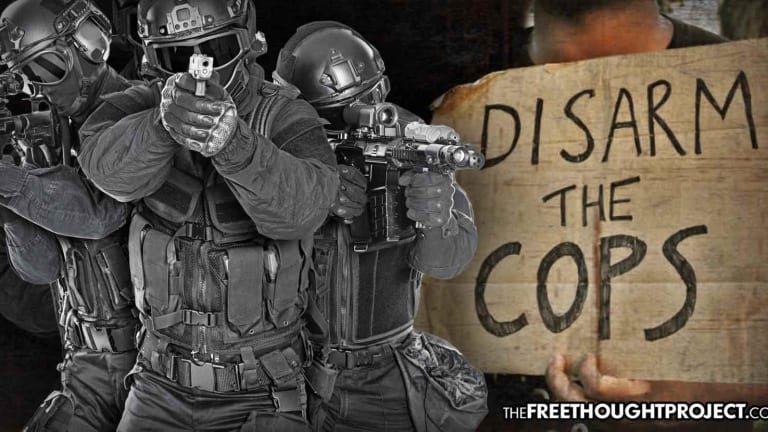 City's Entire Police Force Disarmed After They're Found to Be Tied Directly to Drug Cartels
News that a city's local police were disarmed for working with drug cartels was no surprise to citizens who view police and the cartels as one in the same.
The Mexican city of Acapulco made headlines after federal and state government forces disarmed the entire local police force and claimed the officers were working with drug cartels—a situation that some residents claim is one of the many results of a failed "War on Drugs" in the United States.
Two local Acapulco Police commanders were arrested on charges of homicide and both Mexican marines and federal and Guerrero state police took part in the operation to disarm the department, according to a report from USA Today.
Guerrero state security officials warned that all police officers are now under investigation, and the state and federal forces are enacting control "because of suspicion that the force has probably been infiltrated by criminal groups," and as a result of "the complete inaction of the municipal police in fighting the crime wave."
USA Today also noted that ever since Mexico previously deployed its army to battle drug gangs in 2006, "there have been more than 200,000 murders," with more than 30,000 murders occurring just last year—marking the highest number since 2011.
The violence has reportedly been on the rise in Acapulco, and with a population of around 800,000 people, the city had a homicide rate of 103 per 100,000 inhabitants in 2017—one of the highest in both Mexico and the world. As a result, Acapulco gained the attention of the U.S. State Department with a warning against travel to resorts in the coastal city.
While the United States government may be suggesting that Americans refrain from visiting certain areas in Mexico now, it is not likely that it will admit that decades of U.S. policies have had an effect on the current state of its southern neighbor—especially when it comes to the Drug War.
The U.S. has taken a step backward under Attorney General Jeff Sessions, and he announced plans to rescind a policy that keeps federal prosecutors from aggressively enforcing federal law in states where cannabis is legal in January 2018. In response, Florida Congressman Carlos Curbelo called out Sessions and noted that by supporting interference from federal agencies, he was also helping drug cartels flourish.
"The Attorney General's witch hunt against legally-operating, state-regulated marijuana businesses in states like Florida favors drug dealers and cartels operating ILLEGALLY and hurts LEGAL small business owners' ability to compete," Curbelo said.
However, the impacts of the "War on Drugs" in the United States and in Mexico are very different, and while it would be shocking if a city's entire police force was disarmed for connections to drug cartels in the U.S., some members of the public in Mexico view police officers and cartel members as one in the same.
As a resident in Acapulco, Jeff Berwick, Editor-in-Chief of the Dollar Vigilante and Founder of Anarchapulco, told The Free Thought Project the politics in Mexico may seem complicated to Americans who expect the police to be the "good guys."
"Mexico is a complicated place," Berwick said. "It is hard for foreigners—especially statist, indoctrinated Americans—to understand, but it is much more free market and anarchistic than the U.S. Your average Mexican doesn't like government or police. And, in Mexico, there isn't much difference between the cartels, government, and police. They are all factions of the same groups."
In fact, Berwick went as far as to say that when comparing government, police and the cartels in Mexico, "the least harmful have been the cartels."
"In many places, it is the cartels that help to protect people in their area. So, this news that the police in Acapulco has been removed is multifaceted," Berwick explained. "It is always good when the police are removed, in my opinion. The fact that they were removed by the military is the negative as the military works for the federal government. But, to date, the military in this area hasn't caused much harm to the locals. So, I take it as a positive."
Berwick went on to note that he blames the current predicament in Mexico largely on the harmful effects that have resulted from the decades-long "War on Drugs" in the United States.
"Of course, all of this is caused by the ridiculous and harmful 'War on Drugs,' pushed by the 'Fasco-Communist' U.S. government," Berwick said. "It isn't a 'War on Drugs.' It is a 'War on People.' If that were to end, then all of these problems would go away. Just ask the people in Cherán, Michoacán, that removed all government, police, and cartels from their city seven years ago and have been living in peace since then."
The community in Cherán was experiencing similar problems with many of its politicians and police officers accused of working with drug cartels in 2011 when its citizens fought back by creating armed militias to take a stand and take back their community.
As The Free Thought Project reported, seven years after the monumental uprising, Cherán has one of the lowest levels of violence in all of Mexico:
"Once the corrupt police and politicians left, the community collected the weapons, vehicles, and uniforms and established their own 'ronda comunitaria' or community guard. When the uprising first began you might see elderly women with sticks defending the community. These days the community guard is mostly young men and women with professional weapons. Seven years later and Cherán has one of the lowest levels of violence in all of Mexico. Quite an accomplishment while living in the violent state of Michoacán."