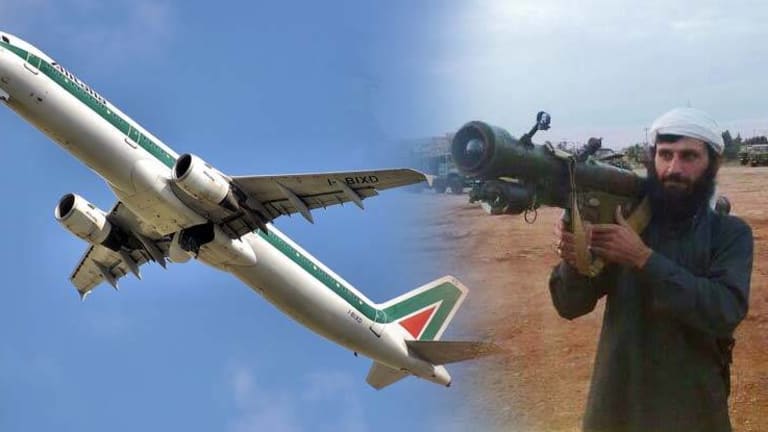 Civilian Airliners Now Under Threat by Jihadists -- Using US-Supplied Anti-Aircraft Missiles
Civilian airlines now under threat of being shot down by jihadists using surface-to-air missiles supplied to them by the US.
Civilian airliners are now under threat of being shot out of the sky thanks to American-backed Islamist groups being supplied the portable Stinger surface-to-air missiles (MANPADS) by the U.S. and their Middle East allies, such as Saudi Arabia, in Syria.
Taking a page straight out of the 1980's Afghanistan playbook, these strategic weapons were provided to extremist groups in an effort to assist in toppling the Assad government.
The truth was laid bare by Saudi Foreign Minister Abdel al-Jubeir, in an interview with German publication Der Speigel, when he said, "We believe that introducing surface-to-air missiles in Syria is going to change the balance of power on the ground … just like surface-to-air missiles in Afghanistan were able to change the balance of power there."
Confirming these reports, the U.S. and Turkish-backed Al Hamza brigade reportedly posted pictures showing off their new missile acquisition, while Ahrar al-Sham downed a Syrian Su-22 ground-attack plane with a MANPAD in southern Aleppo.
According to a report in the Asia Times:
On April 2, fighting broke out between western-backed al-Qaeda affiliates and the Syrian army, ending the Syrian ceasefire. The groups that broke the ceasefire included al-Qaeda in Syria (al-Nusra), the Chinese Uyghur Turkistan Islamic Party (TIP), The Levant Brigade, the Freemen of Syria (Ahrar al-Sham), Division 13 and other jihadi groups. According to AP, the US-trained and armed Division 13 is now fighting alongside al-Nusra and Ahrar al-Sham." The latter two are part of the Turkey/Saudi/Qatar-backed Army of Conquest.
In addition to the missile threat, the resumption of the fighting is exacerbating the Syrian refugee crisis plaguing the EU. It's also prolonging the suffering of civilians inside Syria and diverting Syrian military resources away from battling ISIS.
The official U.S. position is that supplying anti-aircraft missiles to Islamist extremist group is a red line that cannot be crossed, as there is fear that they could be used against allied military aircraft or civilian airliners.
Just such an event took place in Afghanistan in 2007, when the Taliban shot down a U.S. helicopter with a Stinger missile in Helmand Province. Additionally, military records reveal that in 2012, Taliban fighters in Kunar province shot down a US Army Ch-47 helicopter with new generation Stinger missiles, with Ken Timmerman of the New York Post revealing that the serial number for the missiles used were traced back to a lot recently signed out by the CIA to the Qataris for anti-Qaddafi forces, with between 50 to 60 Stingers believed to have been diverted to the Taliban in early 2012.
Despite the "official" red line rhetoric, these examples highlight the difficulty in controlling the proliferation of strategic lethal technology to Islamist extremist groups once these arms have been transferred to allied states such as Turkey and Saudi Arabia.
In 2005, RAND Corp commissioned a study which concluded that an attack on a civilian airliner would cause a global freeze on air travel that would amount to over $15 billion in losses. Now, over a decade later the numbers would be substantially higher.
With al-Qaeda's affiliates in Syria now having advanced U.S. surface-to-air missiles, it presents a strategic threat that former CIA director David Petraeus labeled, "our worst nightmare."