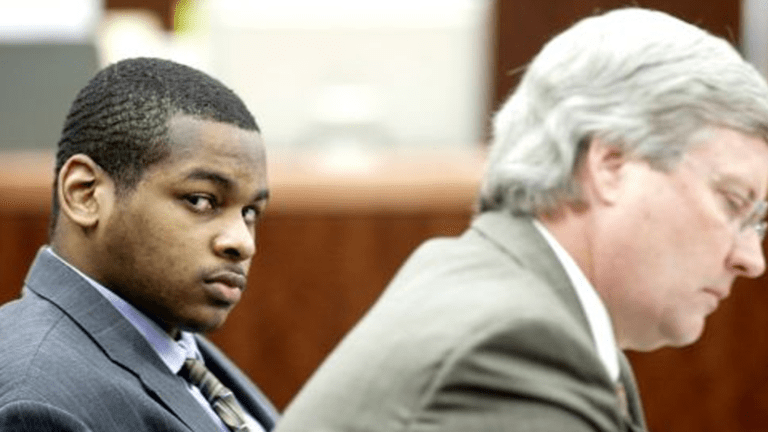 Conviction Thrown Out For Alleged Cop Killer, "Misplaced" Evidence was Found in Cop's Garage
Harris County, TX -- The highest criminal court in Texas threw out the conviction and death sentence of Alfred Dewayne Brown Wednesday after finding out that evidence, crucial to the defense's case, was withheld by the District Attorney's office.
In 2003, Houston police officer, Charles R. Clark was trying to to stop the burglary of a check cashing store when he was shot and killed by a man who fit Brown's description.
Brown has always maintained his innocence, stating that he was at his girlfriend's apartment the morning of the shooting and had made a land line call which could prove it.
However, his defense never presented evidence to back up the alibi.
Later on in the trial his girlfriend, after being threatened with having her children taken away by a grand jury, changed her testimony about him.
Brown was convicted of murder and sentenced to death in 2005.
After losing his direct appeal a private law firm, K&L Gates LLP, took Brown's case in 2007 and began searching for evidence to support his alibi.
Then, according to the Chron, in the spring of 2013, a Houston homicide detective found an old box of documents from Brown's case while cleaning out his garage. Inside was a phone record that showed a land line call was made from the girlfriend's apartment exactly when Brown said he made it.
The prosecution had requested the phone record and apparently after seeing that it backed up Brown's alibi, failed to submit it as evidence. Conveniently, the district attorney's office said the document must have been inadvertently misplaced.
In light of the new evidence that establishes his alibi, Brown's case has been sent back to the lower court for a new trial.
Luckily the evidence was found before this man was killed by the very state that promised him "justice."