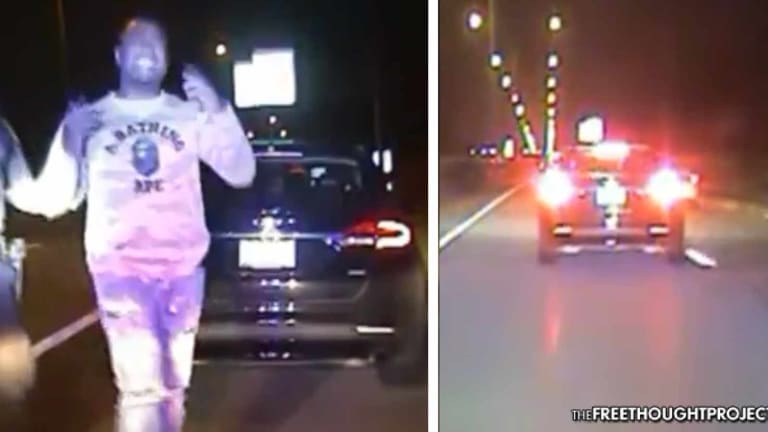 WATCH: Cop Arrested for DUI Gets Let Go Only to Be Busted AGAIN 3 Hours Later
A police officer was stopped twice in one night after his fellow officers found that his intoxication level was over the legal limit, and let him go.
Cleveland, OH — Earlier this month, Cleveland police officer Eric Williams found himself on the wrong side of the law twice in one night. First, he was charged with operating a vehicle while intoxicated (OVI), and later was caught speeding, going 90 in a 55 mph zone.
According to Fox8 Cleveland, Williams was first pulled over by highway patrolmen in Strongsville, Ohio. Williams took a breathalyzer test and blew over the legal limit, showing a blood alcohol content level of .13. Since police did not impound his vehicle, he was allowed to call his girlfriend who was supposed to drive the off-duty police officer home. But that never happened.
Instead of allowing someone else to drive him, the officer chose to drive himself. That's when he was pulled over for a second time in one night for speeding, going 90 miles an hour while an officer was directly behind him.
"So let me get this straight. You got popped for OVI tonight at 10 p.m....and now you're out here doing 35 miles over the speed limit?" the Middleburg Heights officer who pulled Williams over, asked for clarification.
Williams, who was treated like any other citizen, can be heard trying to rationalize and reason with the officer, even going so far as to ask the officer what he could do to rectify the matter.
"I'm just trying to get home. Sir, what can I do to make this right? I'm sorry," Williams said.
Middleburg Heights Police tested Williams to see if he was again driving drunk after that second stop, and they found he was not. According to the local Fox affiliate, Williams got off without being charged with a felony, something countless regular citizens have been convicted of. Possibly because he is a police officer, the cop who was allegedly driving drunk, pleaded guilty to a lesser charge of physical control. Since he had a weapon at the time of his OVI, he also had to plead guilty to a weapons violation.
While other charges are still pending, Williams' ordeal serves to illustrate that at least in some parts of the country, officers are treated to the same standard as the rest of the general population. We applaud both the Ohio Highway Patrol and Middleburg Heights Police for arresting Williams and stopping him from speeding and possibly attempting to use his status as an officer to break the law.
As for the prosecutors, if you gave him a slap on the wrist because he was an officer, shame on you. This is arguably what is wrong with police accountability—when officers get caught committing crimes, they are rarely charged and when they are, they are often exonerated.
As TFTP's Matt Agorist reported last year, in Pascagoula, Mississippi, a police chief was presumably caught red-handed driving drunk. There is no way to know how drunk he was because his fellow officers covered for him—and it was all caught on dash cam footage. As soon as Moss Point Police Chief Art McClung was pulled over, Pascagoula officers began to conspire to let him go even after he was clocked going 109 mph.
"He's obviously DUI...He's toast. He knows it, too. You could tell from the time we walked up...109, he was jacked up...You hear me? 109. 109. He's jacked up," the officers can be overheard saying.
Even though officers caught him criminally speeding and he was believed to have been drunk while driving, Pascagoula officers gave McClung a ride home instead of a ride to the precinct in handcuffs, which is what they would have done for a regular citizen. McClung may have gotten away without felony charges being filed against him, but because of the work of the Sun Herald and TFTP, he did not get away with it. He was eventually forced to resign amid calls by an angry citizenry for his termination.
Watch the dash cam footage of Eric Williams' arrest below: