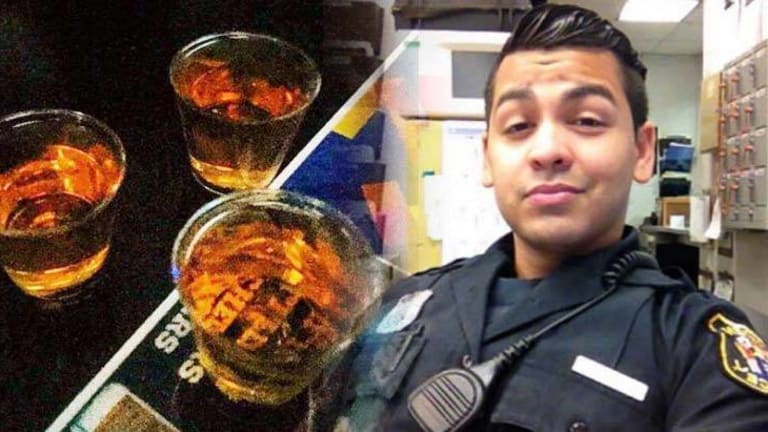 Cop Who Posted Shot Pics Before Killing People in Drunken Car Crash Claims He Was Drugged
Cop who killed 2 people while drunk, has a history of DUI, and often posts drunken pics to instagram, now claims to have been "drugged by strippers."
Linwood, NJ -- A police officer who killed two people in a drunken crash while he was driving the wrong way down the road is now claiming that he is not to blame for the accident because he suspects that he was drugged by strippers. However, it was documented that at the time of the accident the officer had a blood alcohol level of three times the legal limit.
The off-duty officer who was driving the car had posted a photo on his Instagram hours earlier of three shot glasses full of alcohol. In his Instagram post, Officer Pedro Abad identifies the drinks in the photos as "Jack Daniels Fire." He was at a strip club with a number of other police officers for several hours until they eventually left in a car together and crashed into a tractor trailer going the wrong way down a one-way street.
Yet Abad is still denying personal responsibility, saying that strippers at the club he was at drugged him with GHB so he would spend more of his money.
Mario Gallucci, the lawyer for Pedro Abad, suggested in court this Thursday that "an expert found some medical evidence that could be interpreted to mean Mr. Abad was drugged with GHB."
The medical evidence that Gallacci is talking about was not mentioned, but it could be something as simple as the fact that Abad was intoxicated, something that he had obviously brought on himself. Gallucci has not even looked at the blood tests yet, which he requested from the prosecution in court this week.
28-year-old Officer Frank Viggiano died in the crash along with a 28-year-old Linden resident Joe Rodriguez.
Abad is being charged with aggravated vehicular homicide and manslaughter and is scheduled to appear in court again on December 8th.
Abad has been arrested for drunk driving on two previous occasions, once in 2011 and again in 2013. According to public records, he has been involved in a total of eight automobile accidents.
John Vibes is an author, researcher and investigative journalist who takes a special interest in the counter-culture and the drug war. In addition to his writing and activist work, he organizes a number of large events including the Free Your Mind Conference, which features top caliber speakers and whistle-blowers from all over the world. You can contact him and stay connected to his work at his Facebook page. You can find his 65 chapter Book entitled "Alchemy of the Timeless Renaissance" at bookpatch.com.