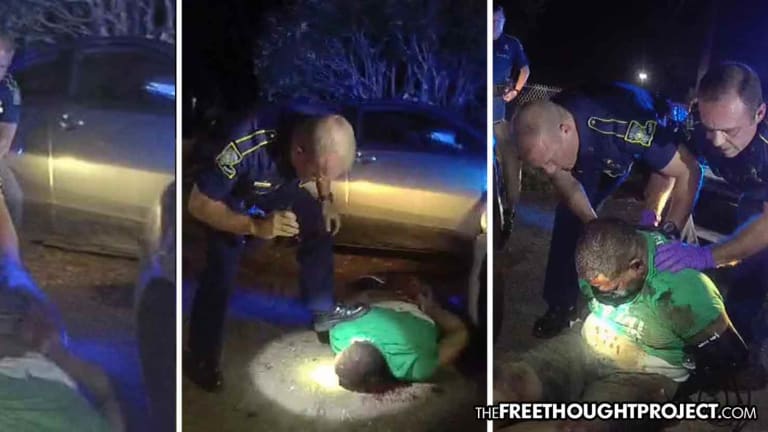 Cop Who Exposed Murder Suspended as Cops Who Covered it Up Remain on the Job
"There are killers and there are people who are OK with the killers being on the job. And that's the people who are a part of the coverup."
New Orleans, LA — The family of Ronald Greene as well as the public at large were all told a tragic but utterly false story about this 49-year-old Louisiana man's last moments alive. According to officials, Greene died after his car crashed into a "tree/shrub" just outside Monroe on May 10, 2019. However, we have since learned everything they were told was a lie after body camera video surfaced and painted an entirely different picture. Greene's death was not a result of the crash and the department engaged in a coverup.
We know about this coverup thanks in part to a brave cop who found out about it and could no longer stay silent. That cop is Louisiana State Trooper Carl Cavalier — and because he blew the whistle, he is now being persecuted as the cops who engaged in the coverup remain on the job.
According to Cavalier, he found out about Greene's death last year when a coworker told him about the horrific body camera footage that proved Greene didn't die in the car wreck like police originally claimed.
"An investigator who had knowledge of the case and who also viewed the video early on before anyone else and was speaking about how gruesome the video was," Cavalier told 4WWL in a recent interview.
After hearing about the video, Cavalier started doing some digging and what he heard was sickening.
"I guess it created like a shock to me, created like a level of disappointment that I'm still recovering from now. The fact that these guys are actively covering up a murder," he said.
As TFTP reported at the time, everyone but the inside circle of troopers covering it up remained in the dark about the details surrounding Greene's murder. The family of Greene had been calling for the release of the footage for two years until it was finally released in May showing just how massive a coverup it was.
According to police, Greene was targeted for a traffic stop for an unknown violation on that night. Before he could pull over, Greene wrecked his car. When we look at the photos of the car which were released by the family last year, it looks like a minor fender bender. Nevertheless, the Louisiana State Troopers claimed that Greene died in the wreck.
Troopers made no mention of the use of force — or even arresting Greene — in the State Police crash report obtained by the AP but they did state in their notes that he was not wearing a seat belt in the crash.
"We were told that he died in a high-speed chase of head injuries after crashing into a tree," Greene's mother, Mona Hardin, told the AP. "There was no major damage to the car."
As the leaked video shows, Greene was alive and well after the crash and records released by the Associated Press tell the truth of what happened that night. He spent the last moments of his life apologizing to the cops for not stopping soon enough — as they choked, punched, tasered, and stomped the life out him.
"It could happen to anyone, my family member, your family member. I just want the right thing to be done," Cavalier said. And he's right. The same department, less than three weeks after they murdered Greene, nearly beat a man to death with a flashlight.
On that fateful night in May of 2019, Aaron Larry Bowman hadn't committed a crime and had only been accused of "improper lane usage" when he was beaten nearly to death. Bowman did not resist arrest or attempt to flee, yet he was pulled from his car beaten to the point of hospitalization and all the officers involved covered it up.
Cavalier told 4WWL that he was aware of Bowman's video as well as multiple other videos of police brutality.
"There were still videos that haven't been released, you know, still videos that still remain under lock and key," Cavalier said.
While all of Cavalier's colleagues — including those directly involved in Greene's murder — chose to engage in a coverup, Cavalier said he could no longer remain silent so he decided to speak out.
In June, Cavalier went against department policy and did an interview on Greene's death. He was immediately given a warning letter. Then he went on the radio and on August 2, Cavalier was suspended for calling out the "toxic brotherhood" within the ranks of the troopers, saying, "I don't know if I should call it a brotherhood, but it's a toxic brotherhood bleeding blue."
As 31-year veteran Lt. John Clary faces no discipline despite multiple accounts that he lied about the body camera footage of Greene's murder, Cavalier says his career may be over for telling the truth.
"I don't know for sure what's going to happen with me," he said, "but I can assume that I think they'll find a way to terminate me."
"There are killers," he said, "and there are people who are OK with the killers being on the job. And that's the people who are a part of the coverup."