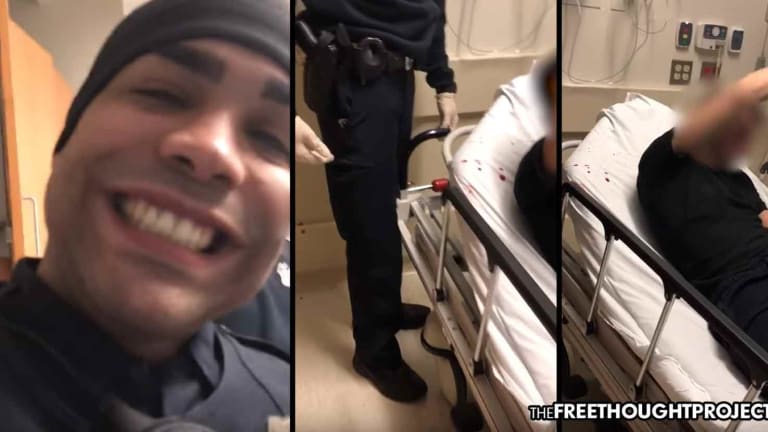 Cops Film Themselves Viciously Beating Suicidal Hospital Patient for Their Own Pleasure
After arresting a drug-dealing cop, the FBI searched his cell phone and found a video of him savagely attacking a hospital patient for his own enjoyment.
Paterson, NJ — When FBI agents launched an investigation into crooked drug-dealing Patterson Police Officer Ruben McAusland, they made a startling discovery when they seized his cellphone for evidence. McAusland and his partner, officer Roger Then, filmed themselves attacking a man in the hospital for sheer enjoyment.
"Prior to that video being discovered, we did not know about that assault," Assistant U.S. Attorney Rahul Agarwal said in federal court in Newark on Wednesday morning.
The patient, later identified as Andrew Casciano, has since filed a $4 million suit against the city.
The disturbing video was taken on March 5, 2018 at a hospital in Paterson. The man in the hospital bed, Casciano, had just attempted suicide and was being treated. He needed help, but sadly, he got a broken face instead.
As Casciano is lying in the hospital bed, he tells the officers to "do it" before McAusland proceeds to wallop him so hard that blood sprayed from his face, twice. The blows were so vicious that Casciano was severely injured and required surgery to repair his orbital bone.
What's more, the abuse recorded by the cops in the hospital room was only one part of Casciano's abuse. According to hospital surveillance footage, McAusland punched Casciano in his face as he sat in a wheelchair in the crowded hospital waiting room.
After finding the video, the FBI launched a secondary investigation into this sadistic pair of cops which led to both of their arrests. On Wednesday, McAusland was sentenced to 66 months in prison for his actions. As U.S. District Judge William Walls handed down the sentence, he called the disgraced public servant nothing more than a "street hustler."
Also part of the disgraced cop's sentence is paying Casciano $32,892 in restitution of McAusland's own money.
According to investigators, McAusland was caught selling drugs like heroin and crack cocaine after he'd steal them from crime scenes on which he worked. Eventually, this pompous 'street hustler' would become so careless that he sold these drugs to undercover federal investigators which would lead to his arrest.
McAusland was facing up to 50 years behind bars for these crimes, but he received a lighter sentence than he should have because he agreed to wear a wire and help bust some of his other suppliers.
As North Jersey.com reports, confronted by the FBI with evidence of his drug dealing, McAusland agreed to wear a wire last year to help catch a Paterson couple who were supplying him with heroin pills, Agarwal said. McAusland's work as an informant led to the federal drug conviction last year of Juan Vidal and Karen Rojas on charges they distributed thousands of heroin pills in Paterson, authorities said.
While Rojas and Vidal were both civilians, according to investigators, multiple other police officers were involved, but McAusland refused to cooperate with the FBI's investigation of the other Paterson cops, according to the judge—likely because they would have killed him.
"Through prosecutions like this one, police officers like McAusland – who dealt drugs, stole from a crime scene, and viciously attacked a person who sought help from the Paterson Police Department – are removed from positions where they can violate the public trust and deprive others of their civil rights under color of law," U.S. Attorney Craig Carpenito said in a statement said in the statement.
In what can hardly be referred to as an isolated incident of one bad apple, six officers from this department have been arrested recently. Some have pleaded guilty to dealing drugs, beating a hospital patient, and carrying out a string of illegal traffic stops in which they would shake innocent people down and demand money from them. Public service, indeed.