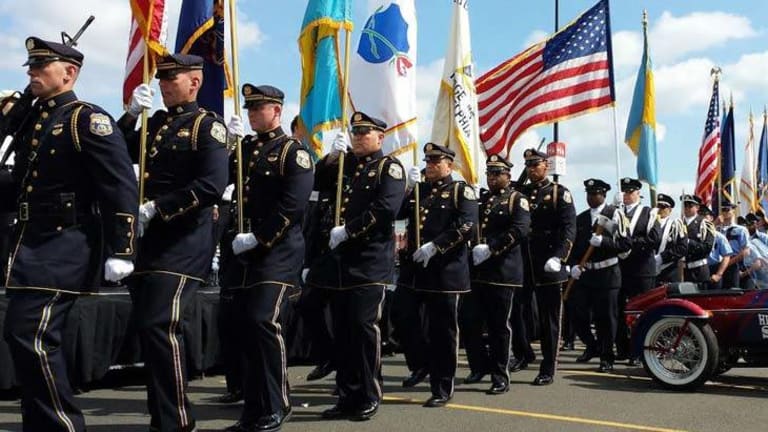 Not Only Did the 6 Most Corrupt Cops in Recent History Escape Punishment, they Get a PARADE!
Last week's acquittal of the most corrupt cops in recent Philly history was just the beginning of the kick in the teeth. Now they're getting a parade!
Philadelphia, PA -- Last year, six Philadelphia police officers were arrested for being involved in corruption and incidents that are usually reserved for the scripts of Hollywood crime movies.
All of the officers were either current or have been a part of the narcotics division. John Speiser, Brian Reynolds, Michael Spicer, Perry Betts, Thomas Liciardello, and Linwood Norman all narrowly escaped multiple charges including extortion, robbery, kidnapping, and drug-dealing.
All six officers were found not guilty on all 47 charges against them last week, despite eyewitness testimony from one of their own, multiple witnesses, and being caught red-handed in a federal investigation.
The investigation started two years ago when a former cop, Jeffrey Walker, was arrested and pleaded guilty to corruption charges. As part of an apparent plea arrangement, Walker rolled over on his fellow corrupt brothers in blue.
The charges brought against them included stealing drugs and money, robbing drug suspects at gunpoint, and worse.
Now, to add insult to injury, the disgraced cops are getting a parade down Broad Street, as a part of the "Hero Thrill Show;" an annual parade that honors police and firefighters who were killed in the line of duty.
The corrupt cops and their families will not only be featured in the parade, but they will each be riding in their own Bentley convertibles. Last year, the event brought in 50,000 people with a ticket price of just ten dollars, which is certainly not the type of budget that justifies six Bentleys. This simple fact brings up the question of whether or not they are wasting tax money on this parade, and if so, how much.
President and CEO of the Hero Thrill Show, James J. Binns was also the defense lawyer for one of the officers in the recent trials.
Speaking with Ralph Cipriano of bigtrial.net Binns said:
"These heroes have been vilified in the press and it's time that they were recognized as the heroes they are. I don't see how any reasonable fair-minded individual could have the slightest doubt about their innocence if you were there and heard the testimony.

They, like you, are Heroes who form the Thin Blue Line. They, like you, are whom Our Lord spoke about at the Sermon on the Mount where he discussed the Seventh of the Eight Beatitudes upon which he built His Church. He told the assembled multitudes: 'Blessed are the peacemakers, for they shall be called children of God.' Be safe out there! Jimmy Binns."
In a recent email to motorcycle cops who will be participating the event, Binns whined about the treatment that the officers received while in police custody, as well as the raid in which they were arrested.
In the email, Binns said that:
"They persevered through an 8-year investigation, 5:30 a.m. arrests at gunpoint with AR-15 rifles pointed at their heads, incredible humiliation of their wives and children INSIDE THEIR HOMES [they all worked 2 blocks away from the Federal Building and didn't wear weapons], 10 days of pre-bail incarceration in solitary confinement [8 months in the case of Officer Liciardello, who was denied bail], 8 months of house arrest with ankle bracelets and 7 weeks of trial."
However, Binns doesn't seem to understand that these officers spent decades as narcotics agents, raiding the homes of non-violent offenders, assaulting them, kidnapping them and in some cases even killing them. The treatment that these officers received while in custody is nothing comparison to what they themselves put innocent people through during their careers.
While the former cops have duped the justice system, The taxpayers will now be forced to pay for their mistakes. On average, for their past criminal behavior, they are facing over a dozen outstanding lawsuits each.
John Vibes is an author, researcher and investigative journalist who takes a special interest in the counter culture and the drug war. In addition to his writing and activist work he organizes a number of large events including the Free Your Mind Conference, which features top caliber speakers and whistle-blowers from all over the world. You can contact him and stay connected to his work at his Facebook page. You can find his 65 chapter Book entitled "Alchemy of the Timeless Renaissance" at bookpatch.com.