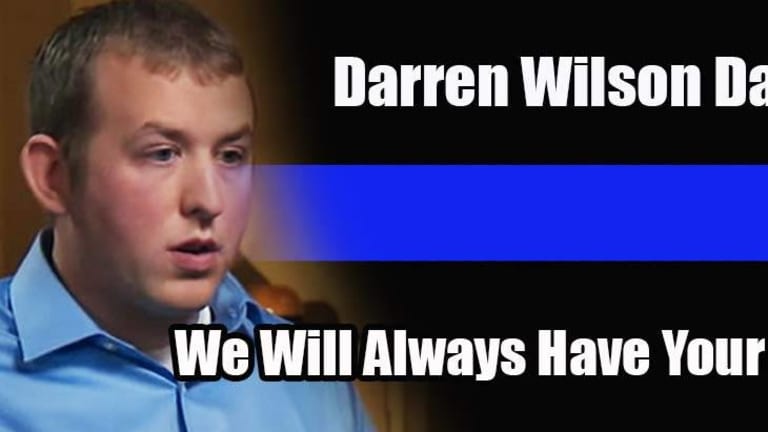 Killer Cops Get "Darren Wilson Day" While the Good Cops are Fired and Shunned
As police unions gather to celebrate cops who shoot unarmed teenagers, officers who selflessly lay their lives on the line for the public good are ostracized and terminated.
A Missouri police union provoked controversy by designating August 9 "Darren Wilson Day" in honor of the former Ferguson Police Officer who shot and killed 18-year-old Michael Brown on that date one year ago.
A message posted on the Facebook page of the Columbia Police Officers Association described Wilson as "an innocent, but persecuted police officer" who was "thoroughly investigated … and BOTH investigations found he did NOTHING wrong" by fatally shooting the unarmed Brown.
Predictably, that post generated criticism from police reform activists, including a small group of demonstrators who gathered outside police headquarters in Columbia to express their concerns. Significantly, that gathering was attended by Police Chief Ken Burton, who described the union's announcement as "insensitive at best, and provocative at worst."
"I found the post offensive, and I thought I needed to stand with the community and say what the police department thinks about it," Chief Burton told the Columbia Tribune newspaper. Similar criticism was voiced by Columbia Mayor Bob McDavid, who described the statement as "insensitive and divisive."
"This is not the first time that CPOA has reflected poorly on the brave and dedicated men and women of the Columbia Police Department," McDavid observed.
A few hours after it was posted, the initial CPOA statement was deleted. A subsequent post sought to clarify the organization's intent:
"The CPOA's post on Sunday regarding Darren Wilson was interpreted in a manner that was not the intended message. In an effort to resolve the confusion, the CPOA wants to say this plainly: CPOA supports Officer Darren Wilson and all law enforcement officers who endure similar situations."
While the CPOA and police unions nationwide raised funds to pay Wilson's legal and living expenses, none of them reached out to former Yakima, Washington Police Officer Adam Basford, who endured a career-ending gunshot wound to the leg during a hands-on struggle with a larger, younger, armed felon.
On August 18, 2013 – almost exactly a year before Wilson's encounter with Brown – Basford arrested an armed ex-convict named Antonio Cardenas, who was a suspect in a nearby shooting. Following a foot pursuit, Basford confronted Cardenas in front of a residence where children could be seen playing. Wanting to avoid an exchange of gunfire that would endanger innocent lives, Basford engaged the much larger, armed suspect hand-to-hand. During the struggle, the officer was shot in the leg, but managed to subdue him until backup tardily arrived.
Rather than receiving a commendation for valor, Basford was compelled to leave the department. The stated reason for his termination was that Basford had violated policy by not surrendering his firearm after other officers arrived on the scene, and by allegedly threatening the subdued suspect as EMTs attended to him. Basford later said he was concerned that the suspect – who had already shot him in the leg – hadn't been thoroughly searched and might have been reaching for a concealed weapon.
Basford's actions following the arrest might have been a technical violation of department policy. It is indisputable, however, that he single-handedly subdued an armed, dangerous felon without killing him or risking the lives of bystanders – and that he did so at substantial risk to his own life.
As The Free Thought Project has previously reported, Basford had filed misconduct complaints against some of his fellow officers with the Yakima PD, and believes that this explains why officers were tardy and reluctant to respond during his struggle with Cardenas. Following his termination, Basford – as a private citizen – filed a complaint against one of the officers who had been on the scene the evening of August 18, 2013. Rather than investigating that complaint (which arose from a separate incident) the department charged him with filing a false report.
Threatened with the possibility of a year behind bars, Basford was coerced into accepting a "Stipulated Order of Continuance." This was essentially a form of probation under which any violation of the probation terms would lead to a "stipulated trial" - a proceeding in which a judge makes a determination on the basis of the prosecution's version of the story.
The lingering physical effects of the gunshot wound he suffered make it impossible for Basford to find suitable employment. Unlike Darren Wilson, who was deluged with donations from police unions and law enforcement groupies across the country, Basford wasn't able to raise funds to pay his legal expenses.
Unlike Darren Wilson, Basford suffered visible injuries as a result of an authentic life-and-death struggle with a suspect. Despite being outweighed by Michael Brown, Wilson was essentially the same size as the unarmed suspect. Basford, by way of contrast, was several inches shorter and at least fifty pounds lighter than Cardenas, an armed suspect with a previous felony conviction. Wilson made the implausible claim that Brown, after initially fleeing, was "bulking up to run through the shots" at the time he was killed. Basford actually cornered a dangerous, armed felon, and then charged him in order to protect people standing nearby.
None of the police unions who embraced an officer who killed an unarmed suspect in dubious circumstances came to the aid of one who subdued an armed felon without firing a shot – most likely because Basford had "crossed the Blue Line" by filing excessive force complaints against fellow officers.