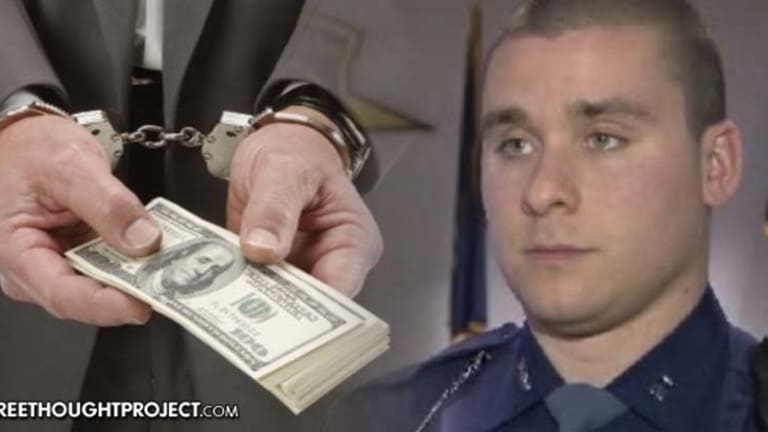 Decorated 'Hero' Cop Caught Using His Authority to Steal $170,000 in State Fees
A highly decorated Michigan State Trooper, once celebrated as a hero, has been caught with his hand in the state fees 'cookie jar' -- almost 2,000 times.
Detroit, MI - Disgraced Michigan State Trooper Seth Swanson was charged with embezzlement this week for pocketing thousands in false fees.
The 31-year-old trooper allegedly stole $170,100 in vehicle fees through an inspections scheme that he ran, where he would forge documentation on potentially stolen vehicles.
The Michigan Attorney General's Office issued the following statement detailing Swanson's theft operation:
"Police officers are given great trust and responsibility, and for that reason are held to a higher standard. When you break the trust you are given and in the process break the law, there are consequences, no matter who you are or what your profession. I want to thank the Michigan State Police and FBI's Detroit Area Public Corruption Task Force for their hard work on this investigation."
According to investigators, Swanson was a state-certified salvage vehicle inspector since 2011. As an inspector, Swanson was responsible for overseeing salvage vehicle inspections, during which a $100 fee is collected. For over a year, Swanson allegedly pocketed these fees and forged the forms that authorized the salvage.
Swanson is accused of applying this scam to 1,701 vehicles, bringing in a total of $170,100.
After he was charged, Swanson was forced to resign from the police department.
Police spokesperson Andrea Bitely told reporters that "Our office, in conjunction with the Michigan State Police and Secretary of State, are working together to make sure that all vehicles involved in this case have, actually have a proper salvage vehicle inspection, and we'll contact the registered owners of the vehicles to make sure we arrange for now inspection in a timely manner."
Prior to his crimes as an inspector, Swanson was praised in the media as a "hero" in 2013 for being one of the first responders to a large pile-up.
Swanson and his lawyers are attempting to use his past media fame as a defense in this most recent case, despite the fact that it is entirely irrelevant.
Defense attorney John Freeman said that Swanson is still a "hero."
"These charges don't detract from the fact that Trooper Swanson was a real-life hero and was a good trooper. It's easy for people to lose sight of that fact,"Freeman said.
Swanson was released on $10,000 bond and is currently awaiting trial.
Below is a video from 2013 in which Swanson was hailed as a hero.
[author title="" image="https://scontent-lax3-1.xx.fbcdn.net/v/t1.0-0/p206x206/11180635_10206767821827999_559224194627129346_n.jpg?oh=1629dfaa493cde9bde7d896161275ada&oe=58A44235"]John Vibes is an author and researcher who organizes a number of large events including the Free Your Mind Conference. He also has a publishing company where he offers a censorship free platform for both fiction and non-fiction writers. You can contact him and stay connected to his work at his Facebook page. John is currently battling cancer naturally, without any chemo or radiation, and will be working to help others through his experience, if you wish to contribute to his treatments please donate here.[/author]