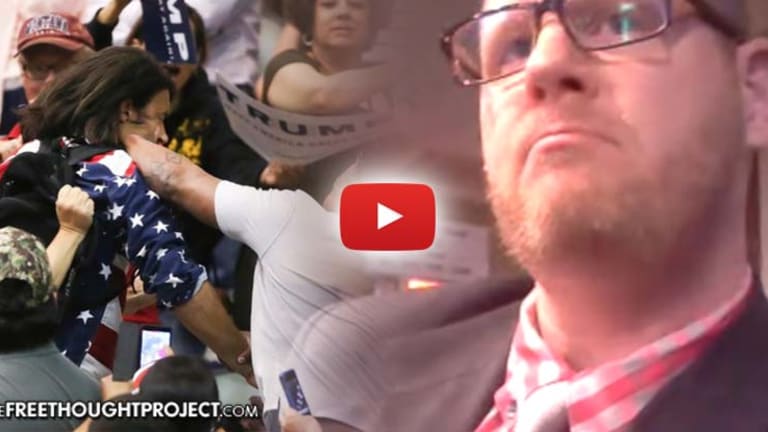 Undercover Video Catches Clinton Operatives Admit to "Starting Sh*t" Inciting "Anarchy" at Trump Rallies
A dramatic undercover video shows positive proof Clinton operatives were paid to provoke Trump supporters and incite violence at rallies.
Throughout the 2016 campaign for the U.S. presidency, the mainstream media's narrative has been that Republican presidential candidate Donald Trump is a racist, his supporters are "deplorable," and campaign rally violence follows Trump wherever he goes. ­­While it is certainly true that many of his supporters have been caught using violence against others, and Trump himself has even incited said violence, a new video implicates Clinton as the kindling for much of this fire.
The truth about many of those presumed violent Trump supporters is now coming forth, thanks to another " target="_blank">undercover sting operation by Project Veritas, who have now exposed the Democratic National Committee's devious and self-described "diabolical" black operatives and their subversive operations.
In a promised series of undercover videos, PV exposes those responsible for creating chaos at Trump campaign rallies. In part one, PV sets the stage of characters all working to smear Trump and paint Clinton as the only "serious" candidate in the race for the presidency.
Scott Foval is the National Field Director at Americans United for Change. Foval gets his marching orders from Bob Creamer, founder and partner of Democracy Partners. But one should think twice before assuming either man is trying to unite Americans behind the banner of democracy in America. No, these guys are apparently all about the business of creating chaos which drives a wedge between our nation's so-called indivisibility.
The video shows Creamer, in his own words, saying Hillary Clinton's campaign "is fully in" on what they're doing. "Hillary knows through the chain of command what's going on," he said. And we'll take him at his word on that. And what is it that these two men and others are up to? According to Creamer, they like to "start shit."
Foval calls the method to his madness, "Conflict Engagement." He goes on to define the term's meaning. "Conflict engagement is in the lines at Trump rallies," he said, adding, "We're starting anarchy here." He claims he's used, "mentally ill people," and that his organization pays, "to do shit." He told the PV undercover that the reason he wants to start shit with Trump supporters is so that they will retaliate against the paid protesters. "That's what we want," Foval said adding, "we know Trump's people will freak the fuck out, his security team will freak out, and his supporters will lose their shit."
Foval claims he's used, "mentally ill people," and that his organization pays, "to do shit." He told the PV undercover that the reason he wants to start shit with Trump supporters is so that they will retaliate against the paid protesters. "That's what we want," Foval said adding, "we know Trump's people will freak the fuck out, his security team will freak out, and his supporters will lose their shit."
James O'Keefe, founder of PV, gave a personal introduction to the video and says his latest work is the, "culmination of a year-long investigation infiltrating the [Clinton] machine." And so far, his work doesn't disappoint. O'Keefe claims Foval used to work for the People for the American Way, a George Soros-funded entity, and implied he's still being funded in his new role at Americans United for Change and his own company, The Foval Group.
But Foval himself told the undercover he's, "contracted directly with the DNC and the campaign (Hillary Clinton) both." He described who he answers to saying he's "contracted to him (Bob Creamer," and says he answers also to both the heads of special events at the DNC and the head of special events at the Hillary Clinton campaign.
You may want to get out a pencil and a piece of paper, and draw an organizational flow chart to understand the hierarchy, but Foval says the Hillary Clinton campaign pays the DNC, the DNC pays Democracy Partners, and Democracy Partners pays The Foval Group as it "executes the shit on the ground."
According to O'Keefe, "Bob Creamer is Democracy Partners," and Creamer himself said he's the one "managing" all those events on the ground which are conducted wherever Trump and Pence go along the campaign trail. Foval says he works with Bob Creamer, "one to one," and describes a close relationship the two have with each other. "Bob Creamer is diabolical and I love him for it," Foval said admiringly.
O'Keefe calls their combined actions, "a dark money conspiracy," and says it's, "a violation of federal campaign coordination laws." The investigative journalist claims those responsible are Hillary Clinton's campaign, Priorities USA (Clinton Super-PAC), and the Democratic National Committee. Together, they serve as co-conspirators in the alleged crimes being committed, and the fraud being perpetrated against Trump and his supporters.
But catching Foval or Creamer, or anyone else for that matter, and finding them guilty of subverting Trump's campaign may be easier said than done. That's because, as Foval admitted, there's "plausible deniability" at work in the way they communicate with each other. Because he's is a "consultant" he's able to act as a intermediary between Creamer at Democracy Partners, and the DNC, creating a disconnect of blame. But if there's any truth to what PV revealed in their video, and what Foval is caught on camera saying, it will likely only be found in his text messages, which he says is a "text conversation that never ends."
The braggadocios field operative's claim to "start shit" on the ground at Trump and Pence rallies, and actually being successful in doing so, is the focus of the second half of PV's video. The National Field Director for United for Change says he uses a script to train his paid protesters to get rowdy. He calls it a "script of engagement" and says, "sometimes the crazies bite, and sometimes the crazies don't bite," referencing Trump supporters who react when provoked by the script.
Foval's sript starts in the line going into the Trump and Pence rallies. He says he places his people in the lines with "Planned Parenthood" t-shirts on, or t-shirts indicating Trump is a Nazi. He said if his people do that, "easy to get some of these assholes (Trump supporters) to pop-off." He says his ground forces use those tactics in an attempt to get Trump supporters to "punch" them and promises the media will cover it wherever it happens.
But Foval isn't talking to the undercover about having a couple, maybe a handful of paid protesters. No. He claims to have as many as 500 at any given time, ready to cause orchestrated disruptions and says he gives them "agitator training" in order to be more effective. Claiming those groups are located in major metropolitan areas across the U.S., Foval proudly says some of his groups are located in DC, New York, Las Vegas, Colorado, Minneapolis.
In addition to Creamer and Foval, the stage of shady characters is set, starting with Aaron Black who describes himself as the "deputy rapid response director for the DNC for all things Trump on the ground." He added, "nobody is really supposed to know about me," but thanks to PV, everyone can now get to know the man who prides himself on inciting chaos for the Democrats to make the Republicans appear unhinged.
PV says his real name is Aaron Minter. Minter says he and Bob Creamer are the ones responsible for shutting down Trump's planned Chicago rally, amid violent protests which left several Chicago police officers injured in the melee.
But the biggest gotcha moment of the first PV video came from Minter's own mouth, it seems. Minter said his actions as a "field general" on the ground, coordinating all the paid protestors and groups, is supposed to look like it's coming from the people and not a coordinated DNC counter-protest. He explained, "none of this is supposed to come back to us because we want it coming from the people, we don't want it to come from the party."
In a weird sort of way, Minter seems to justify his actions by saying the protesters who get interviewed by the press are "actually people" who don't work as press spokesmen for the DNC or the Clinton campaign and, as a result, are simply more effective.
While Foval and Minter seem convincing enough, the direct connection with the DNC isn't made until about midway through the video where Creamer and another activist, Zulema Rodriguez, both claim to speak directly with the DNC every day. But the PV video doesn't reveal with whom they're speaking, at least not yet. And that's part of the edge of your seat suspense O'Keefe was able to achieve in his expose'.
Viewers, if they're like this reporter, are left wondering what could possibly top what they've seen already. What could be better than the heads of these Democrat field groups talking about how they dupe the media? But it does get better! Rodriguez goes on camera, albeit unwittingly, and described how she and her group shut down the Trump rally in Chicago and major highways in Phoenix, AZ, when Trump visited Maricopa County.
And since this story broke, The Daily Caller further investigated Rodriguez and reported she was directly paid by the Clinton Campaign a sum of over $1600, just weeks before the chaos erupted in Chicago which ultimately forced Trump to cancel his planned rally there. While the paid activists fomenting the Chicago uprising may have stopped Trump, the flow of money to Rodriguez kept coming. She raked in a whopping $20,000 total from the Clinton Campaign, MoveOn.org, and Stand Up For Ohio PAC (heavily funded by MoveOn.org).
Think you haven't seen Foval's handiwork before? Think again. He claims to have been behind Gov. Scott Walker's (R-WI) campaign flub, whereby Walker jerked a campaign sign away from one of Foval's paid protesters, situated in the very front of the stage, from which Walker was standing and speaking.
He also says he's responsible for characterizing Trump's supporters as violent, after one of his activists, Shirley Teeter, an oxygen-dependent sufferer of COPD (cardio obstructive pulmonary disease) claimed to have been assaulted at a Trump rally in North Carolina (by Mr. Richard Campbell). But it was Foval who claimed to be ultimately responsible for the confrontation which was broadcast as truth throughout the mainstream media outlets. Foval said she was "bird-dogging," a tactic used when one of his activists arrives so early to a rally, that he or she can get into the best position for maxium media coverage, should following one of his scripts result in an incident.
Project Veritas' work appears to bring to light the masterminds of the madness that the mainstream media uses to paint Trump negatively. As The Free Thought Project has reported on numerous occasions, a shadowy hand has long since employed controlled opposition tools to spread misinformation, and sway public opinion. This time, they may have broken the law, and have been caught red-handed doing so. Stay tuned to The Free Thought Project for more in PV's series, as they come available.