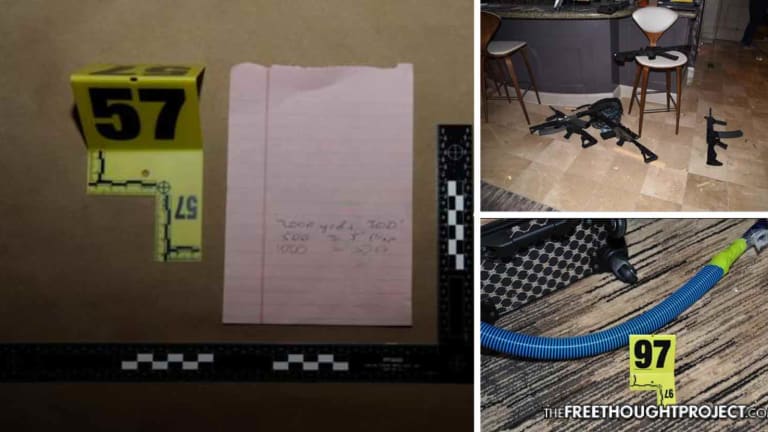 Dozens of New Crime Scene Photos Released from Vegas Shooting Add More Questions
Dozens of new photos were just released from the Vegas shooting investigation which provide a chilling look inside the room and vehicle of Stephen Paddock.
The Las Vegas Metropolitan Police Department finally released a substantial amount of information this week in the form of 28 crime scene photographs. The photos show the alleged shooter's room, vehicle, security setup, and even the infamous note. While these photos give us more insight into the shooting, they also leave us with many more questions.
The first photos in the series are not too damning, but they do show the extensive preparations taken by the shooter to prevent entry into the room.
THE STAIRWELL DOOR
The images also show how Stephen Paddox allegedly set up cameras to see if anyone was coming.
32ND-FLOOR HALLWAY
How nobody noticed several wires running from a door onto a food service cart, attached to multiple webcams remains a mystery.
FOOD SERVICE CART IN EXTERIOR HALLWAY
FOOD SERVICE CART (HALL)
When we look at the photos inside the room, this is when the serious questions begin to come up.
INSIDE ROOM 32-135
There are literally weapons scattered across the entire suite. AR-15 style rifles lay strewn across the floor, on tables, in the hall, on chairs—everywhere.
SITTING AREA 32-135
SITTING AREA #2 32-135
BAR AREA 32-135
KITCHENETTE
SITTING AREA TOWARD MASTER BEDROOM 32-135
THE CONNECTING DOORS
Adding even more mystery to the case is the random photo of a snorkel mouthpiece which was taped to a longer hose. Perhaps the shooter was preparing for tear gas canisters to be fired into the room. However, we don't know because police did not release any photos showing where the hose ends. Why is that?
THE SNORKEL HOSE
MOUNTED SURVEILLANCE CAMERA
THE MINI SLEDGE
Police finally released a close-up photo of "the note" which was seen in the original leaked images. Why, exactly, police couldn't confirm what was on the note originally remains a mystery.
BALLISTIC DROP/DISTANCE CALCULATIONS
Below are photos of the door police smashed in with a battering ram—more than an hour after Paddock allegedly opened fire in the hallway. As TFTP previously reported, because Paddock was a high-roller, the hotel used a special backline to police to warn them about the shooting. It was this backline which was blamed for the slow response by police as they were trying to help the casino keep the incident under wraps.
ENTRY DOOR 32-135
A PORTION OF THE DOOR
Other images show the massive amount of tools and other very suspicious items in Paddock's room. The reason these images are so suspect is due to the fact that hotel staff admitted to interacting with Paddock—including going into his room—and said they saw nothing suspicious.
DESK IN BEDROOM OF 32-135
How, exactly Paddock managed to conceal the small arsenal of weapons from housekeeping is just as big of a mystery as to how he got them in the room in the first place without being noticed.
INSIDE ROOM 32-134
LOOKING INTO THE BATHROOM OF 32-134
HALLWAY OF ROOM 32-134
Other than the hotel room, police also released images of Paddock's minivan. The contents of the minivan raise even more questions.
PADDOCK'S VEHICLE
EXPLOSIVE PRECURSORS
Paddock had dozens of cylinders of Tannerite. Tannerite is a legal explosive used by gun enthusiasts as a means of reporting a direct hit. Why Paddock had so much of it makes very little sense as Tannerite cannot be set off remotely with an electrical current or fire, or anything other than a bullet. If Paddock was going to set those orange canisters around the concert and shoot them to incite terror, he would have had one difficult time trying to hit them from such a distance.
What makes more sense, however, is that Paddock was an arms dealer. As TFTP reported, last week, emails from Paddock's computer were released raising suspicions that Paddock was an arms dealer.
An email exchange from [email protected], a Microsoft account FBI agents claimed was used by Paddock, was included in an affidavit reported by NPR. The date was July 6, 2017—about three months before the shooting—and while the FBI noted that it is unclear who is behind [email protected], the email account Paddock was contacting, the information included is significant.
"...[[email protected]] sent an email to [email protected] which read, 'try an ar before u buy. we have huge selection. located in the las vegas area,' Later the day, an email was received back from [email protected] to [[email protected]] that read, 'we have a wide variety of optics and ammunition to try.' And lastly, [[email protected] sent an email to [email protected] that read, 'for a thrill try out bumpfire ar's with a 100 round magazine.' Investigators believe these communications may have been related to the eventual attack that occurred at the Mandalay Bay in Las Vegas."
In the first message, Paddock claimed that the recipient would have the opportunity to try out the weapons before they purchased them. He then wrote "We have huge selection," indicating that he was not working alone, and he said he was located "in the Las Vegas area."
THE EXPLODING TARGETS
Police also released images of the fuel tank which they claim Paddock may have tried to blow up by shooting it. The images show that the tank was indeed hit with two rounds in randome places.
JET FUEL TANK
FUEL TANK BULLET STRIKE
LOWER STRIKE
A chilling image of Paddock's vantage point was also released.
THE VANTAGE
While these photos are certainly a step forward in finding out what really happened in Vegas, they are not enough. As TFTP reported this week, police have just contradicted themselves once more and reported that there are multiple suspects in the case. However, they gave out no more information.