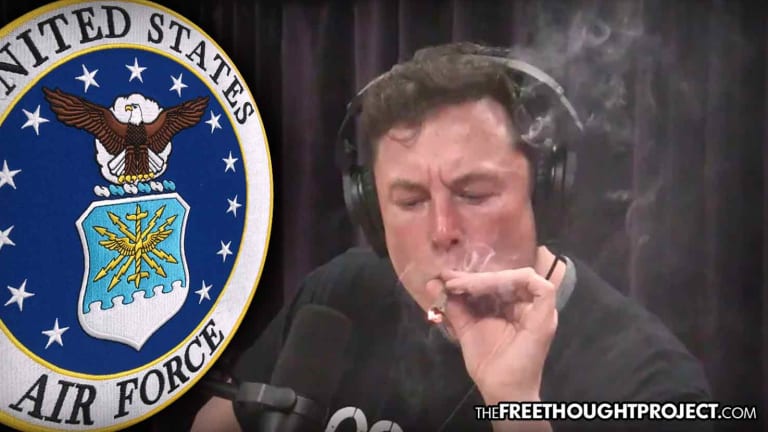 Air Force Proves Reefer Madness is Alive and Well, As They Respond to Elon Musk Smoking a Joint
The Air Force is reportedly determining the "facts and appropriate process' to deal with Elon Musk going on the Joe Rogan podcast and smoking weed.
Washington, DC — (RT) The US Air Force seems to be unsure how to react to the SpaceX CEO's marijuana smoking, and whether to review the security clearance of Elon Musk, whose company provides satellite launch services to the US government.
Following Musk's pot-smoking performance during a live podcast show with comedian Joe Rogan, reports have emerged that the Air Force was conducting an investigation into the SpaceX CEO's behavior. Despite the rumors, a formal probe has not yet been launched, an Air Force spokesperson told the Verge.
"It's inaccurate that there is an investigation. We'll need time to determine the facts and the appropriate process to handle the situation," the spokesman said.
As a government contractor for the United States Air Force and NASA, SpaceX is subject to the Drug-Free Workplace Act, which requires firms in receipt of federal money to maintain a drug-free policy.
Back in April 2016, Musk's company was awarded its first national security launch – an $83-million contract with the Air Force to launch a GPS III satellite. In 2017, SpaceX won a similar $96-million contract, and more recently in March 2018 was given an additional $290-million contract to launch three more satellites. In addition to the Air Force, the aerospace manufacturer also has contracts with NASA's commercial cargo and crew programs.
While Musk himself claimed that he "almost never" smokes weed, because it decreases his "productivity," the public exposure of the 47-year old with a joint in his hand seems to have contributed to Tesla Motors' massive plunge on Friday.
"You probably can't [smoke marijuana] because of stockholders, right?" Rogan wondered, as he lit the joint. "I mean, it's legal right?" Musk said, as he took a puff.
Shareholders, however, didn't seem to have appreciated the joke, especially after two of the company's top executives simultaneously departed the next day. The company's stock fell some 6.3 percent to $263.24 on Friday, the lowest close in five months, triggered by the news that Chief Accounting Officer Dave Morton had submitted his letter of resignation just a month after starting with the firm.
"The level of public attention placed on the company, as well as the pace within the company," forced the accountant to leave, Morton said in a filing with the Securities and Exchange Commission, emphasizing that he has "no disagreements with Tesla's leadership or its financial reporting."

Apart from Morton, the company also lost its HR chief, Gabrielle Toledano, who will be extending her leave of absence. Musk said that the head of human resources planned to spend more time with her family and has taken the decision "for personal reasons."