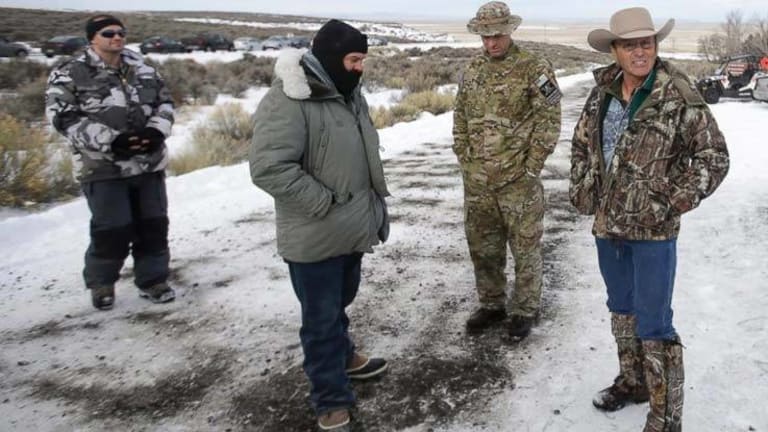 Exclusive Interview With Oregon 'Militiamen' - "We Have an End Game...This isn't a Crybaby Protest"
Members of a militia calling themselves Citizens for Constitutional Freedom stationed in a federal building in Oregon say they are well-stocked and prepared to stay for the long-haul.
Malheur National Wildlife Refuge, Harney County, Oregon -- Members of the group calling itself "Citizens for Constitutional Freedom" told The Free Thought Project that they intend to remain ensconced on federally owned land while legal researchers explore ways of "returning the land to the people who should control it." They went on to say that they are enjoying both moral and material support from ranchers whose properties are imperiled by the BLM and other federal agencies.
"We have an end game in mind -- this isn't merely a crybaby protest," insisted controversial activist Jon Ritzheimer, who spoke to The Free Thought Project while acting as a security guard at the top of a long driveway leading to the administrative headquarters of the refuge. "We are going to town on the land rights issues. There are researchers investigating title and land rights issues, mineral and resource rights issues, and we intendto stay here until we can build a legal case to return control of the land back to the people who should have it."
A recent essay published in this space explored the federal dispossession of the Paiute Indians, who in the 1870's had been promised the territory now called Harney County as part of a peace agreement following the Snake War. Asked if the CCF had made overtures to Native groups regarding land rights issues, Ritzheimer replied that he and his associates would be eager to reach out "if we knew how to contact them and who we should talk to."
"We are very aware of the treatment of Natives, and we have offered to help them in Arizona," added Blaine Cooper, who -- like Ritzheimer -- is a native of the Grand Canyon State. "We offered our support to the Apaches after Senator [John] McCain snuck through a deal to grab their lands on behalf of his cronies last year."

In late 2014, Republican Senators John McCain and Jeff Flake stealthily attached a rider to the National Defense Authorization Act arranging a land swap that deprived the San Carlos Apache tribe of 2,400 acres that includes Oak Flat, revered by them as a sacred site called Chich'l Bildagoteel.
Former tribal chairman Wendsler Noise, Sr. told The New York Times that his community regards Oak Flat to be as sacred as "Mount Sinai ... how the holy spirit came to be."
The beneficiaries of this surreptitious deal -- which was arranged at literally the last moment before the Senate approved the must-pass military spending measure -- are the owners of Rio Tinto, an Australian-British transnational mining consortium, and BHT Biliton, a multi-resource mining company also based in Australia. Front groups for the mining company have been generous McCain campaign donors, and prior to his congressional career, Senator Flake was a paid lobbyist for Rio Tito Rossing Uranium, which had a huge operation in Namibia. McCain and Flake succeeded where several previous attempts by Arizona congressmen had failed. One of them, former Republican Rep. Rick Renzi, began a three-year federal prison term for money laundering and corruption a few months after the dirty deal was consummated.

Beginning roughly a year ago, members of the San Carlos Apache Nation have staged an occupation of Oak Creek, which is scheduled for delivery into the hands of its new corporate "owners" sixty days after a federal environmental impact statement is completed.
Last August, when McCain visited the Navajo Nation Museum to honor World War II "Code Talkers," a group of protesters literally chased him from the site in a dramatic illustration of the Proverb that "The wicked flee where none give pursuit."
The proposed copper mine would destroy many irreplaceable cultural and historic sites, the most notable of which is "Apache Leap" -- a ledge from which 75 warriors are said to have plunged to their deaths, rather than surrendering to the U.S. Army. That act of heroic intransigence inspires the contemporary defenders of Oak Flat, whose tactics are broadly similar to those of the Citizens for Constitutional Freedom -- with the significant difference that the CCF is armed and has expressed the intention to use force in the event of a violent confrontation. (None of the CCF activists displayed firearms during our visit.) It also must be acknowledged that the core of the CCF consists of people who are not native to Harney County, and that some residents of nearby Burns have expressed an earnest desire that they leave.
Several CCF members interviewed by The Free Thought Project claimed that local ranchers who reside within the federal Refuge area have expressed concern and support and offered material assistance. During a January 5 visit to the site of what has been called an "armed occupation," The Free Thought Project spoke with one couple from neighboring Clark County who had brought a cord of firewood for the CCF, which would be useful in the event law enforcement official cut power to the facility.
"They're probably not going to be able to do that," one CCF member (who declined to give his name) responded when asked about that possibility. "They would have to be on-site to cut the power unless they want to take down the grid supplying power to all of the local ranchers in the middle of winter, which wouldn't exactly win their hearts and minds."
Harney County Sheriff David Ward, who has appealed for help to the Oregon Sheriffs Association, told Oregon Public Radio that the FBI is preparing criminal charges against the CCF. For its part, the group claims that it is well-supplied and prepared for a lengthy standoff that it hopes will end peacefully.