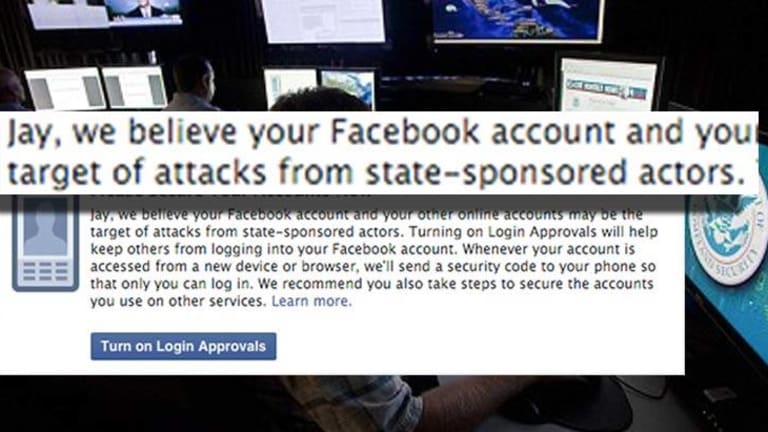 Facebook Will Now Warn You if Your Account is Targeted by Government
In a blow to Big Brother, Facebook has started to issue warning messages to users whose accounts are being targeted by "state-sponsored actors."
In a bold move against the increasing online presence of big brother, Facebook begins issuing warning messages to users whose accounts may be the subject of government attacks.
Facebook has started to issue warning messages to users when they suspect that an account is being targeted by "state-sponsored actors." Along with the warning comes the recommendation to turn on Login Approvals which further secures one's account.
On Friday, Facebook's Chief Security Officer, Alex Stamos released the update, along with the following statement:
While we have always taken steps to secure accounts that we believe to have been compromised, we decided to show this additional warning if we have a strong suspicion that an attack could be government-sponsored. We do this because these types of attacks tend to be more advanced and dangerous than others, and we strongly encourage affected people to take the actions necessary to secure all of their online accounts.

It's important to understand that this warning is not related to any compromise of Facebook's platform or systems, and that having an account compromised in this manner may indicate that your computer or mobile device has been infected with malware. Ideally, people who see this message should take care to rebuild or replace these systems if possible.
The statement went on to note that Facebook cannot reveal how they know the attacker would be from the government but assured its users that they are fairly certain when they make this assertion.
To protect the integrity of our methods and processes, we often won't be able to explain how we attribute certain attacks to suspected attackers. That said, we plan to use this warning only in situations where the evidence strongly supports our conclusion. We hope that these warnings will assist those people in need of protection, and we will continue to improve our ability to prevent and detect attacks of all kinds against people on Facebook.
It is important to note that the NSA and the rest of the US government spying mechanisms were not specifically mentioned in this new warning. However, this is the second such move by Facebook in recent months, which is a blow to the surveillance state.
In June, Facebook announced its own encryption service. According to the Facebook announcement:
To enhance the privacy of this email content, today we are gradually rolling out an experimental new feature that enables people to add OpenPGPpublic keys to their profile; these keys can be used to "end-to-end" encrypt notification emails sent from Facebook to your preferred email accounts. People may also choose to share OpenPGP keys from their profile, with or without enabling encrypted notifications.
PGP stands for Pretty Good Privacy. It's actually very good privacy. If used correctly, it can protect the contents of your messages, text, and even files from being understood even by well-funded government surveillance programs.
This move by Facebook to secure its users' data should be supported. Technology is our shield from those who wish to do us harm, and from tyranny. It's time we embrace it and foster these ideas that protect privacy.