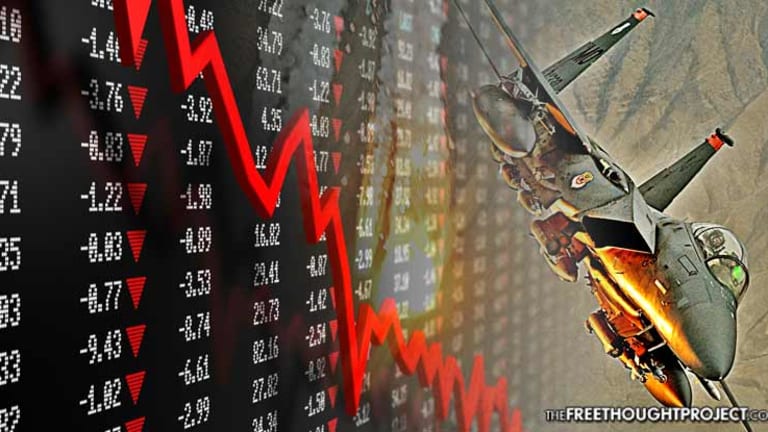 In 24 Hours, Multiple False Media Reports Cause an Air Strike On Iran and Financial Markets to Crash
In just 24 hours, multiple false media reports caused financial stocks to crash, and led to an airstrike that could have provoked an international war.
Despite the fact that trust in the mainstream media is at an all-time low, reports from the media can still have major international repercussions—even when they are false. In fact, in just 24 hours, false media stories caused financial stocks to crash and led to an airstrike that could have provoked a war.
Former U.S. National Security Adviser Michael Flynn pleaded guilty on Friday to lying to FBI agents about his conversations with the Russian ambassador. ABC's original report claimed that Donald Trump ordered Flynn to contact Russian officials during the 2016 election when he was still a candidate.
However, Trump actually ordered Flynn to contact the officials after he became president-elect. The original claim was made by ABC News Investigative Reporter Brian Ross, who said he was quoting an anonymous source. This method was used by the mainstream media throughout the election to push exaggerated claims with no evidence.
While ABC brushed off the mistake as nothing more than issuing a simple correction to one of their reports, the allegations from their "anonymous source" had serious repercussions. Ross made the claim during a "Special Report" from ABC News at 11 a.m. on Friday. Within minutes of the report, the Dow Jones Industrial Average dropped more than 350 points.
While the market eventually recovered, and ABC News suspended Brian Ross for four weeks, the fact is that one false mainstream media report based on an anonymous source that included no concrete evidence had the ability to send financial stocks plummeting—and that should be a wake-up call for everyone. Although it has not received nearly as much media attention, the BBC made a similar error that was used as evidence to support an airstrike on Friday, that could have pushed the United States into yet another war. As The Free Thought Project reported on Saturday, Israel launched a series of both surface missiles and airstrikes, targeting a town near Damascus, Syria. The attack targeted what appeared to be a military base.

The existence of the base was apparently revealed less than one month ago by a BBC report, which included satellite images of several buildings. According to BBC, these images were evidence that "Iran is establishing a permanent military base inside Syria."
However, the entire report was based on information from an anonymous "Western intelligence source," and there was no confirmation as to whether the buildings were being used by the Iranian military.
Following the attack from Israel, BBC reported, "Last month the BBC revealed a claim that Iran was building a permanent military base near the town. A series of satellite images showed construction at the location of the alleged base, which was made known to the BBC by a western intelligence source."
BBC also noted that, "Israeli Prime Minister Benjamin Netanyahu has previously warned that Israel would not allow Iran to establish any military presence in Syria."
In response, a report from ZeroHedge noted:
It appears the BBC is playing war propagandist for Israel, instead of including any level of critical inquiry regarding Israel's unprovoked act of aggression against its neighbor. In short, the BBC spread what it acknowledged to be a mere "claim" based solely on an unnamed "Western intelligence source". Then Israel used that claim to attack Syria, after which the BBC in circular fashion justified the attack based on its own original dubious "claim."
If Israel goes to war with Iran, it will rely on its closest ally—the United States—for support. Because of this, every American should be aware of how mainstream media reports can have real repercussions on the current state of events, even when those reports are based on claims from anonymous sources with no real evidence.