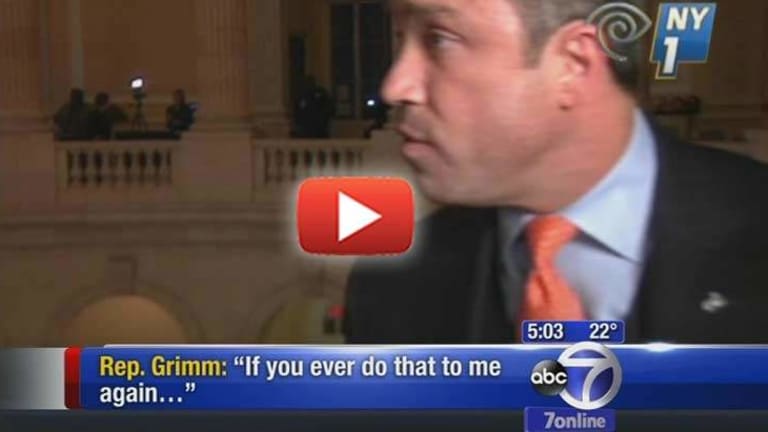 Former FBI Agent & Congressman Who Threatened Kill Reporter On Live TV, Sentenced to Prison
This former FBI agent turned congressman epitomizes the level corruption that is so rife within the United States.
Washington D.C. (RT) -- Michael Grimm, a former New York Congressman, was sentenced to eight months in prison for tax evasion after pleading guilty to under reporting $1 million in wages and receipts to evade paying payroll taxes. Grimm was facing up to three years in prison.
Grimm, 45, was sentenced on Friday and will surrender himself to federal prison on September 10. He will be on probation for one year after serving the eight months.
The former Staten Island Congressman, who is also a former FBI agent and Marine, pleaded guilty late last year to aiding in filing a false tax return in a case stemming from an investigation of his campaign financing.
US District Judge Pamela Chen said his crime included exploiting immigrant laborers, some who were paid as little as $4.60 an hour.
"He knew what he was doing was illegal, wrong and criminally punishable," she said, reported CBS New York. Grimm, "of all people, knew better."
"Your moral compass, Mr. Grimm, needs some reorientation," the judge told him.
The prosecutor said between 23 and 30 months in prison would be appropriate, but Grimm's attorneys appealed for no jail time during a two-hour sentencing hearing.
"I want to apologize to the court for even being here," said Grimm, adding that he had cheated on taxes to keep his business afloat.
"I didn't want to fail and I made bad decisions that I'll regret for the rest of my life," he said, prompting the judge to criticize his "belated remorse."
Prior to pleading guilty, Grimm had spent years maintaining his innocence.
According to an indictment, the tax fraud began in 2007 after Grimm retired from the FBI and began investing in a small Manhattan restaurant called Healthalicious.
The indictment accused him of under-reporting more than $1 million in wages and receipts to evade paying payroll taxes, as well as income and sales taxes, partly by paying immigrant workers, some of them illegal, in cash.
The case stemmed from an investigation into Grimm's campaign financing for his 2010 run. He was never charged with any offense related to the campaign, but a woman romantically linked to him pleaded guilty in September to lining up straw donors – contributors who illegally make campaign donations in their own name using someone else's money.
Grimm was re-elected to his Staten Island seat in November while fighting the charges. He resigned after pleading guilty.
Grimm also made headlines in January 2014 after telling NY1 reporter Michael Scotto that he wanted to throw the journalist off a balcony in the Capitol for asking about the campaign finance inquiry.
Grimm issued a statement soon afterwards, saying he had apologized to Scotto and the reporter had been "very gracious" in accepting his apology.