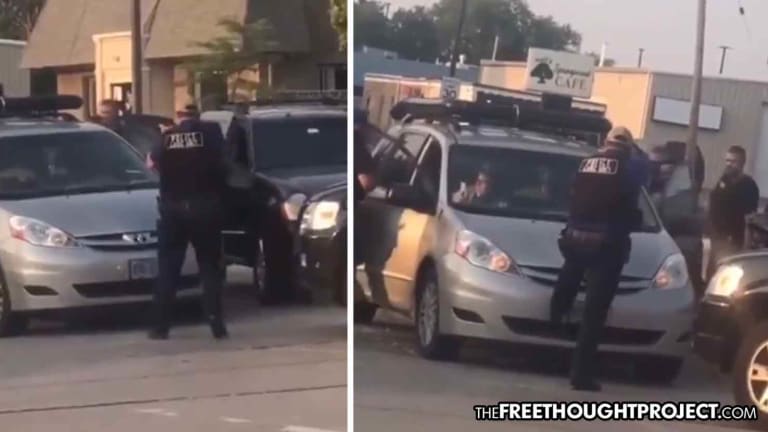 WATCH: Unmarked Feds Surround Food Truck, Smash Windows, Drag People From Car After Buying Gas
Federal agents were recorded attacking a food truck group who feeds protesters in broad daylight because they were filling up with gas.
For the past month, the Department of Homeland Security and other federal law enforcement agencies have been sending agents out to protests in different cities across the US, and they are having some highly questionable interactions with the public.
The tactics of these agents were first noticed in mid-July after federal police in unmarked vehicles were seen grabbing protesters off the streets without cause, sometimes miles away from where demonstrations were occurring. During the most recent protests in Kenosha, Wisconsin, federal police were once again seen targeting alleged activists.
In one case, federal agents were recorded attacking an activist group in broad daylight because they were filling up their food truck and a few generators up with gas. As soon as the group pulled out of the gas station their vehicles were surrounded by police in unmarked cars who immediately rushed out and pointed their guns at the activists.
One of the officers began pounding on the window of the vehicle, and without giving the occupants any time to open the door, they smashed the window with a hammer, which caused the glass to spray all over the person in the passenger seat. Some of the officers were wearing vests or uniforms that identified them as police or US Marshals, but many of them were in plain clothes.
In the rest of the video, police can be seen arresting the occupants of the vehicle that was on-screen, and there were also other activists just off-screen who were arrested as well. The activists were arrested in such an aggressive manner and charged with disorderly conduct because the police were not comfortable with how much gas they were buying. Many of the people who were arrested belong to a Seattle-based nonprofit called "Riot Kitchen," which serves food to protesters.
About a half dozen members of the group and a few of their supporters were arrested, according to Riot Kitchen board member Jennifer Scheurle.
The Kenosha Police Department said in a later statement that they began tracking the group after receiving a tip about "suspicious vehicles" meeting on the edge of town. While tracking the group, they say that they saw them filling up multiple gas cans at a gas station, which is why they made such an aggressive arrest.
"Suspecting that the occupants of these vehicles were preparing for criminal activity related to the unrest, officers attempted to make contact and investigate," police said in a statement.
Riot Kitchen board member Jennifer Scheurle told The Washington Post that the group had no criminal intent with the gas and that they were only filling up their food truck and generators when they were approached by police.
"It's two giant vehicles and generators. We don't have guns, we don't have weapons. We're there to feed people. That's it," Scheurle said.
Police claim that they found helmets, gas masks, protective vests, and "illegal fireworks" during a search of the vehicles connected with Riot Kitchen, but aside from the fireworks, none of those items are actually illegal, which doesn't seem to justify the attack and subsequent arrests shown in the video.