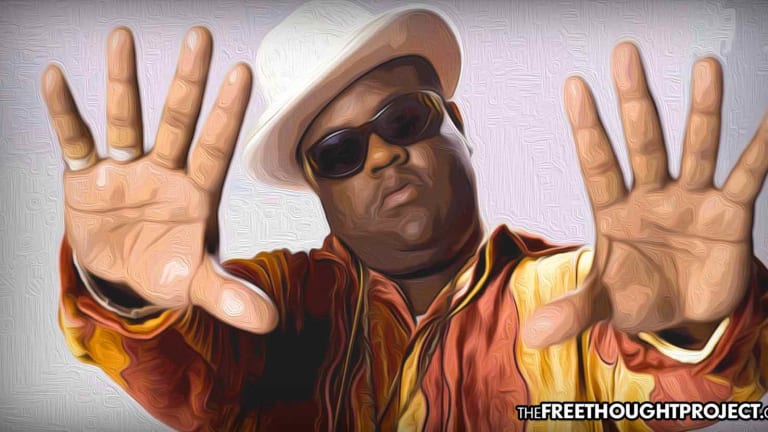 Fmr FBI Agent Releases New Info About B.I.G.'s Murder that Could Lead to Charges Against Fmr LAPD Cops
The lead FBI investigator in the murder of Biggie Smalls has come forward with damning information that exposes a vast conspiracy inside the LAPD and implicates officers in his death.
Los Angeles, CA — On March 9, 1997, in front of the Petersen Automotive Museum in Los Angeles, Christopher "The Notorious B.I.G." Wallace was gunned down in a drive-by shooting by an unknown assailant. Since that fateful night, conspiracy theories and controversy has surrounded the case. Now, however, his fans and the rest of the world may have some answers as to what happened as the FBI agent tasked with investigating the murder has come forward with bombshell information.
Former head of the FBI's Los Angeles field office, Philip Carson was tasked as the lead investigator in the death of Wallace. Carson said he was very close to exposing Wallace's killer(s) but his bosses at the FBI shut down his investigation due to pressure from the LAPD.
Carson held this information secret until he retired two years ago and took 3,000 pages of the murder case documents with him to begin telling his story. Carson recounted the details of his story to filmmakers who made an upcoming movie starring Johnny Depp, titled City of Lies.
As the Sun reports, Carson told one of the movie's producers Don Sikorski that his documents could rock the foundations of LA's law enforcement, in a tape shared with Sun Online.
"It's bulls**t and here's what gets under my skin more than anything," Carson says in the recording.
"LAPD, all the way to the very very f***ing top, knew exactly what was going on.
"They briefed on certain stuff, I met with them and for them to say anything different - I could prove to you not only how they knew, but how they obstructed this case, and how they completely derailed it.
"It's hard for me to even explain how amazing it is what they did."
According to the report in the Sun:
Carson believes that Marion 'Suge' Knight, the former CEO of Death Row Records who signed rappers including Dr Dre, Snoop Dogg and Tupac, employed the LAPD cops and ordered them to arrange Wallace's murder.

At the time, Carson's line manager signed off on his report, but the case was rebuffed by the United States Attorney's office, allegedly after pressure from the LAPD.

He says senior members of the LAPD then conspired with his bosses at the FBI and prosecutors to keep his evidence secret.

Carson believes top officials were trying to save the city from bankruptcy after Biggie's mum Voletta filed a $500,000 lawsuit over her son's death - and didn't want him testifying.
"I can prove to you how they not only knew what was going on, but how they obstructed this case, how they derailed it," said Carson in an interview with the Daily Beast. "I was young enough and naive enough not to realize how big and powerful these people were."
"I'm glad Phil Carson, whatever's heavy on his heart, is coming forward and letting the truth be known," said "Big Gene" Deal, a bodyguard for Sean "Diddy" Combs who witnessed the shooting and met with Carson multiple times as part of the FBI investigation. "Phil was a straight shooter. By him coming out and doing this right here, it makes me feel good."
Randall Sullivan, who is writing the book on which City of Lies is based, which will be released in 2019, told the sun that "the LAPD was at risk of ceasing to exist, the financial hit [of the lawsuit] was going to be so enormous. There were already preliminary plans for either the sheriff's department or the federal government to take over the LAPD, because the hit and the legal consequences were going to be enormous."
David Mack and Rafael Perez, the two rogue LAPD Police Officers who are tied to the murder of Wallace have a history of corruption, up to and including armed robbery.
Both Perez and Mack served time for their corruption and now, according to Sullivan, they could do more.
"I think this information could result in a refiling of the case and maybe the filing of additional criminal charges. It certainly does implicate (the officers) in Biggie's murder," he said.