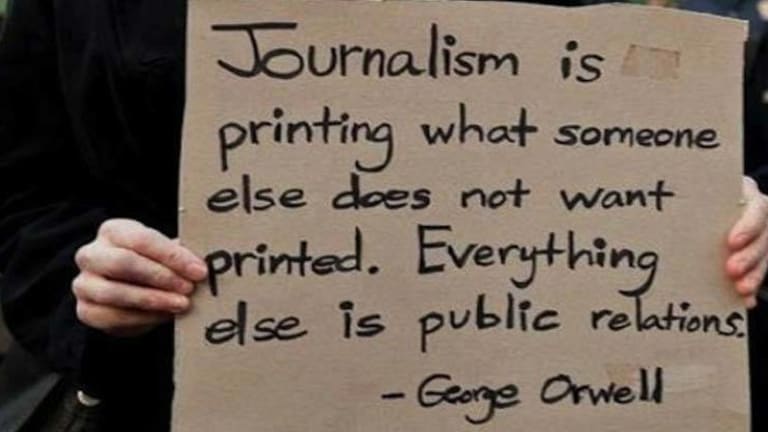 2015 was a Deadly Year for Journalists - Murdered by Governments and Religious Extremists
Syria and France have been named the deadliest countries where journalists were found murdered with confirmed motives in 2015.
Murdered at the hands of government officials, drug traffickers, and religious extremists, at least 69 journalists were killed this year while another 110 continue to rot in prison on anti-state charges. According to a new report, Syria and France have been named the deadliest countries where journalists were found murdered with confirmed motives in 2015.
On Tuesday morning, the Committee to Protect Journalists (CPJ) published a report citing Syria and France as the deadliest countries to articulate freedom of press in 2015. Out of the 69 journalists killed in the line of duty this year, more than two-thirds were murdered in direct reprisal for their work. At least 28 of the 47 murder victims received death threats before they were killed.
On January 7, eight journalists were killed in Paris during the Charlie Hebdo shooting, which Al-Qaeda in the Arabian Peninsula claimed responsibility for the attack. On November 13, Guillaume Barreau-Decherf was killed during the Paris attacks while covering a concert by the American band Eagles of Death Metal. Only thirteen journalists were butchered in Syria this year with a known motive after most members of the establishment media fled the war-torn country.
With most of the victims covering politics, war, and human rights, CPJ found 29 murdered journalists had worked online while 25 broadcast reporters were killed. The report also revealed Islamic militants have claimed responsibility for slaughtering 28 journalists, or 40 percent, this year. Terrorist groups including, Al-Qaeda, ISIS, the Taliban, and Al-Shabaab were responsible for murdering journalists in Syria, France, Iraq, Pakistan, Somalia, Turkey, and Yemen.
In Bangladesh, Islamic extremists killed a publisher and four bloggers for having the audacity to question authority. In May, four masked assailants armed with machetes attacked a secular blogger named Ananta Bijoy Das on his way to work. They hacked him to death in the middle of the street for criticizing religious fundamentalism and the recent violence against secular thinkers.
In March, Washiqur Rahman Babu was hacked to death on a busy street for criticizing irrational religious beliefs online. His assailants used meat cleavers to murder him.
On the evening of February 26, a Bangladeshi-born U.S. citizen and founder of the blog Mukto Mona (Free Mind), Avijit Roy and his wife were returning home from a book fair in Dhaka when assailants with knives and machetes ambushed them. Roy was killed in the attack, while his wife suffered head injuries and lost her left thumb. Before his death, Roy had been criticizing religious intolerance on his blog.
In Somalia, Hindia Haji Mohamed, a journalist and the widow of another murdered journalist, was killed in December when a bomb blew up her car in an attack claimed by Al-Shabaab.
According to the report, roughly one-third of murdered journalists last year came at the bloodstained hands of government officials, criminal groups, or local residents — in most cases, drug traffickers, or local authorities suspected of colluding with organized crime. While criticizing local police and corrupt politicians on his radio show, Brazilian Gleydson Carvalho was killed in August when two gunmen entered the station and shot him to death during a music break. In January, five journalists were killed when unidentified gunmen ambushed an official convoy in South Sudan's Western Bahr al Ghazal state.
Out of the 199 journalists currently imprisoned, more than half remain incarcerated on anti-state charges. According to the CPJ's annual prison census, at least 110 reporters were arrested this year for simply doing their jobs. Without independent journalists holding their governments accountable, no one else will.