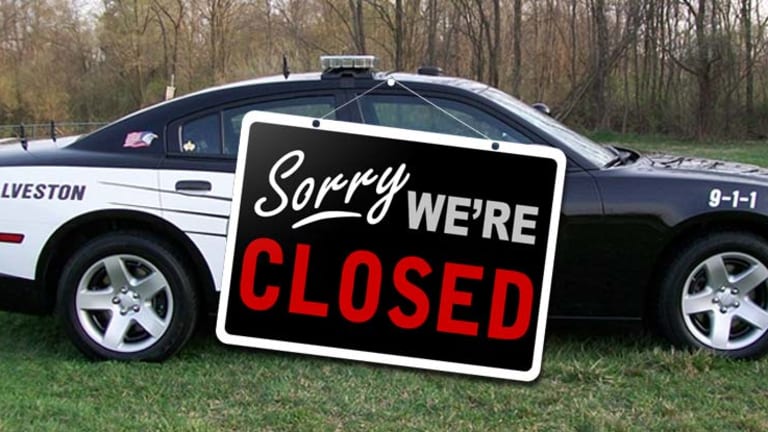 City Council Terminates Police Force -- Town Doesn't Descend into Chaos
The town of Galveston, Indiana just voted to terminate their police department and contrary to popular belief, chaos has not engulfed the city.
Galveston, IN -- After the Galveston Marshal's office allegedly went rogue, refusing to obey the orders of the town's council, the council voted this week to eliminate their police force.
Dozens of protesters turned out to voice their discontent and fears about ridding the town of 1,200 of their police force.
After only being in office for a month, Town Marshal Shawn Durham had made many enemies. According to council documents, Durham was found guilty of violating the rules, neglecting or disobeying orders, conduct unbecoming of an officer, and another breach of discipline.
The charges stem from an apparent power struggle that entailed after Durham was sworn in back in June. According to the council, Durham displayed insubordinate behavior when he refused to grant Town Council President John Hart's requests on behalf of the council for keys to the police department and police vehicles, passwords to police computers and the code to the department's surveillance camera system.
As the Pharos-Tribune reported last week,
Durham exhibited further insubordination by not heeding the council's direction to discontinue the use of reserve deputies due to the town's financial inability to fund their services, according to the exhibit.

He also broke department policy when he secretly recorded a conversation with himself, Hart and Town Councilman Jim Jackson before releasing information from it "out of context," the exhibit continues.

The exhibit goes on to accuse Durham of speaking to the media without the council's authorization, during which the ordinance states he gave the public "misleading information."

It also recalls Durham's use of profane language during a public meeting in June.
Immediately after he was named Marshal, Durham hired his twin brother as his deputy and kept him on payroll in spite of protest from the council about not having the funds to pay him.
It should be noted that many of the townspeople feel that the council members are corrupt and moved to terminate the police force because Durham refused to play by their rules. However, the end result is the same -- the town is without a department.
With the phony war on cops rhetoric filling the minds of the town residents, many of them gave dramatic speeches on their fears about not having a police force.
"Blue lives matter," one resident said during the meeting.
However, in reality, the townspeople have very little to fear about losing their police department.
As the Free Thought Project has reported numerous times before, towns getting rid of their cops does not lead to an increase in crime.
The idea that police protect you is a misconception, as they will seldom prevent violence. They normally show up after the violence or crime has been committed and then try and find a culprit, or not.
The average response time to a 9-1-1 call is 10 minutes nationwide; for poor areas that time quadruples. In some cases, the dispatchers do not even take the caller seriously and the victim ends up dead when a crime could have actually been prevented.
The reality is that police act as revenue collectors for the state and solely exist to enforce the law only.
In a perfect world, police would show up prior to a crime and stop it, or at least during a crime, but this is simply not a reality.
Police in America also do not "protect and serve." If you doubt this claim simply refer to Warren v. District of Columbia, in which the Supreme Court ruled that the police do not have a constitutional duty to protect a person from harm.
Sure, Galveston, Indiana is a small town and the likelihood of a crime wave bursting on to the scenes is rare regardless of police presence. However, we've seen similar situations involving millions. At the end of 2014, for example, the NYPD stopped doing its job after the murder of officers Rafael Ramos and Wenjian Liu and something amazing happened -- crime went down.
The Post reported that arrests were down 66% in the week following the deaths of officers Rafael Ramos and Wenjian Liu, compared to the same period in 2013.
For certain offenses, the arrest levels are staggeringly low, according to the numbers put out by the Post.
Citations for traffic violations fell by 94 percent, from 10,069 to 587, during that time frame.

Summonses for low-level offenses like public drinking and urination also plunged 94 percent — from 4,831 to 300.

Even parking violations are way down, dropping by 92 percent, from 14,699 to 1,241.

Drug arrests by cops assigned to the NYPD's Organized Crime Control Bureau — which are part of the overall number — dropped by 84 percent, from 382 to 63.
It wasn't a slowdown — it was a virtual work stoppage. And, in spite of police not writing tickets for jaywalking, arresting people for marijuana possession, and failing to wear their seatbelts, the city of New York did not descend into chaos either.
[author title="" image="https://tftpstagingstg.wpengine.com/wp-content/uploads/2016/03/magorist-e1456948757204.jpg"]Matt Agorist is an honorably discharged veteran of the USMC and former intelligence operator directly tasked by the NSA. This prior experience gives him unique insight into the world of government corruption and the American police state. Agorist has been an independent journalist for over a decade and has been featured on mainstream networks around the world. Follow @MattAgorist[/author]