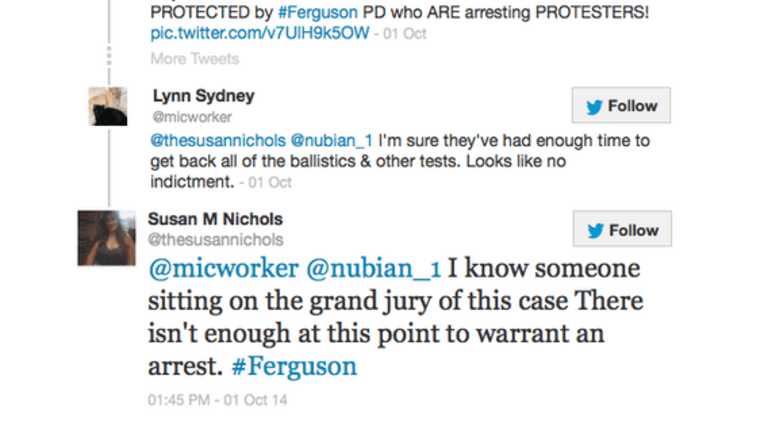 Tweet Reveals Holes in Mike Brown Case, Grand Jury Now Being Investigated for Misconduct
On Wednesday afternoon, a revealing tweet by someone claiming to have inside information on the Mike Brown Grand Jury paints a dismal picture of "justice" in this case, and has led to an investigation of misconduct.
Dedicated activist and journalist, Shaun King, took to twitter Wednesday claiming he had an explosive announcement.
He wasn't kidding.

Nichols deleted her entire account shortly after people began catching on, but King noted that she is in fact a St. Louis resident who had years of tweets relevant to the area.
She had also tweeted in support of Darren Wilson.
The St. Louis County prosecutor's office is now investigating the accusation of misconduct.
The Washington Post spoke to Ed Magee, the spokesman for county prosecutor McCulloch, who said they received the information from a "Twitter user" Wednesday morning, and confirmed it was Shaun King.
"We are looking into the matter," he told them.
The Grand Jury has been ongoing since August 20, and are reportedly supposed to conclude hearing evidence by the end of this month (with a possibility of it going into November), however, everything may have just changed from this one tweet.
Grand jury proceedings are strictly confidential, if someone has broken that confidentiality and discussed this case with friends, the process may have to start over with a new group of jurors.
Those who have been following this case closely believe that there is seemingly more than enough evidence for an indictment, at the very least. This leads us to question how a grand jury may not believe the same. There is one possible explanation; perhaps they have not been presented with enough evidence. This does not mean it doesn't exist, but maybe that it just has not been presented to them. Prosecutor McCulloch has been under fire since early on for his refusal to recuse himself from the Brown case due to his obvious pro police bias. According to stltoday.com, McCulloch is currently the President of Backstoppers, an organization that provides support to the families of fallen police officers, although their website has him listed as vice president. Many believe that McCulloch has a history of siding with police and against the African American community. After McCulloch's father was killed when he was a 12 year old boy, he began to idolize police, and dreamed of becoming a police officer. Unfortunately, a few years after his father's death, his right leg was lost to cancer and those dreams came to an end, according to a New York Times report. He instead went on to become the St. Louis County prosecutor. The MoveOn petition, with over 116,000 signatures, calling for a special prosecutor states:

McCulloch's decision not to charge officers who murdered two unarmed African-American men in 2000 by shooting into their car 20 times, especially in the face of the U.S. Attorney's independent investigation finding that those officers lied about their actions, gives us no confidence that his office can provide a fair and impartial investigation into this current matter. That failure, coupled with McCulloch's recent participation in one of the most racially polarizing elections in the history of St. Louis County, means that his office's continued oversight of this tragedy will only sow further distrust and discord in our community. For the good of the entire St. Louis region and the nation as a whole, we call on Robert P. McCulloch to recuse himself and his office from this matter and to appoint a special prosector to investigate the murder of Michael Brown.
A state senator has written him a letter asking him to step aside, and even Governor Jay Nixon, has hinted that Mr. McCulloch should recuse himself, the New York Times reported. His flat out refusal to recuse himself has lead many to wonder from the beginning if McCulloch would use his position to manipulate this case from ever reaching a trial. We are still wondering.