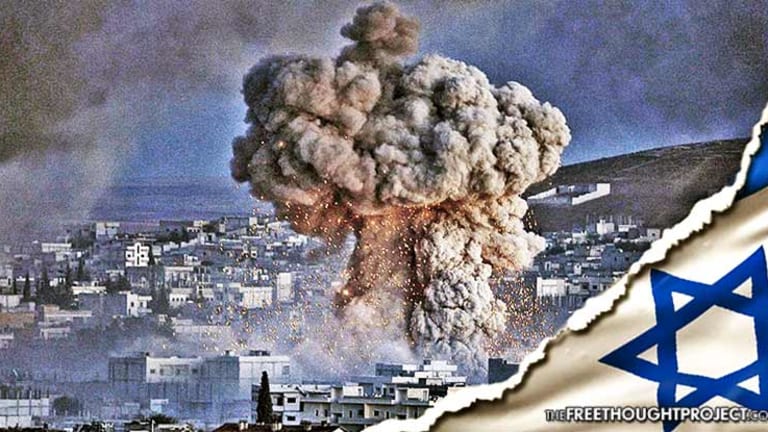 Media Silent as Israel Attacks Iranian Military Base, Provoking War Just Like They Said They Would
Days after Israeli officials claimed Iran had no presence in Syria, Israel attacked an Iranian military base near Damascus.
As the mainstream media focuses on President Trump's latest Tweet, his administration continues to support a close ally that appears to be pushing for yet another war. Israel has reportedly attacked an Iranian military base in Syria.
According to a report from Ynet News, the attack was reported by Arab media outlets on Saturday. They claimed that Israeli fighter jets launched air-to-surface missiles from Lebanese airspace, targeting a town near Damascus. Syrian sources claimed the attack caused power outages and explosions before Syria's air defense system thwarted three of the five missiles.
The existence of the military base was apparently revealed less than one month ago by a BBC report, which included satellite images of several buildings—some new and some renovated. However, it was not confirmed as to whether the buildings were being used by the Iranian military.
As Antiwar.com reported, while the Israeli reports claimed "the strikes targeted the 'Iranian base' south of Damascus," the military facility they are referencing "has never been confirmed by anybody as actually belonging to Iran, but Israeli outlets played that narrative up as part of the 'Iranian threat.'"
Videos have since emerged on social media purporting to show the moment one of the Israeli missiles was intercepted by Syrian Air Defense.
Israel's hostility towards Iran is nothing new, and as an analysis from Haaretz noted, Israeli Prime Minister Benjamin Netanyahu has been building a campaign against the nation for a while. In August, Netanyahu even reportedly said, "Wherever ISIS exits, Iran enters."
IDF Chief of Staff Gadi Eisenkot also recently said, "We won't allow any Iranian presence. We've warned them not to build plants or military bases [there]."
Less than one week ago, Israeli Defense Minister Avigdor Lieberman made it sound as if there was no threat whatsoever of Iran building or occupying military bases in Syria. "There is no Iranian military force in Syria. Iran is not on our border. It's true that there are some experts and advisers, but there is no military force there," Lieberman told Ynet News.
Even if Israel warned Iran against their military presence in Syria, it was still never confirmed that the military base Israel targeted was being used by Iran. Antiwar.com reported that while Israeli media initially reported on the attack, those reports were removed within hours.
"This isn't entirely unusual within Israel, as the military censors often compel the media not to report stories. It is unusual, however, for them to let the story out and then recall it after the fact. 

Media outlets outside of Israel reporting on the incident make no mention of a 'Iranian base,' saying that what was targeted was an Army ammunition depot. Israel fired several missiles from warplanes in Lebanese airspace. One report claimed Syrian air defense shot down one of the missiles."
As The Free Thought Project reported in November, leaked diplomatic cables have shown that Israel is working closely with Saudi Arabia to provoke war with Iran. According to the Israeli reporter who obtained and published the documents:
I published on channel 10 a cable sent to Israeli diplomats asking to lobby for Saudis/Harir and against Hezbollah. The cable sent from the MFA in Jerusalem [Israeli Ministry of Foreign Affairs] to all Israeli embassies toes the Saudi line regarding the Hariri resignation.
The Israeli diplomats were instructed to demarch their host governments over the domestic political situation in Lebanon—a very rare move.
The cable said: "You need to stress that the Hariri resignation shows how dangerous Iran and Hezbollah are for Lebanon's security."
"Hariri's resignation proves wrong the argument that Hezbollah participation in the government stabilizes Lebanon," the cable added.
The cable instructed Israeli diplomats to support Saudi Arabia over its war with the Houthis in Yemen. The cable also stressed: "The missile launch by the Houthis towards Riyadh calls for applying more pressure on Iran & Hezbollah."