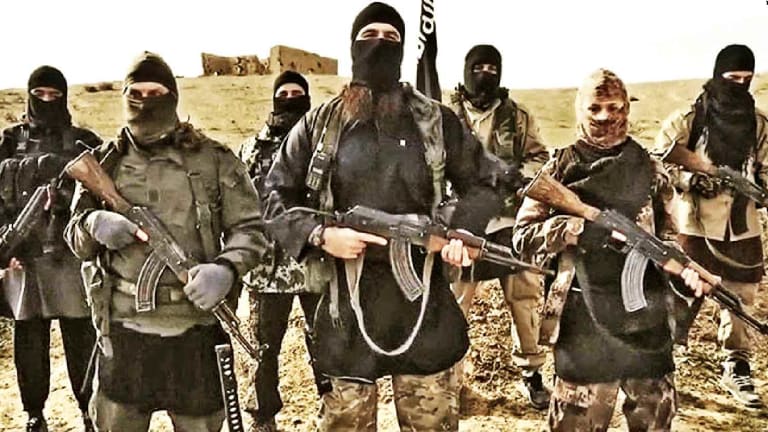 Whose Side Are They On? - Israel Admits ISIS "Apologized" for Attacking IDF Soldiers
The former Israeli Defense Minister just admitted to an open line of communication with ISIS, noting they even apologized after accidentally attacking.
On Sunday, Al Jazeera TV reported Israeli airstrikes killed an unknown number of Syrian soldiers at a weapons depot in rural Quneitra province. When asked to confirm the strike, an Israeli army spokeswoman did not deny it, and only declined to comment. In spite of this alleged strike, and others in the past, the Israeli government asserts that they maintain a policy of "neutrality" in Syria. If this is true, then why has ISIS apologized to Israel for accidentally opening fire on IDF soldiers?
According to former Israeli Defense Minister, Moshe Ya'alon, Tel Aviv remains so "neutral" in the Syrian conflict that even Islamic State terrorists have, on at least one occasion, "apologized" to Israel for mistakenly attacking IDF soldiers in the occupied Golan Heights.
While addressing Israel's role of "neutrality" in the region, Ya'alon inadvertently admitted they maintain an open line of communication with IS forces.
"There was one case recently where Daesh opened fire and apologized," Ya'alon said, as quoted by the Times of Israel.
According to the Times, Israel and much of the Western world considers the Islamic State affiliate in the Syrian Golan Heights, known as the Khalid ibn al-Walid Army, to be a terrorist group. Communication with them is technically illegal under Israeli law, constituting contact with an enemy agent.
This would explain why, when the times asked Ya'alon to elaborate on his statement of open communications and an apology from ISIS, his office declined to comment. The IDF also refused to comment.
What makes this admission particularly ominous is the fact that Syrian officials have often accused Israel of directly aiding the Islamic State and other rebel groups. While Jerusalem denies these accusations, the fact that they admitted to maintaining a line of communication with the terrorist group adds doubt to that denial.
"You can assume that these terrorists are fighting for Israel. If they aren't part of the regular Israeli army, they're fighting for Israel. Israel has common goals with Turkey, the United States, France, Britain, Saudi Arabia, Qatar and other countries," Syrian President Bashar Assad was quoted by Ynet news as saying.
"Israel is working on helping these terrorists wherever the Syrian army is advancing. It attacks in one form or another to provide them with assistance, and to stop the Syrian army's momentum in the face of the terrorists," the Syrian leader added.
While Assad is certainly no angel, he is fighting a murderous terrorist regime in his own country. All attacks on the Syrian government are in de facto support of Daesh and the Islamic State — even if the US chooses not to admit it.
As the Free Thought Project reported earlier this month, ISIS knows this and uses the attacks on the Syrian military to its advantage to attack others.
According to Almasdar News, the military base the Americans attacked with dozens of cruise missiles was the only thing standing between jihadists and the complete destruction of a Christian town in Northern Syria called Mhardeh. The ancient Christian population there faces extinction by ISIS, who've been attacking them as late as this week. According to the report:
THE JIHADIST REBELS OF HAY'AT TAHRIR AL-SHAM AND THE FREE SYRIAN ARMY (FSA) LAUNCHED SEVERAL ARTILLERY SHELLS TOWARDS THE PREDOMINATELY CHRISTIAN CITY OF MHARDEH IN NORTHERN HAMA TODAY.

AS A RESULT OF TODAY'S ATTACK BY THE JIHADIST REBELS, THE ST. GEORGE ROMAN ORTHODOX CHURCH INSIDE OF MHARDEH WAS DAMAGED, ALONG WITH SEVERAL BUILDINGS NEARBY.

ACCORDING TO LOCAL ACTIVISTS IN NORTHERN HAMA, THE JIHADIST ATTACK ON MHARDEH WOUNDED AT LEAST A DOZEN CIVILIANS THAT WERE IN THE VICINITY OF THE ST. GEORGE CHURCH.
As the Free Thought Project previously reported, declassified CIA documents from as far back as 1983, lay out a covert plan to use Iraq, Turkey, and Israel, to destabilize Syria for an oil pipeline.
The US role in supporting terrorists in Syria is now widely known as Senator Rand Paul and Congresswoman Tulsi Gabbard have presented legislation to "Stop Arming the Terrorists." This bipartisan act is in direct conflict with the stated goal of destabilization. However, it will be the only means of achieving peace in that region. Sadly, though, peace is the last thing the American war machine wants.