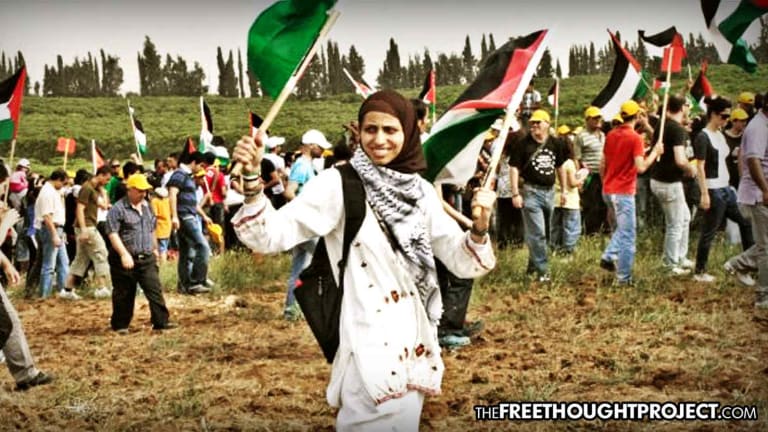 Israeli Citizen Thrown in Prison for a Poem About Palestinian Resistance
After three years of house arrest with no access to the internet, a Palestinian poet has been sentenced to prison for a poem she posted on Facebook.
Reineh, Israel – A Palestinian poet and Israeli citizen has been sentenced to prison after a poem she posted on social media was reported for encouraging Palestinians to "resist" Israeli occupation. Her sentence comes after she has already been forced to spend the last three years on house arrest with no access to the internet.
Dareen Tatour, 36, was convicted of three counts of incitement and supporting a terrorist organization by an Israeli district court, and she will serve five months in prison and a six-month suspended sentence. At the center of the case are Facebook posts remembering Palestinians who had been killed in the conflict, a single poem written in Arabic, and controversy over whether the Hebrew translation of Tatour's posts is accurate.
The poem was posted in the form of a video in which Tatour read the text while images of confrontations between Israeli forces and Palestinian protesters were shown on the screen. Mondoweiss reported that Tartour's attorney argued that prosecutors "mistranslated the original Arabic word for a 'victim' to a 'terrorist' from a stanza that was raised repeatedly during the hearing."
The poem was titled "Resist, my people resist them," and it was published online in 2015. An English translation of the poem includes the excerpt:
I cast them aside for a coming time. / Resist, my people, resist them. / Resist the settler's robbery / And follow the caravan of martyrs. / Shred the disgraceful constitution / Which imposed degradation and humiliation. / And deterred us from restoring justice. / They burned blameless children; / As for Hadil, they sniped her in public, / Killed her in broad daylight. / Resist, my people, resist them. / Resist the colonialist's onslaught. / Pay no mind to his agents among us / Who chain us with the peaceful illusion.
Tatour's arrest in 2015 was one of many "Facebook arrests" for the crime of "online incitement" that Israeli officials bragged would deter violence among Palestinians. However, the report from Mondoweiss noted that a 2016 poll from the Palestinian Center for Policy and Survey Research found that "the decline in support for such attacks were 'due, it seems, to a rising perception in its inefficacy,'" as opposed to a lack of social media posts criticizing Israel.
Tatour's case has also raised the question of whether "online incitement" is a legitimate charge. In an op-ed, Nadim Nashif, a member of Al-Shabaka: The Palestinian Policy Network, noted that Tatour was arrested without a search order or an arrest warrant:
There is no formal legislation that covers legal action with regard to the accusation of incitement through social media. The lack of a legal framework has led to an arbitrary handling of case-by-case individuals, often depending on the broader political climate as in the October uprising. According to Addameer, a Palestinian human rights NGO that works to support political prisoners, some detainees have even been charged based on the number of shares, likes and the prominence of their Facebook posts, which seems to concern Israeli authorities more than the actual content of the posts.

The very definition of "incitement" is thus being stretched when it comes to evaluating the significance of social media in the everyday lives of Palestinians, especially activist voices, engaging in political conversations or expressing grievances against the Israeli occupation.
While there is no evidence that Dareen Tatour's Facebook posts or the poem she wrote inspired any violent attacks on behalf of Palestinians protesting Israeli occupation, it is apparent that she is being used to set an example.
However, Tatour told Mondoweiss last month that the years of being silenced by the Israeli government has made her even more determined to speak out, to continue her work as an activist, and to make her message known:
"This experience has reshaped the feelings in my heart and made me write poems in a new way. The waiting opened horizons of political and artistic life that I did not live or know before. It integrated a new culture into my prior culture and added new sparks and meanings. Politics and art became even more important than before. I also learned to draw while in detention. I am now considering studying visual arts after my trial, in addition to my work in journalism, poetry, and photography.

On the political level, the detention gave me a different identity. I've become even more committed to liberating my people and my homeland from injustice and occupation. The goal is to arrive at a state that includes everyone, based on the principles of justice and equality, without any concessions of our rights as Palestinian people living in the homeland in which we were born."