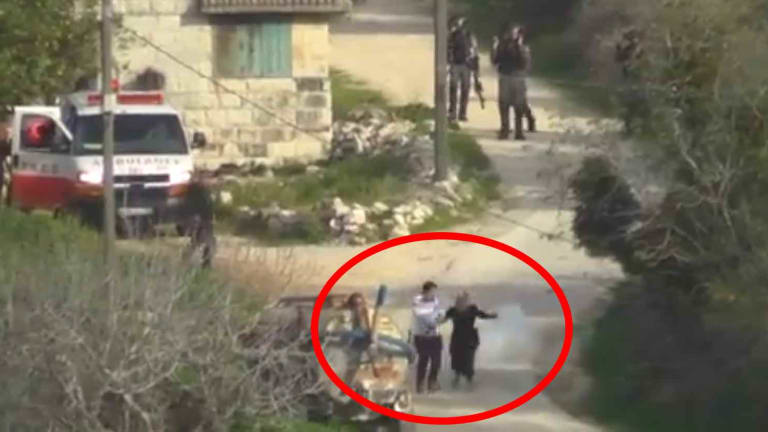 SHOCK VIDEO: Israeli Officers Hurl Stun Grenade at Palestinian Couple Carrying a BABY
A deeply disturbing video has emerged showing the horrific environment faced by the Palestinian people as Israeli forces are seen throwing a grenade at a couple holding a baby.
West Bank – Shocking footage has emerged online which shows the brutal treatment of the Palestinian people by the Israeli government. In the video, police are seen throwing a stun grenade at a couple who is running away from them—holding a baby.
The video was taken by an activist for the Israeli human rights group, Yesh Den. In the short clip, the couple is seen fleeing to their home in the village of Burin as four Israeli officers approach them from behind. In spite of the couple posing no threat and holding a baby, one of the officers throws a stun grenade right at them.
According to reports, the incident occurred last week amid protests sparked by Israeli forces attempting to enter the village. However, this couple was clearly not part of the protest and were walking away from an ambulance trying to get their child to safety.
The Israeli border police are claiming that the video is "partial and edited" and they were justified in throwing the grenade at the baby because people nearby threw some rocks.
They also claimed that they didn't see the baby in the man's arms. "Such a run is characteristic of rioters hurling stones at officers whilst risking their lives and trying to escape in attempt to avoid arrest at any cost. It's needless to say that, had the officers noticed the baby, they certainly would have acted accordingly," border police said.
Yesh Din, however, said this was one of many similar attacks against peaceful families by Israeli police, noting "at least one tear-gas grenade landed in one of the houses where a large family lives, and several residents suffered injuries resulting from inhalation of gas and smoke."
"The soldiers and border police officers continued to fire the tear gas and stun grenades even when the occupants were evacuated to the ambulance," Yesh Din wrote.
Palestinians also reported that tear gas grenades were fired into a school.
As TFTP reported last year, a top Israeli general's comments during the country's annual Holocaust Remembrance Day address sparked controversy in 2016 when he likened the atmosphere in modern-day Israel to 1930's Nazi Germany. Then, a year later, the outgoing IDF Deputy Chief doubled down on his remarks and in an interview, he defended his controversial speech.
"If there is anything that frightens me in the remembrance of the Holocaust, it is discerning nauseating processes that took place in Europe in general, and in Germany specifically back then, 70, 80 and 90 years ago, and seeing evidence of them here among us in the year 2016," Maj. Gen. Yair Golan, the Israeli army's deputy chief of staff said.
Indeed, hurling a grenade at an infant is "evidence" of the "nauseating processes that took place in Europe in general, and in Germany specifically back then, 70, 80 and 90 years ago."
As the Times of Israel reported, Golan, spoke in a second video interview produced by the military, said he "didn't realize it would go to the very political place that it went," but added that he "doesn't take back the remarks."
Golan went on to note that Israel — "as a light unto the nations" — has a responsibility to maintain "moral superiority."
"Morality is you compared to you. You compared to your standards, not to those around you. Around [Israel], there are murderous people who don't hesitate to kill one another in fear-inducing quantities. That should give us no repose," he said.

"On this issue, we shouldn't cut ourselves any slack," Golan added.
The reaction from Israeli hardliners to Golan's comments highlighted the deep divisions within Israeli society on what is one of the country's most solemnly revered days.
Nationalist Jewish home party leader and Israeli Education Minister Naftali Bennett called on Golan to revise his comments or be seen as comparing Israeli soldiers to Nazis. However, he refused and stood strong for over a year -- in spite of the backlash.
Sadly, Bennett fails to understand that's precisely what Maj. Gen. Golan was implying in 2016, as he implored those in power "to fundamentally rethink how we, here and now, behave towards the other."

"The Holocaust, in my view, must lead us to deep soul-searching about the nature of man," Golan said. "It must bring us to conduct some soul-searching as to the responsibility of leadership and the quality of our society. It must lead us to fundamentally rethink how we, here and now, behave towards the other."

"There is nothing easier and simpler than fear-mongering and threatening. There is nothing easier and simpler than in behaving like beasts, becoming morally corrupt, and sanctimoniousness."

"On Holocaust Remembrance Day, it is worthwhile to ponder our capacity to uproot the first signs of intolerance, violence, and self-destruction that arise on the path to moral degradation," Golan said.
During his original speech, Golan referenced the Hebron incident, in which an IDF soldier was filmed executing an already incapacitated Palestinian assailant that was lying on the ground defenseless.
Now, nearly a year after the outgoing IDF Deputy Chief issued his second warning, it appears that at least some of the population have failed to heed it.