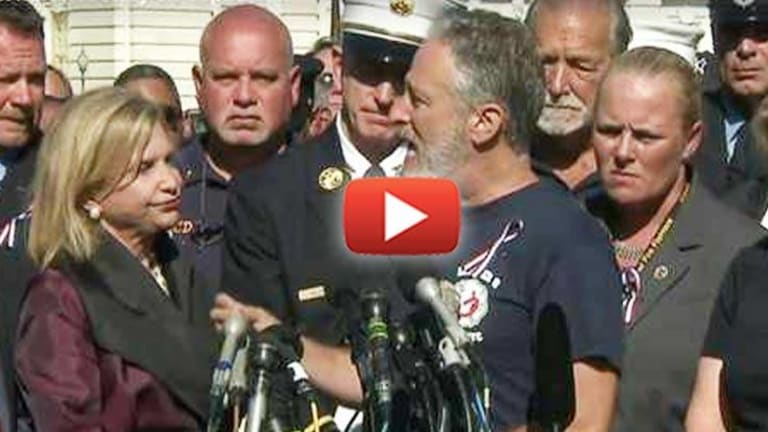 Jon Stewart Just Went to D.C. and Unleashed His Fury on Congress on Behalf of 9/11 Responders
John Stewart made good on his promise today to stand up for the 9/11 first-responders and demand Congress act.
During the tragic events of 9/11, thousands of first-responders, in their valiant efforts to pull people from the buildings, were exposed to deadly toxic dust from the collapse of the world trade centers.
The dust from the collapsed towers was "wildly toxic," according to air pollution expert and University of California Davis Professor Emeritus Thomas Cahill. Much of the thousands of tons of debris resulting from the collapse of the Twin Towers was pulverized concrete, which is known to cause silicosis upon inhalation. The remainder consisted of more than 2,500 contaminants, more specifically: 50% non-fibrous material and construction debris; 40% glass and other fibers; 9.2% cellulose; and 0.8% of the extremely toxic carcinogen asbestos, as well as detectable amounts of lead, and mercury.
Since then, legislation to help the sick and dying first-responders has been fought by many in Congress who apparently think that paying for the care of people who were sickened while conducting their jobs is a waste of money.
According to the Citizens for the Extension of the James Zadroga Act, if Congress does not act and does not reauthorize the James Zadroga 9/11 Health and Compensation Act then injured and ill 9/11 responders and survivors who are currently receiving specialized treatment from the World Trade Center Health Program for their 9/11 injuries and illnesses will no longer receive their health care. That means the over 33,000 responders and survivors who have at least one injury or illness caused by the attacks, and two thirds of those have multiple injuries, including chronic diseases like asthma, obstructive pulmonary disease, and gastro esophageal reflux disease and cancers, among others will stop receiving treatment. Over 80 New York Police Department officers and over 100 Firefighters have reportedly died of their 9/11 injuries since 9/11 and more are expected in the coming years.
John Stewart, in early August, made a promise to the first-responders that he would lobby on their behalf to get them the care they so desperately need and on Wednesday, he made good on that promise.
The newly retired TV host took to Washington DC to demand that Congress pass the act.
In his speech, Stewart pointed out the ridiculous nature of Congress refusing to pass such an act:
I'm here today basically to apologize," he began. "I want to apologize to all of the men and women, the first responders, that you had to come down here today. I'm embarrassed. I'm embarrassed for our country. I'm embarrassed for New York. I'm embarrassed that you, after serving so selflessly with such heroism have to come down here and convince people to do what's right for the illnesses and difficulties that you suffered because of your heroism and because of your selflessness."

"Nobody had to lobby you to rush to those towers on that day," recalled Stewart, who interviewed several first responders during his time at the Daily Show and has been active in 9/11 charities. "I was living in downtown Manhattan, and I can never repay the debt to the first responders who came down and brought stability and humanity, not just to lower Manhattan, but to all of New York City, and to the entire country. And so I am sorry, and I apologize, and hopefully we'll never have to do this again."
Stewart, being the comedian that he is, then made an epic jab at politicians, "Today, on [Capitol] Hill, you will be exposed to possibly toxic levels of bulls**t and arrogance," he joked. "You're strong men and women, but these are conditions you may never have faced before. Buckle your seatbelts and let's get this done."