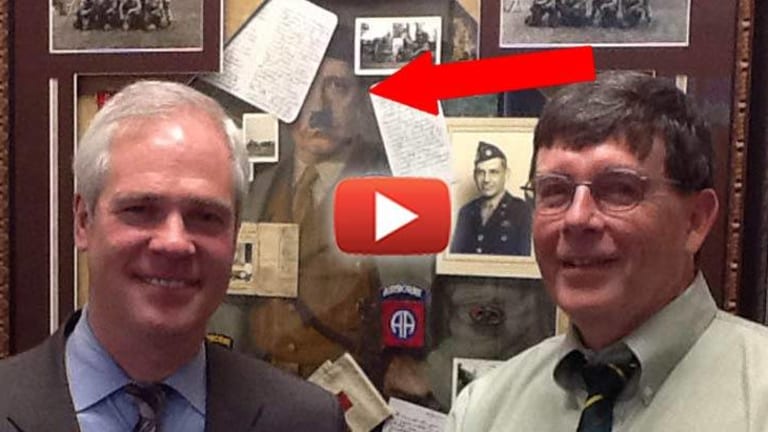 Judge Says He's a "Benevolent Dictator" Hangs Photo Of Hitler In Court, Refuses Gay Marriages
Judge calls himself a "benevolent dictator,' hangs photo of Adolf Hitler in his courtroom, and that's just the tip of the iceberg.
Marion County, OR — Circuit Court Judge Vance D. Day is accused of rampant corruption, and basically acting as an evil overlord who thinks that he is above the law. Day is not only accused of refusing to perform same-sex weddings, but he has also admitted to hanging a photo of Adolf Hitler in his courthouse. Day has also spoken on several occasions about how he is a "benevolent dictator" who can "do whatever he wants because he is the judge."
The judge has also been accused of forcing veterans to watch movies and read books that exacerbated their PTSD symptoms.
While off-duty, Day has been accused of acting out of line at his son's soccer game by threatening referees with legal action because they penalized his son for injuring another player.
Now, the judge is under investigation for violating the Oregon Code of Judicial Conduct and the Oregon Constitution.
When confronted about his harsh treatment of veterans with PTSD, the judge reportedly called them "Raggedy A**es" and said"I'm the judge – I can do whatever I want."
According to court documents, Day also took "money from lawyers, including those appearing before him in court, to sponsor veteran-related wall hangings in the Marion County courthouse hallways."
Along with the veteran photos, Day also hung a picture of Adolf Hitler, which created an obvious controversy. When confronted about the photo, day was quoted as saying "The wall art was not intended to honor fascism, but to honor the Americans that defeated the dreadful ideology."
"When his judicial assistant removed the items while Judge Day was on vacation, Judge Day told her that he is a 'benevolent dictator' and that she 'works at his pleasure,'" court documents revealed.
Day's newest act as "benevolent dictator" has been to refuse same-sex marriages.
"Judge Day inappropriately screened and ordered his court staff to screen wedding applicants to ensure that they were not same-sex applicants. Judge Day refused to marry same-sex partners even though they could lawfully marry under Oregon law," court documents stated.
Day is not set to appear in court until 9AM on November 9th.
John Vibes is an author, researcher and investigative journalist who takes a special interest in the counter-culture and the drug war. In addition to his writing and activist work, he organizes a number of large events including the Free Your Mind Conference, which features top caliber speakers and whistle-blowers from all over the world. You can contact him and stay connected to his work at his Facebook page. You can find his 65 chapter Book entitled "Alchemy of the Timeless Renaissance" at bookpatch.com.