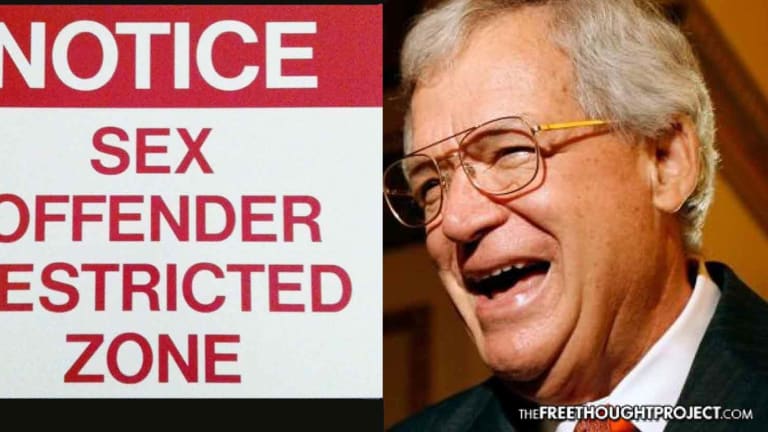 Judge Bans Fmr House Speaker from Being Left Alone With Kids as He's a 'Serial Child Molester'
A federal judge in Chicago just banned former Speaker of the House, Dennis Hastert, from being around anyone under the age of 18.
As the mainstream media laughs off a potential pizzagate scenario as a baseless conspiracy theory, a federal judge has just ordered the former Speaker of the House, Dennis Hastert to "never be alone with anyone under the age of 18."
While the actual story of a pedophilia ring operating out of a pizza restaurant in Washington D.C. may not be a reality, the truth of the matter is that D.C. has a long and sordid history of sex abuse. Dennis Hastert—who served under Clinton and Bush—is proof of that history.
On Tuesday, and with no explanation, U.S. District Judge Thomas M. Durkin ordered Hastert to never be left alone with anyone under 18 unless another adult is present who is aware of the former U.S. House speaker's conviction in a hush-money case that revealed he had sexually abused several high school students, according to the AP.
As TFTP reported, Hastert was let out of prison—early—three months ago and was put on supervised release. The conditions of this release, according to the report from the AP, included barring Hastert from possessing pornography and using "any sex-related telephone numbers." He also must allow — and pay for — the installation of software that records all his computer activity, from browser history to email correspondence and internet chats.
When he sentenced Hastert to prison last year, Judge Durkin referred to the admitted predator and former House Speaker as "a serial child molester" for the horrific acts he admitted to committing against multiple victims.
While the judge didn't give the reason as to why these new restrictions were just handed down, they came in a sealed report and were recommended by Hastert's probation officer on Monday. This indicates that they may believe he could still be a grave danger to children.
Hastert, as TFTP has reported, is not alone in his sick world and was reported to have acted with numerous high profile politicians and elite businessmen. His case only goes to serve as an alarm that D.C. is still infested.
Earlier this year, President Donald Trump promised to seek out sexual predators and those who are participating in the "human trafficking epidemic" and bring them to task. However, his actions in the White House, thus far, appear to be doing the exact opposite.
This week, sites like Infowars began covering up Trump's links to pedophiles by claiming Fusion GPS was making up these ties. While Fusion GPS, a Trump opposition think tank, was behind a story linking Trump to convicted pedophile Jeffrey Epstein, one does not need to make anything up when the facts are in the open for all to see.
In April, the Free Thought Project reported on Trump's pick for Labor Secretary, Alexander Acosta.
At the time, prosecutors from Acosta's office, working with the FBI and documented for the court, found that, through assistance from several female assistants, Epstein "would recruit underage females to travel to his home in Palm Beach to engage in lewd conduct in exchange for money … Some went there as much as 100 times or more. Some of the women's conduct was limited to performing a topless or nude massage while Mr. Epstein masturbated himself. For other women, the conduct escalated to full sexual intercourse."
Rather than the minimum ten-year sentence the billionaire pedophile faced, Acosta's arrangement with Epstein's lawyers landed a part-time, eight hours per day county jail term for a scant 13 months in a club med prison—a travesty of justice indeed.
These are undisputed facts — yet, in April, Trump still appointed Acosta as his Secretary of Labor.
Acosta's appointment should come as no surprise, given Trump's outspoken praise for Epstein, including referring to the convicted pedophile as a "terrific guy," he is "fun to be with," and "he likes beautiful women as much as I do, and many of them are on the younger side."
Giving Trump the benefit of the doubt with Acosta would be easier had he not made those comments. It would also be easier to overlook if he didn't appoint another alleged sexual predator to his cabinet right after Acosta.
According to ProPublica, a political appointee hired by the Trump administration for a significant State Department role was accused of multiple sexual assaults as a student several years ago at The Citadel military college.
Steven Munoz was hired by the Trump administration as assistant chief of visits, and has been accused of sexually assaulting male students — not once — but at least five times.
As ProPublica reports, at The Citadel, five male freshmen alleged that Munoz used his positions as an upperclassman, class president and head of the campus Republican Society to grope them. In one incident, a student reported waking up with Munoz on top of him, kissing him and grabbing his genitals. In another, on a trip to the Conservative Political Action Conference in Washington, D.C., a student said that Munoz jumped on him in bed and he "felt jerking and bouncing on my back."
In spite of an investigation finding that these assaults "likely occurred," a local prosecutor reviewed the case and declined to go after Munoz. Instead of charging Munoz with assault, he was let off with a warning only to be given several awards for "leadership, sound character, and service to others" upon graduating in 2011.
After he graduated, even more students came forward. These claims prompted an investigation by police. After the investigation by police in 2012, Munoz was banned from campus and all students were sent an email notifying them of this ban.
As TFTP has reported, Washington D.C. not only protects sex abusers but they use your tax dollars to silence their victims. Sadly, most people ignore at least half of all the abuse because blowhards in the media try to turn sex abuse into a partisan issue. Those on the left ignore the crimes of their party, just like those on the right claim sex abuse is a liberal issue. But as we've shown above Trump (the Republican) and Hastert (the Democrat) are both privvy to this problem.
When the former speaker of the house—who served for 8 years in a town full of sex abusers—is called a serial child molester by a federal judge and is banned from being around children, it is time to stop dismissing reality.
There is no left or right, sex abusers know no party lines, and as recent events have proven, Hollywood, the mainstream media, and even the White House have all been looking the other way for far too long. The more light we shine into this darkness, the more these predators will lose their hiding places. Please share this article to help in shining that light.