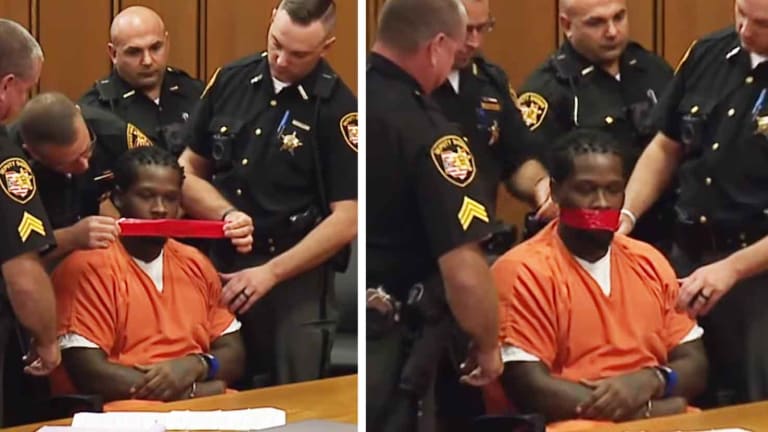 WATCH: Judge Humiliates Man During Sentencing By Ordering His Mouth be Taped Shut
For speaking out of turn a judge ordered a man to have tape placed over his mouth in the courtroom, to which the officers quickly obliged.
Cleveland, OH — Recently, a man made national headlines when a video taken from inside a courtroom showed a judge order that police tape his mouth shut in the courtroom and they did. A local news station in Ohio recently interviewed the man, who explained how humiliated he was over this incident.
Franklyn Williams is not a great man, he had been convicted of multiple robberies and was being sentenced in July for his crimes. He deserved to be locked up. During that sentencing however, Williams attempted to state things he felt were important to get them on record, but he says he was continuously interrupted.
When FOX8 asked Williams why he wouldn't stop talking, he replied, "Cause the judge would not allow me to say the things that I was trying to say on record. He would always stop me before I was able to explain anything on my behalf."
According to Williams, he faced injustices in jail and wanted to get these listed on the court record. However, he was unable to do so.
According to the court, Williams disappeared during his trial, prompting even more charges against him.
According to Williams, however, he says he doesn't even remember the trial at all. When FOX8 asked him how that was possible, he responded by telling them he was attacked.
"Yes, sir. I was hit in the head, and I didn't receive no medical treatment. I lost my mind. I lost my memory. I don't even remember me going to a trial. That's what I was trying to tell them," Williams said.
The judge told FOX8 that he was justified in ordering the use of the tape because Williams showed disrespect for his courtroom, the system, and the parties involved.
Williams said that the incident has left him humiliated. "So when they put the tape on my mouth I just felt, I felt so humiliated," he said, adding, "I just felt like wow it's abuse of discretion in the courtroom."
"And I was so concerned about if my children seen this, and my family seen this. I feel that my constitutional right of freedom of speech has been violated," he noted.
Certainly, Williams could've avoided any potential of tape being put over his mouth if he simply abstained from robbing people. He most assuredly deserves to be punished for his crimes but he also most assuredly should have been allowed due process—in turn—in the court room.
Most people who watched the video below on YouTube laughed and joked about the treatment of Williams. And, while it may be funny to some to see tape placed over a man's mouth for refusing to shut up in court, the act itself is a testament to power a judge has to carry out cruel and unusual punishment.
If Williams was talking out of line, charge him with contempt. If he refused to shut up, remove him from the court room. Placing tape over his mouth seemed like more of a power move by the judge and an attempt to humiliate a man for talking out of turn than any logical response.
After watching the video, let us know what you think in the comments section below.
As TFTP previously reported, a judge in Maryland was actually arrested and charged for a similar reaction to a talking defendant. However, this judge was far more sadistic. A man representing himself in a Maryland court was shocked with 50,000 volts of electricity by the judge because he continued to speak when the judge ordered him to stop.
Judge Robert Nalley pleaded guilty in February 2016 to depriving the defendant of his civil rights and video of the horrific incident showed that abuse.
Nalley was facing up to one year in jail and a fine of up to $100,000 after pleading guilty. However, since he is subject to a different set of rules because he is a judge, he won't see a single day in jail, and he will only pay a $5,000 fine.