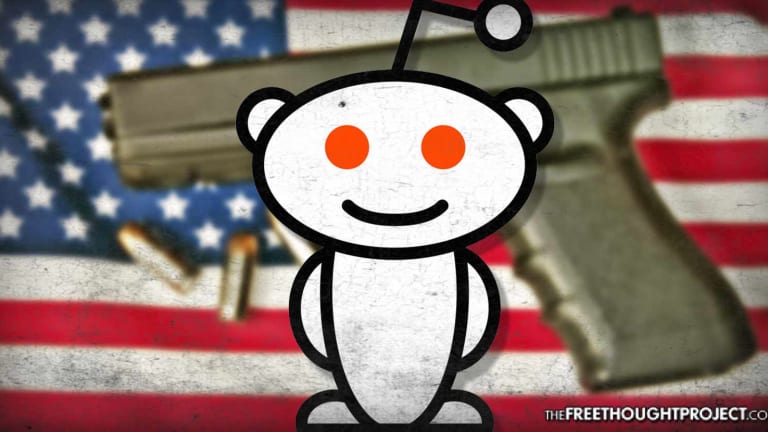 EXCLUSIVE: Cops Confiscate Innocent Dad's Guns, Kidnap Son -- for Trolling on Reddit
A college student was arrested, forced to stay in a mental hospital, and his family was targeted by police after he was accused of making anonymous comments about mass shooters on Reddit.
Florida has enacted a new law that is now being applied across the state and it is being used to strip citizens of their constitutional rights. A college student recently became the law's target after he made three anonymous comments on Reddit and was reported by one of his fellow students.
Chris Velasquez, 21 a student at the University of Central Florida, was the first person taken into custody by Orlando Police under the state's Risk Protection Order Act (RPO), which was signed into law by Gov. Rick Scott on March 9.
Police began their investigation of Velasquez long before the RPO Act was signed into law. On Feb. 10, he replied to a group chat that suggested people are too weak to be school shooters with the comment, "Maybe for now but not forever."
With reference to Las Vegas Mandalay Bay shooting suspect Stephen Paddock, Velasquez commented, in jest, "R.I.P. my hero." And in a thread about Parkland shooting suspect Nickolas Cruz he wrote, "Cruz is a hero!" Those three simple comments made under the pseudonym "The Real U.C. Chris" drew the attention of the thought police, the public, and were reported to the UCF Police, who took Velasquez in for questioning on March 5.
Following the interview with UCF Police, in which Velasquez did not have an attorney, the authorities determined that Velasquez was a danger to himself or others and using Florida's Baker Act, the young man temporarily lost his freedom while his mental health was evaluated by a psychologist. He was admitted involuntarily to a mental health facility while UCF Police, Orlando Police, and a special agent with the FBI went to Velasquez' home and confiscated a revolver that belonged to his father.
The family has since hired a lawyer who claims UCF police coerced comments out of Velasquez. According to a report from the Orlando Sentinel, Kendra Parris, attorney for the Velasquez family, described Velasquez' treatment by police as "shameful."
"Officer [Jeffrey] Panter took a handful of online comments—none of which was an actual threat—from a forum in which people are known to troll and act like 'edgelords,'" she said.
Parris also used the term "coercive" to describe how police arrived at the conclusion her client had "homicidal ideations."
Predictably, police praised their actions as having been able to further protect the community. UCF Police Department spokeswoman Courtney Gilmartin issued a statement in which she said, "We should all sleep easier at night knowing that a firearm was removed from his household and that he is barred from purchasing any others."
That statement is only partially true. Velasquez did not own a weapon and the only gun taken belonged to his father, leaving the rest of the Velasquez family entirely defenseless and unable to protect themselves against home intruders or criminals who may target them.
For posting three comments online, Velasquez had his freedom temporarily taken away, was forced to undergo a psychiatric evaluation, and was later told not to return to UCF, an action taken known as being "trespassed." He is still a student at the university but now is the focus of a campus-based investigation to determine whether he will be allowed back on campus. UCF is determining if Velasquez broke the university's code of conduct—presumably for exercising his rights to free speech in a public forum and using a fake name.
The Orlando Sentinel obtained the original petition for an RPO against Velasquez. Orlando Police Sgt. Matthew Ochiuzzo wrote in the petition, "Due to the respondent's admissions of detailed homicidal ideation, your petitioner is gravely concerned that a real or perceived life event could unpredictably cause your respondent to obtain a firearm and commit a mass shooting."
The temporary RPO was granted but a subsequent review by the same judge who signed it found there was no probable cause to allow for a permanent RPO that would last for one year.
Parris said she has come to the conclusion that police were responsible for "dragging an innocent student with zero history of violence or mental health issues through the mud." In her motion to dismiss the case, Parris claimed her client's constitutional rights were violated.
"There is a long list of jurisprudence which constitutes a threat," Parris told The Free Thought Project in an exclusive interview. After being forced to spend the weekend in a mental health facility, doctors also concluded Velasquez posed "no threat to anyone." Parris said her client was engaged in "constitutionally protected free speech."
"There's another thing that is absolutely bonkers about this, anybody can buy a gun in a private sale in this state. This law is not stopping anybody from purchasing a firearm. What it did do was trample on my client's constitutional rights," Parris said, noting that her client was simply a victim of the "thought police."
Stopping short of calling Orlando Police detectives "liars," Parris told TFTP that she believes the police were "extraordinarily reckless" and that no less than four parts of the petition for a permanent RPO were patently false:
Officer Ochiuzzo was "100 percent false" when he claimed Velasquez fantasized about becoming a school shooter since he was in middle school.
Parris said her client was recorded saying he could never see himself doing that (committing a mass shooting).
Velasquez never said he would use an AR-15 style gun, even in a hypothetical scenario where he might be mad enough to harm someone.
Velasquez also never said he wanted to feel the rush of adrenaline of being a school shooter.
Parris was also critical of the Orlando Sentinel who she says was tipped off to what the Orlando PD were planning to do to Velasquez, attempting to make a show of their power to enforce the RPO Act.
"Another problem with the reporting (Orlando Sentinel) is that Mr. Velasquez had the pistol locked in a safe and Chris had no access to the firearm," Parris said. "The media doesn't care. They just write what they want."
Parris is working with the family to file a lawsuit against the City of Orlando, Officer Ochiuzzo, the University of Central Florida, and UCF Police.
"This was an inappropriate case to bring pursuant to RPOs," Parris said, adding that she hopes that after taking the case to court, the resulting judgment will set a precedent that could bring down the new Florida law. "There are substantive problems with due process concerns and this new law," she concluded.
Orlando's first attempt to enforce their first RPO has ended in complete failure. Not only was no crime committed but a citizen's constitutional rights were violated, his father was forced to surrender his weapon (which was inside a safe), and the suspect was kidnapped against his will and held in a mental hospital. Parris told TFTP that her client's reputation has been permanently damaged as a result of police actions.