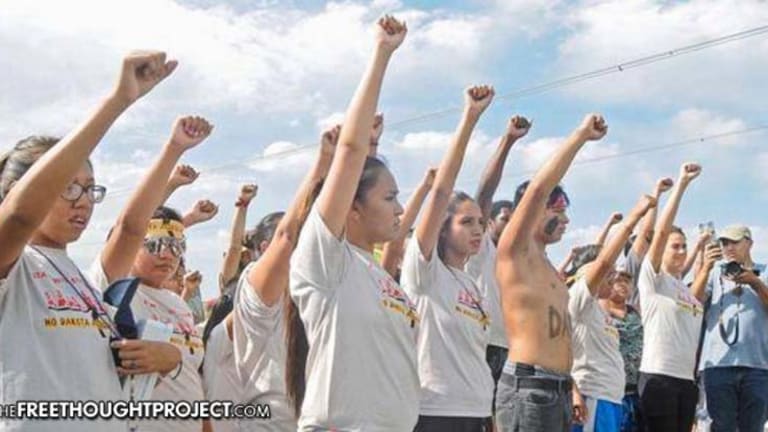 1,000 Lakota Sioux Children to Descend Upon Dakota Pipeline Protest Site
Some 1,000 Oglala Lakota Sioux youth hope to soon join the massive movement to protect water and stand against the Dakota Access Pipeline in North Dakota.
One-thousand youth from the Oglala Lakota Sioux Tribe hope to join the Standing Rock Sioux and thousands of Native Americans and indigenous peoples camping in North Dakota to protect the water and land from further incursion by crews constructing the controversial Dakota Access Pipeline.
However, transporting the youths from their Pine Ridge Reservation home isn't a matter of loading up and just driving north. In fact, on the Pine Ridge Reservation, as One Spirit Native Progress writes,
"At least 60% of the homes are without water, electricity, insulation, or sewage systems," and, as a result, Pine Ridge "has the shortest life expectancy of any community in the Western Hemisphere outside Haiti. It's a third-world situation right in America's back yard."
So in order to unite the Lakota young people with the other water protectors, One Spirit has initiated a fundraising campaign via Facebook to raise "$100,000 to pay for the transport, tents, sleeping bags, and food needed for them to reach the pipeline protest site."
Considering the historic size of the perpetually growing number of encampments in the planned path of the Dakota Access Pipeline — the Standing Rock Sioux and Cheyenne River Sioux have been joined by nearly 300 other Native American nations and indigenous peoples from as far away as southern South America — the youths' goals are laudable.
Energy Transfer Partners, the company responsible for construction of the pipeline, has already decimated a number of culturally and historically significant sites in their hunger for profits. Thus, what began as a mission by the Standing Rock Sioux to protect water — the pipeline is slated to go beneath the Missouri River — has taken on a secondary necessity to protect sacred land.
For the young Lakota Sioux, these missions couldn't come at a better time.
According to One Spirit, "Not only would [their journey] strengthen the #NODAPL movement, it could also be a turning point in stopping the epidemic of youth suicide on the reservation."
These aren't simply disaffected teens who would otherwise have nothing to complain about. Living conditions on the Pine Ridge Reservation paint a clear picture about the desperation which leads to dark depression and worse.
Besides the aforementioned statistics, unemployment, according to One Spirit, hovers between 85 and 95 percent, 75 percent of young people don't finish school, and 97 percent of the population "live below the federal poverty line" — the median household income is below $3,500.
"Despite these difficult conditions, Lakota youth are determined to support their people, make an impact, and be part of the history that Native tribes are creating right now," One Spirit continues. "Many Oglala Lakota have already played a key part in the pipeline opposition."
Joining in solidarity on site could give these youths the focus, unity, and community to revive hope for the future.
Of course, standing between Energy Transfer Partners' potentially wildly profitable pipeline and the precious waters of the Missouri — which provides drinking water for an estimated 18 million people, including the Standing Rock Sioux — at times has been a perilous venture.
At the beginning of September, a privately-contracted security firm turned mercenary, indiscriminately unleashing vicious attack dogs against protesters and journalists, alike — leaving multiple people maimed — reportedly including a pregnant woman and young girl.
At the end of that month, unnecessarily militarized, heavily-armed police appeared in armored vehicles and tanks to break up a group gathered to pray at one of multiple construction sites. Provoking trouble and violence where none existed, these cops arrested 21 people as they reportedly attempted to leave the area peacefully. None were armed.
It has now been reported by Huffington Post, that surveillance helicopters flying on behalf of local law enforcement violated federal law by not only flying at too low an altitude on repeated sweeps of the camps, but altered registration "N-numbers" required by the Federal Aviation Administration to be painted visibly and legibly for identification purposes.
All of these considerations and the level of insidious underhanded dealings found to have driven Dakota Access Pipeline construction seem like insurmountable odds.
But the Native American water protectors and their supporters feel their guardianship of the water makes this stand against the Big Oil goliath a worthy and imperative cause. Now the Lakota youth are no longer content to watch these astonishing events unfold from a distance.
"Most of the youth have been supporting their elders from afar until now, but they are determined to reach the protest site to lend their voice to the movement in person," One Spirit concludes. "They are more than their circumstances, and they are determined to prove it."