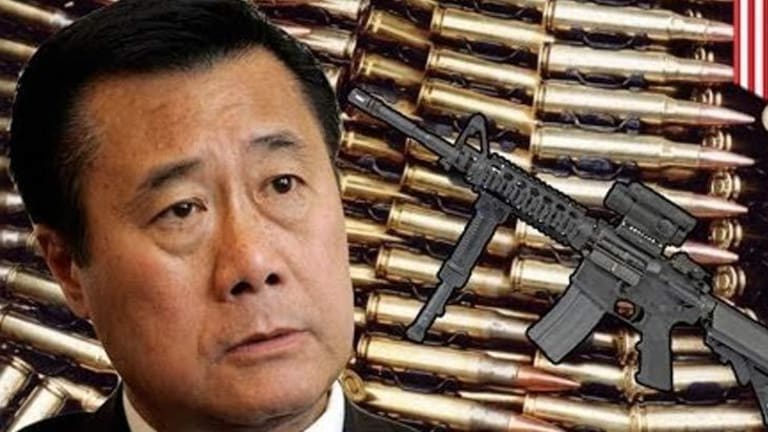 Large Scale Hypocrisy: Leland Yee, Most Anti-Gun Senator in the US, Pleads Guilty to Gun Running
Staunch anti-gun advocate Leland Yee (D-CA) Pleads guilty to attempting to run an arsenal of guns to the New York Mafia.
San Francisco, CA -- Last year, San Francisco Democratic Senator Leland Yee was arrested and charged for multiple acts of corruption. The allegations against him ranged from public corruption to running guns.
The hypocrisy involved in these charges was shocking as Yee was one of the state's strongest advocates for gun control. However, on the large scale scope of the state, this fraud is to be expected.
In March of 2014, Yee, 65, was seized at his home during a string of FBI raids.
Among other charges of bribery and extortion, Yee was also accused of offering to broker a major weapons sale between a gun dealer and an undercover agent claiming to be a member of the New Jersey mob in exchange for campaign donations.
"Do I think we can make some money? I think we can make some money," the senator said, according to the complaint. "Do I think we can get the goods? I think we can get the goods."
The fact that one of the most staunch anti-gun politicians in the US was caught trying to run guns to the mafia speaks volumes as to the level of corruption within the US political ranks.
On Wednesday, over a year after the allegations, Yee pleaded guilty in a courtroom after taking an oath before US District Judge, Charles R. Breyer
From the LA Times:
By pleading guilty to racketeering, Yee admitted that he "knowingly and intentionally agreed with another person" to take part in an enterprise, commit at least two offenses and affect state commerce.

"Are you pleading guilty of your own free will because you are guilty?" Breyer asked him.

"I am," Yee answered.

Keith Jackson, who prosecutors say arranged for a number of the pay-to-play deals, pleaded guilty to the same racketeering count as Yee and received a recommended sentence range from prosecutors of six to 10 years in prison.
To those of us who've been watching this gang of criminals run roughshod over the rights and freedoms of Americans, Yee's guilty plea is shocking though equally expected. The US government has become a cesspool of corruption and tyranny.
It will be interesting to see if this hypocrite among hypocrites, will receive any jail time. However, Americans will have to wait until October 21 when Breyer is scheduled to hand down Yee's sentence.