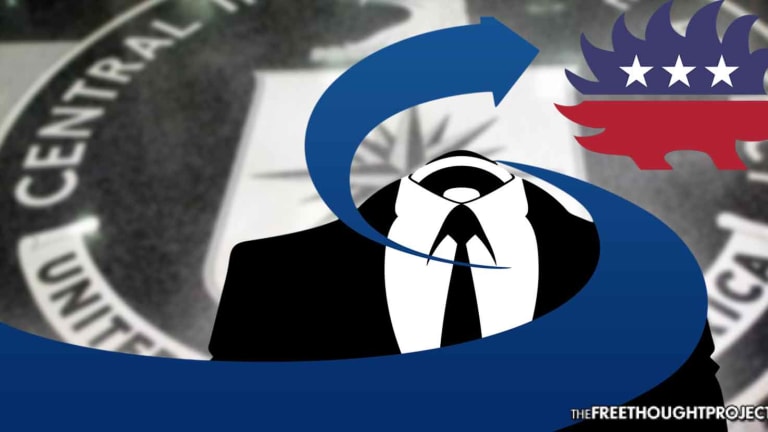 EXCLUSIVE: Head Of Libertarian Party Named In Wikileaks List Of Secret US Intelligence Assets
Documents obtained through Wikileaks reveal that the current Chairman of the Libertarian Party has a relationship with the disgraced Stratfor intelligence group.
In late 2011, hackers managed to crack into the databases of the global intelligence firm Stratfor and found a large volume of information that connected the firm with military contractors, government agencies, and confidential informants.
In the first months of 2012, these documents were made public by Wikileaks and included millions of emails, which showed Stratfor's web of informers, pay-off structure, and other vital information about their covert operations.
Stratfor has picked up the nickname "Shadow CIA" and had relationships with Dow Chemical Co., Lockheed Martin, Northrop Grumman, Raytheon, Goldman Sachs and various government agencies, including the US Department of Homeland Security, the US Marines, and the US Defense Intelligence Agency.
The leaked data has been published on Wikileaks website for years and is known as the Global Intelligence Files. Due to the large volume of data involved in the leak, years later researchers are still pouring through the files in search of clues that give a glimpse into secret government operations, or possible names of informants.
This week, The Free Thought Project received a tip from one of our readers that Nicholas J. Sarwark, the current Chairman of the Libertarian party, was named in the Global Intelligence Files. Sure enough, a quick search of the Wikileaks website shows a number of listings for Sarwark's name. One listing had an address that is tied to one of his businesses.
The Republican politician Sarah Palin was also found on the same list.
To confirm that this was the Nick Sarwark of the Libertarian Party and not someone with the same name, TFTP traced the address listed to a business owned by Sarwark's family, Family Loan Co Inc. The loan company is attached to Sarwark's used car business, which he has written about on his blog.
The official public address for the car business is 1610 E. Van Buren St. in Phoenix, Arizona, but bizstanding.com also lists a second address, 5916 S Kenneth Place, Tempe, Arizona, which is the address connected to Sarwark in the Wikileaks file. 
What this means is that Sarwark had some type of relationship with Stratfor, either as a client or an informant. To confirm, TFTP searched for a number of other former and current Libertarian Party members and found no other matches aside from Sarwark.
According to a press release from Wikileaks, "The emails also expose the revolving door that operates in private intelligence companies in the United States. Government and diplomatic sources from around the world give Stratfor advance knowledge of global politics and events in exchange for money. The Global Intelligence Files exposes how Stratfor has recruited a global network of informants who are paid via Swiss banks accounts and pre-paid credit cards. Stratfor has a mix of covert and overt informants, which includes government employees, embassy staff, and journalists around the world."
The release went on to say that, "The Stratfor emails reveal a company that cultivates close ties with US government agencies and employs former US government staff."
Many of these emails contain a confusing web of jargon and Stratfor employees were careful to speak in code and not be overly specific in their discussions of the details. However, it is clear that all of the names listed in these emails are involved with Stratfor as a client or informant, which means that they were either paying Stratfor for sensitive intelligence information, or they were a paid informant themselves.
According to Barrett Brown, the journalist who became an unofficial spokesperson for Anonymous, "This wealth of data includes correspondence with untold thousands of contacts who have spoken to Stratfor's employees off the record over more than a decade. Many of those contacts work for major corporations within the intelligence and military contracting sectors, government agencies, and other institutions."
Brown spent years in prison simply for being a spokesperson for the group, even though he had no involvement in any hacking activities.
This is the latest in a series of controversies surrounding the current leadership of the Libertarian Party. While the specifics of Sarwark's relationship with Stratfor are unclear, it is certain that some type of financial or informational exchange took place between the two, prior to Sarwark becoming Chairman of the Libertarian Party.
When the story went public, Sarwark made a statement to 71 Republic stating that a family member gave him a subscription to Stratfor's services as a gift.
"The Excel spreadsheet is a list of gift memberships to Stratfor's email newsletter. My brother-in-law bought me a one-year gift subscription for Christmas in 2008. I did not renew after it expired," Sarwark said.
This excuse still does not match up with the Wikileaks press release, which states that these names are high-level assets and not just average subscribers. Still, if what Sarwark says is true, a subscription to intelligence briefings is a strange gift to pass between family members, and even stranger for someone who claims to be a Libertarian.