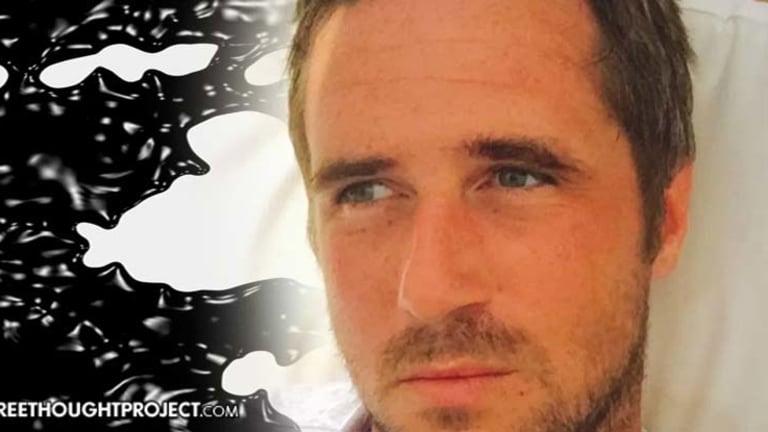 Conspiracy Theorist 'Vomited 2 Liters of Black Fluid Before He Died' -- Death Ruled 'Natural'
New details from an independent investigation have just raised serious concern over the mysterious death of Max Spiers.
"I'm very excited to begin this journey and I will be blogging my journey and findings in a way that I've never done before. It's time to disintegrate the last vestiges of the thinning veil for good and I hope this blog will be a tool to do so.
"We can't be stopped now and I'm going to go into considerably more detail than I ever would or could on FaceBook."
These were some of the last public words that international conspiracy theorist Max Spiers would say before he died under extremely questionable circumstances in July of this year.
The 39-year-old conspiracy theorist traveled around the world investigating everything from UFOs to zionists. However, he had moved away from the UFOs and began to investigate the lives of politicians, and elite figures in business and entertainment.
One of the details that add to the suspicious nature of Spiers' death is the fact that his mother, Vanessa Bates, received a text message from her son days before he died which said 'If anything happens to me, investigate.'
Just before he died, laying on his sofa, Spiers was in good health. When Spiers died in Poland, investigators immediately ruled that he died from natural causes despite no post-mortem examination being carried out.
Bates recalled, "Max was a very fit man who was in good health and yet he apparently just died suddenly on a sofa.
"All I have is a death certificate from the Polish authorities that it was from natural causes, but no post-mortem was done so how can they tell that?
"They are also refusing to release any paperwork about it to me because, absurdly, I don't have his written permission."
When Spiers' body was sent back to Britain, a post-mortem autopsy at Margate QEQM Hospital, Kent, was unable to determine the cause of death. So, an inquest at Canterbury Coroners opened in December after his body was repatriated.
"Mr Spiers became ill with a high temperature and was weak," said coroner's investigations officer Caroline O'Donnell, according to the Kentish Gazette.
"The following day, Mr. Spiers vomited two litres of black fluid.
"The friend called a doctor who attempted resuscitation before pronouncing him dead."
To add even more suspicion to this case, Max's girlfriend, Sarah Evans, claimed he had told just before his death that he was the prisoner of people who wanted to conduct "satanic rituals to 'de-programme' him."
She told the Sun, "He said they had given him something that had put him in a coma for two days."
After his death, Bates told the Daily Mail that when she received his personal laptop computer -- it had been wiped clean. Polish authorities have yet to give Bates a report and she is hoping for funding to run her own independent forensic report on Spiers phone and computer.
Bates has continued to push for a thorough investigation into her son's death and has reached out to another prominent conspiracy theorist, David Icke for help, according to the Independent. 
The Canterbury inquiry shines new light on the mystery surrounding Spiers death. However, the inquest is now adjourned for the holidays and will not be continued until February.
Regardless of what one believes in regards to certain conspiracy theories, Spiers was a human being who died in a suspicious manner. When medical examiners rule a person's death 'natural' after that person just vomited up two entire liters of a mysterious black fluid, something is awry. Add that fact to the fact that Max Spiers told his mother only days before his death to 'investigate' his death, and we now have justifiable grounds for concern.