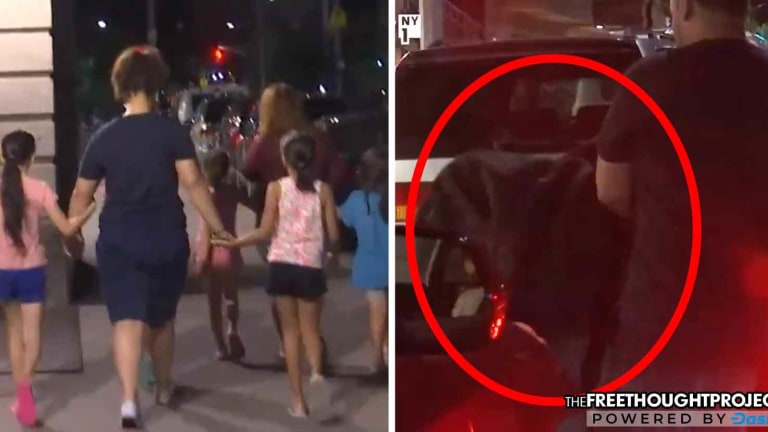 SHOCK VIDEO: Young Migrant Girls Under Black Blankets Being Moved from NY Facility at 1 AM
Disturbing video shows young girls — who were reportedly taken from their parents at the border — with their heads covered in black blankets being loaded into a car in the middle of the night.
New York, NY — This week, as the Free Thought Project reported, after disturbing footage released by Health and Human Services of male immigrants went viral, the internet began asking, "where are the girls?" Fears of trafficking and abuse flooded social media and even prompted a response from the White House. Now, however, disturbing footage from New York City may answer that question.
Monday afternoon, during a White House press briefing, a reporter asked, "Why is the government only releasing images of the boys being held? Where are the girls & toddlers?"
Department of Homeland Security Chief Kirstjen Nielsen could not answer. When asked about the now infamous footage released by HHS that has been played all day on every major network, showing boys inside the Brownsville, Texas Walmart turned detention center, Nielsen claimed she never saw it.
When pressed on the issue, Nielsen then deflected the reporter claiming that she will "look into that."
It's been four days and we've yet to receive a response from DHS's inquiry into where the girls have gone. However, a local news agency out of New York may have that answer.
This week, NY1 received a tip to be outside of the Cayuga Center in East Harlem at 12:45 am. For those who don't know, the Cayuga Center is a non-profit agency that places immigrants in foster care among other things. Although the business is known for moving children from place to place, the idea of moving little girls in the middle of the night is unsettling, to say the least.
Early Wednesday morning, however, that is exactly what was caught on video.
NY1's Josh Robin, acting on the tip, waited outside of the facility in East Harlem and just like he was told, a half dozen little girls were seen being escorted into the facility.
NY1 reports that they were told the kids had been taken from their parents along the southern U.S. border and would be brought to the Cayuga Center.
"We want to be very careful," Robin said. "We don't know for sure the situation … We can't say for sure what my sources have told me, that [these girls] have been brought from the southern border."
A woman at the facility denied that the children had been taken from their parents, but Gov. Andrew Cuomo explained to NY1 that those girls were part of approximately 2,000 children recently separated from their parents at the border.
"That's what the facilities have told us," Cuomo told NY1.
After being inside the facility for approximately an hour, the little girls were then seen being escorted out of it again. This time, however, their heads would be covered in black blankets as they were loaded into a vehicle parked in the street. Ominous indeed.
Adding to the already sinister nature of these actions, according to the NY Times, Mayor Bill de Blasio explained that he had no idea that hundreds of children were being moved through this center.
"How is it possible that none of us knew that there were 239 kids right here in our own city?" he asked. "How is the federal government holding back that information from the people of this city and holding back the help these kids could need?"
Although President Trump signed an executive order to keep families together on Wednesday, this separation and alleged abuse will likely continue—just as it has for the last decade—well before Trump ever took office.
As TFTP reported, a federal lawsuit filing on April 23, in an ongoing class-action lawsuit, revealed that immigrant children separated from their parents—during both the Obama and Trump administrations—were allegedly held down and forcibly injected with powerful psychiatric drugs while being held at the Shiloh Treatment Center, a government contractor south of Houston that houses undocumented immigrant minors.
Allegations of rampant abuse and torture have been made for over a decade. Hopefully, for the sake of the children in the video below, they do not suffer a similar fate.