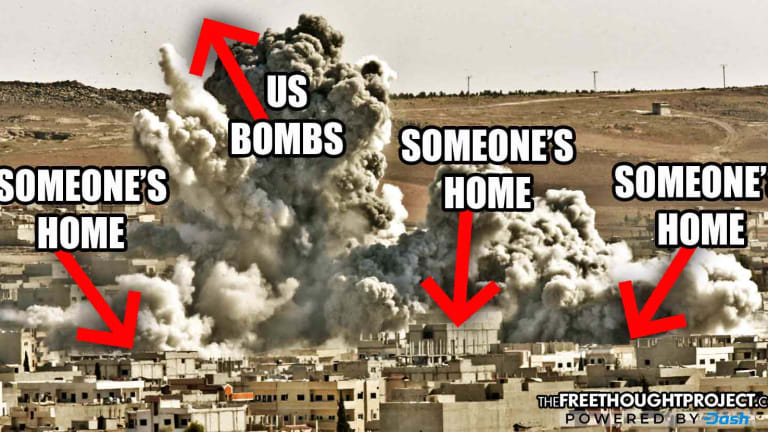 As Military Drops A Bomb Every 12 Mins, Supreme Court Upholds Ban on Refugees Created By US
The Supreme Court has ruled that the Trump Administration's travel ban is legal—letting the U.S. ban the refugees it is created in the Middle East.
As statistics show that the United States Military drops a bomb every 12 minutes, the Supreme Court has ruled in favor of a ban on refugees from the countries that are being destroyed by the U.S.
The decision was announced on Tuesday after the Supreme Court ruled, 5-4, that a ban on travel from Iran, Iraq, Libya, Somalia, Sudan, Syria, and Yemen, does not discriminate against Muslims, and is within President Trump's authority to enact.
"The entry suspension is an act that is well within executive authority and could have been taken by any other president—the only question is evaluating the actions of this particular president in promulgating an otherwise valid proclamation," Chief Justice Roberts wrote in the court's opinion.
The White House released a statement calling the ruling a "moment of profound vindication following months of hysterical commentary from the media and Democratic politicians who refuse to do what it takes to secure our border and our country."
In response to the rule, the Chicago office of the Council on American-Islamic Relations, a Muslim civil rights and advocacy group, released a statement condemning the decision and calling it "a miscarriage of justice." "The Supreme Court had an opportunity to remind this country that all of us, regardless of where we were born, what we look like, or how we pray, are welcome, and they failed. This ban was inspired by—and remains—contrary to the values of freedom and equality that are central to who we aspire to be as a nation," Sufyan Sohel, the group's Deputy Director and counsel, told CNN. In her dissent, Justice Sotomayor criticized Trump's history of calling for a "total and complete ban" on Muslims entering the United States and his support of the ban because he argued that the U.S. needed "a travel ban for certain dangerous countries."

One of the main things that both the majority of politicians who disagree with the travel ban, and the mainstream media pundits who criticize it, do not seem to be addressing is the fact that these "dangerous countries" in the Middle East have the United States to thank for a large amount of the turmoil and destruction that has reduced cities to rubble, fueled sectarian violence, and killed countless innocent civilians—just over the last 18 years.
As Lee Camp noted in an op-ed for Truth Dig, the U.S. Military is dropping an average of one bomb every 12 minutes—all of which is done illegally and without authorization from Congress. That fact alone should warrant 24/7 coverage from CNN and Fox News, and should prompt sit-ins and protests from every member of Congress who actually wants to make a difference during their tenure.
"The United States military drops an explosive with a strength you can hardly comprehend once every 12 minutes," Camp wrote. "And that's odd because we're technically at war with—let me think—zero countries. So that should mean zero bombs are being dropped, right?"
"Donald Trump's administration puts all previous presidents to shame. The Pentagon's numbers show that during George W. Bush's eight years he averaged 24 bombs dropped per day, which is 8,750 per year. Over the course of Obama's time in office, his military dropped 34 bombs per day, 12,500 per year. And in Trump's first year in office, he averaged 121 bombs dropped per day, for an annual total of 44,096. Trump's military dropped 44,000 bombs in his first year in office."
The argument stands that if the United States actually wanted to prevent an overflow of refugees coming from the Middle East, then it should stop destroying their homes and cities, and killing their families with bombs.
Yet the travel ban stands—now with the support of the U.S. Supreme Court—and the same government that claims it is necessary to prevent terrorists from "dangerous countries," ignores the fact that the countries responsible for 93 percent of terrorism in the United States are not included.